French Open, Day 8
(3) Federer d. (LL) Goffin, 5/7 7/5 6/2 6/4
Roger Federer today defeated David Goffin in four sets, and thereby moved through to his 32nd consecutive quarterfinal at Grand Slam level. This equates to eight years without failing to reach the last eight. However, through the early going in today's match there was, unexpectedly, a mounting anxiety that the streak would halt at 31.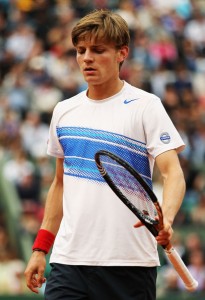 This would have represented a stunning deviation from the script, since Federer beating the unheralded Goffin was about as foregone as it gets, rather like beating Roddick in Miami had been.
I should declare, without further preamble, that Goffin boasts a fresh and youthful look. This is important, and was therefore made abundantly apparent even for those who didn't watch the match, but merely followed its progress on Twitter or Radio Roland Garros. The pre-existing stream of jokes about his appearance expanded rapidly during the hit-up – proving that Federer is wrong: hitting up does have a point – until it threatened to burst its banks; a flash-flood of dull gags, and similarly impressive for its ferocity and volume rather than the quality of its component parts.
Few of the gags were especially funny, even in the broad sense in which the term is used on the internet, whose denizens – if they are to be believed – are mostly laughing out loud, whether seated or while rolling on the floor. (This is why internet cafes always sound and look like Bedlam.) Many of these humdingers implied Goffin was on exeat from high school (ho-ho), that we hoped he'd handed in his homework (har-har), and did his mother know where he was (my sides!). My instinct was to raise the stakes by lowering the tone, but I refrained. Tennis is family entertainment, and no one ever gained anything by being risqué on the internet.
This deluge of high comedy eased markedly after Goffin broke Federer late to claim the first set, sealing it with a scathing forehand up the line. This wasn't going to script, and it was hard not to conclude that all the jokes about Goffin's youth had reflected a widespread assumption that he would pose no threat whatsoever to the sport's greatest player. It also suggested few people had ever seen him play before. Like many others, I'd already seen Goffin play a few times, and therefore had a distinct advantage.
I'd long since worked the lame jokes out of my system: 'If ever you need Tobey Maguire to seem old and wise, Goffin's the guy you'd cast as his sidekick.' I'd even progressed to the stage of trying to work out who he reminded me of. Back in Chennai, where he reached the quarterfinals, I concluded that he resembled Guillermo Coria, with a kinder face. This was reaffirmed when he opened today's match with a double-fault.
But if Goffin recalls Coria, he boasts Nikolay Davydenko's endeavour, hands and fearlessness. As with the Russian, these combine with admirable court-positioning to offset modest height and a slight frame. Throughout the first set, in which he was frankly the better player, it was arguably his anticipation that proved most significant. We now all know that his boyhood room was papered with images of Federer, but his performance today reflected countless hours watching his idol play. (Goffin, according to one of the few amusing tweets, had 'really done his homework on Federer', proving yet again that funny is all in the timing.) Conditions were heavy, but Goffin seemed to have little trouble hitting through them, and hustling Federer around the court. Whenever Federer tried to do the same he found his opponent already there with time to kill. Goffin's anticipation and foot-speed made the clay seem especially heavy for the Swiss.
Having said that, Federer was playing well within himself, perhaps partaking of the general belief that the Belgian would sooner or later succumb to the moment. After all, Goffin didn't even qualify for this event, but slipped in as a lucky loser when Monfils withdrew. For whatever reason, Federer did not play that first set (or the second) as imposingly as he should have, content to be solid, serve well, and permit his aura to work its trick. As a broad strategy it doubtless has merit – he knows how to win tennis matches – but on the level of each rally it meant he immediately ceded initiative to Goffin, who teed off on anything, and wasn't missing. Off the ground, I can barely recall Federer going for a line through the first few sets. Goffin hardly bothered going for anything else. His depth was incredible.
But just because a guy is a great mover is no reason not to move him. Federer's intensity lifted at the end of the second set, at precisely the moment Goffin's wavered, and the Belgian gifted up his first break of the match. Federer, as is his way of late, blew a few set points, and fended off a break-back point, but eventually closed it out. He then broke again to open the third set. Conditions seemed to be clearing, and quickening, although I'm inclined to think this was owed largely to Goffin fading. He remained as quick as ever, but his anticipation, so preternatural through the early going, began to desert him. Federer was now lashing his forehands with greater pace and bite, and finding openings everywhere. He settled into his ominous groove of 90 second service holds, and the set vanished quickly.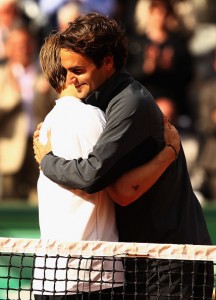 The fourth set grew momentarily complicated after Federer once again broke early, as Goffin resumed his earlier attack, and threatened to break back. The point of the match ended with the Belgian bowing to the crowd. He later admitted that he hadn't really known what to do, but that it was a great moment and he'd consequently felt obliged to do something. He probably knew it was coming to an end, and seemed determined to enjoy himself. Federer eventually coasted to that end, sealing the final game with his mightiest forehand of the afternoon.
Immediately after the match, both players were subjected to an on-court that was both manufactured and awkward, the latter quality abetted by those in the crowd insisting that Federer and Goffin seal the love-in with a kiss. The Belgian was compelled, before a packed house in Lenglen, to reiterate just how much he'd idolised the fellow standing right next to him. Neither man failed to look embarrassed at this. Goffin would have been justified in pointing out that he was an actual professional tennis player, and could they all please stop patronising him, but he didn't. In the end, they settled for a friendly hug, after which Federer gave the youngster a fleeting pat on the head.
Elsewhere
Play was suspended overnight in the final two men's matches. In the first, Tsonga has consolidated a break in the fifth set, after Wawrinka rescued himself from a two-set well. In the second, del Potro leads Berdych by two sets to one. I suspect that one can still go either way.
There was also a match between Djokovic and Seppi, although this was mostly without incident, except for when Seppi went up two sets to love and looked like knocking out the world number one. Italy's top player, battling exhaustion and a world No.1 who'd finally found some range, also ground his way back from a break down in the fourth, and was gallant in keeping the fifth close. As I say, barely worth commenting on. Luke Saville, the top seed in the boy's event, also fought back from a set and a break down. It was the theme of the day. Victoria Azarenka is right to be furious that she wasn't told.
I'd love write more, but I'm out of space.