French Open, Day Three
This year, more than ever, the policy of sustaining the French Open's opening round over three days seems to have had the deleterious effect of spreading the excitement too thinly, guaranteeing that the genuinely great moments have remained too scattered to achieve critical mass, and therefore haven't cohered into an identifiable body. Sunday provided the most soporific commencement to a major in living memory. Even Parisians appeared unaware that the event had started, or that the stadium courts had functioning entry-points. Although Monday had its excitement, little of it carried over to Tuesday. Today's only upset saw Alex Dolgopolov fall to Sergiy Stakhovsky (although amidst the conflagration of Serena Williams' exit it is perhaps disproportionate to speak of upsets at all, like lamenting a broken toe during the firebombing of Dresden).
Even the expected results for the most part played out in entirely expected ways. None of the top four were troubled, especially Nadal who was charitable in permitting a free-swinging Simone Bolelli five games. But, inevitably, there were exceptions.
(8) Tipsarevic d. Querrey, 2/6 6/4 7/6 6/3
There was early chatter of Sam Querrey upsetting Janko Tipsarevic, but the fact that most of it originated from American commentators supplied the tip-off that chatter was all it was. Querrey struck the ball well – as he should, given his proportions – and the fast conditions helped, but the pronounced disparity in their respective rankings isn't accidental. Tipsarevic certainly isn't immune to upsets, and he remains the most vulnerable player in the top ten, but the time when he would check out quickly seems to have passed, for now. His game solidified noticeably upon breaking back in the second set, and from there merely staying close tested the limits of Querrey's form. By the beginning of the fourth set, Tipsarevic could see as well as everyone else that the American's legs had gone.
(Q) Haas d. Volandri, 6/3 0/6 6/4 6/4
Tommy Haas' decision to endure qualifying (forced upon him by the tournament's refusal of a wildcard) was quite laudable, especially for those of us who've cleared 30, and believe we shouldn't therefore be immediately harvested for our organs. Haas, his spleen mellower in its advanced years, is proving there's life to be had beyond that age even for professional tennis players.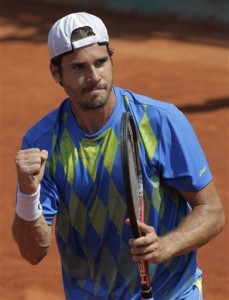 Others have proved it already, but few of them have been quite as high profile. Volandri is no spring chicken himself, but even in his brief prime he never had a game to match Haas, notwithstanding a truly execrable second set from the German.
Dimitrov d. Young, 7/6 6/1 6/1
There was a similar gulf in class between Grigor Dimitrov and Donald Young, and the dynamics of the match were vaguely familiar, in that Dimitrov punished the American's second serve without mercy, launched plenty of attractive one-handed backhands – that wing looks surprisingly strong against weak opponents – and generally hustled Young from the court. Young intimated via the enchanting medium of endless complaining that the difference between them had something to do with his own form, but the fact that his most extravagant groans were inspired by Dimitrov's good shots landing in gave the game away. Young is now 2-13 for the season. Apologies to American readers, since he's apparently a big deal over there, but this doesn't feel wrong. Speaking of attractive backhands, Dimitrov will next face Gasquet, and can therefore witness his own future from extreme close range.
Paire d. Ramos, 7/6 6/4 6/7 6/3
The French famously have a habit of producing eccentric tennis players, for all that I'm not convinced they boast a higher proportion of eccentric citizens. There are countless examples, although I suppose for the true exemplar Fabrice Santoro still grabs the gateaux. Benoit Paire is hardly cut from the same cloth, but that's the curious thing about all these French weirdos. They're all genuinely strange – there's nothing self-conscious or cultivated about it, despite what you'd expect from the nation that nurtured Cocteau and Satie – and no two are alike. Paire, whose raffish facial thatch technically qualifies him as a 'beardo' – is arguably the sport's foremost exponent of the inside-out backhand. He strikes it well, and he strikes it hard. Most interestingly, he strikes it often. The lengths he will go to in order to run around his forehand are extreme. Today he struck inside-out backhand winners from inside the forehand tramlines. Otherwise, he conducted entire rallies using only forehand slices. He went on dropshot benders that recalled Albert Portas. About the only thing he can't do is land first serves with any regularity. The final point of this highly entertaining match was somehow typical, despite being the only example of its type in the entire match.
He served, Albert Ramos returned, whereupon Paire wrong-footed him with a crosscourt forehand dropshot – that shot is almost exclusively played inside-out – which Ramos scrambled to and shovelled up the line. Paire was there, and launched a backhand drive-volley from just inside the baseline. Winner. Match. Quite incredible.
The following players all won in straight sets, with almost none of the sets being close: Rafael Nadal, David Ferrer, Andy Murray, Mikhail Youzhny, Dimitry Tursonov, Denis Istomin, Robin Haase, Marcos Baghdatis, Eduardo Schwank and Florian Mayer. Aside from those who are fans of any or all of those guys – and who are understandably willing to find plenty to interest them even in crushing victories – that adds up to a lot of hours of non-competitive tennis. But not so many that we needed an extra day.