Queens, Final
(6) Cilic d. (10) Nalbandian, 6/7 4/3 default
When Tommy Haas – who I am contractually bound to point out is 34 years old – upset Roger Federer in the Halle final, you would have been forgiven for believing that this would ultimately constitute the day's most remarkable result. Perhaps you're a gambling type, and somehow laid money on it. I'm not here to judge. Through a set and a half of the Queens final the belief remained unchallenged and the bet remained safe. The tennis, which was alternately produced by David Nalbandian and Marin Cilic, was merely adequate, and certainly not up to the lofty standard of last year's final, which had been one of the matches of the year.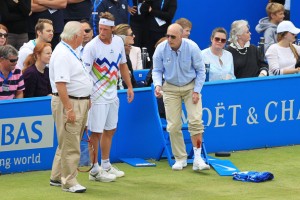 Then, at 3/3 in the second set, Nalbandian resumed his ongoing crusade against advertising hoardings, and inadvertently demonstrated that – for excitement and drama – nothing that occurs within the rules of tennis can quite compare with those rules being violently transgressed.
One of those rules, rarely invoked, is that you aren't allowed to kick officials. This holds true whether you do it unintentionally, as Nalbandian did today, or even whether you really want to, and apply for special dispensation beforehand. You probably know the story by now, and have thus already worked through your disappointment at the Halle final's demotion to subsidiary fascination. You may have even come to terms with your gambling loss. You might just be traumatised by the visuals. (If so, the ATP is providing a toll-free 24 hour helpline.) Having yielded up an easy break after laboriously breaking back in the previous game, Nalbandian lashed out with his boot – 'foot-punched', to get technical – at the Nike sign in front of the baseline line judge, whereupon it splintered, and the Argentine's foot made contact with the official's shin, messily rearranging a small portion of it. I could describe it in more graphic detail, perhaps with some Homeric verse thrown in for colour, but it's probably easier if you just watch it. Nalbandian, it must be said, looked rather less concerned than he might have, even as it became clear fairly quickly that the judge was a fighting chance to survive. He will, at worst, have an interesting scar with which to frighten the kinds of children who are frightened by small scars.
Of course, Nalbandian was immediately defaulted, in what is presumably the simplest such decision any referee has faced since Zidane sought to burrow through Materazzi's chest head-first, or since Barry Hall decked Brent Staker. In his defence, Nalbandian looked considerably more contrite than either Zidane or Hall had, or at least less disingenuous. He knew he'd done bad. Cilic was awarded the trophy and is thus the new Queens champion. He looked bemused.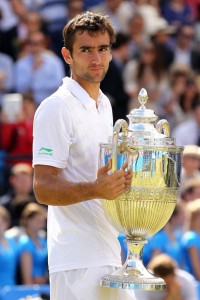 Nalbandian was not awarded a runner-up trophy, and indeed will be stripped of all ranking points and earnings from the tournament so far. The crowd did not acquit itself well, although they were denied the use of a slow-motion replay, and the tickets can't have been cheap.
Nalbandian later conducted a press conference that was almost impossibly inappropriate, although he was careful to offer a perfunctory apology to the wounded official, whose name he had not bothered to ascertain. Having got that out of the way, it turned out he had an axe to grind with the ATP, who had earlier denied his request for carte blanche in all matters of on-court vigilante justice, and strayed off into a ramble about wet courts and other matters. The real surprise by this point was that he didn't bring up Kader Nouni. I like Nalbandian, and I love his tennis, but there's a time and a place.
But I don't want to suggest that Nalbandian's default was the most shocking thing seen on the Queens court today. Kicking a line judge until he bleeds and hollers for quarter is one thing, but it hardly compares to the Bryan Brothers' shorts. How are they allowed to wear that? Aren't there rules? The real mystery, I suppose, isn't why they stole a pair of Radek Stepanek's shorts. The mystery is why he had two.
Halle, Final
(WC) Haas d. (2) Federer, 7/6 6/4
The day's second-most interesting tennis match took place in Halle a few hours earlier, and saw Tommy Haas record his third career victory over Federer, and his first since the Australian Open in 2002, during the German's third comeback.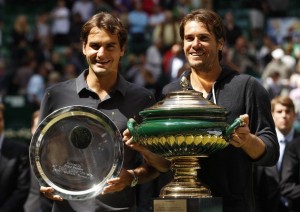 Today, he was utterly fearless, and no one watching failed to be moved as he hoisted the fancy green and gold tureen, especially Federer.
Initially, it didn't look likely. When Federer broke and held to open the match with rapid efficiency, it looked sadly like a mismatch, and as though the Swiss would be collecting his sixth soup-dish within the hour. Haas held on grimly in the next game, and you could sense the patronising smiles breaking open around the world, betokening a general sentiment of, 'well isn't that nice for him, and at his age. At least he won't be humiliated.' Somehow, the match was trending worldwide. Then Haas broke back following a sloppy game from Federer, and suddenly his service games were impenetrable. They stayed this way for the remainder of the match. Federer could barely get a look-in. Haas open the tiebreak with a pair of nervous long forehands, which Federer, good mate that his is, reciprocated. Haas powered on, unwavering in his aggression, and took the first set. The worldwide sentiment expanded. Now the fans were all thrilled that Haas had taken a set (and at his age), although it was a shame that Federer was going to be spending so much longer on court, and with only a week to rest up for Wimbledon. I don't think anyone really believed Federer wouldn't win by this stage. Much like that match with Roddick in Miami, sometimes these things are just obvious.
The point of the match, if not the tournament, came when Federer was break point down at 4/4 in the second, having blown about a dozen game points already. They conducted a scrambling all court affair, featuring passes, lobs (one played by Federer over his shoulder while running from the net), and a really misadvised drop shot.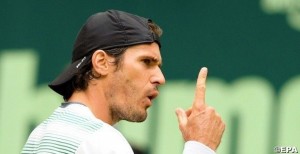 It gained Haas the vital break, and a chance to serve for the match, which was nice for him (at his age). He'd been holding to love for most of the set, although it was inevitable that he'll be tense. Considering the situation, he held his nerve admirably, and served it out at 30.
After Federer's final return plonked long, Haas turned to the crowd and nodded his head slightly, then kind of shook it a little as he jogged to the net, where he and his friend embraced for a bit, shooting the breeze amiably. It was a nice change from the usual antics of collapsing to the surface as though speared, tasting bits of it, or rending your clothes asunder. Subtly restrained, it was a lovely scene, and a late crowning moment for one of the sport's great stories, for a great player whose body has always denied him his due. The curious contours of his career are nowhere better illustrated by the consideration that this is Haas's eighth consecutive final victory, and that the last time he lost in a final was to Andre Agassi in 2002. For those of us in our mid-thirties, who were otherwise resigned to the reaper's imminent visit, it's a reason to feel young again.