French Open, Day Two
Kukushkin d. Gulbis, 6/4 7/6 5/7 2/6 6/4
For the first two and half sets of his match against Mikhail Kukushkin in the Roland Garros first round, Ernests Gulbis played like a man killing time, and making a hash of it, idling as studiously as one might before a pre-arranged appointment. Realising he'd tarried over long in the second set tiebreaker, he made up lost time by rapidly falling down 1/5 in the third. Kukushkin stepped up to serve for the match, reaching 40-0, and triple match point, without incident. The match wasn't televised, but I'm reliably informed that Gulbis' phone began to ring at this moment. He stalked to the sideline to answer it, ignoring the vexed inquiries of the umpire and his opponent. Raising his index finger for silence – the way only those born to privilege truly can – he conducted a brief staccato exchange with whoever had called him.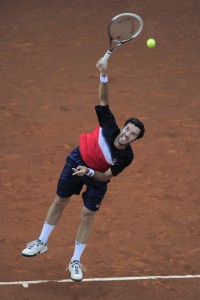 The phrase, 'I don't like to be disappointed, Mr Black – make it happen!' was clearly audible. He then hung up, and strode furiously back to his baseline, prepared to receive serve. Kukushkin, nonplussed, glanced at the umpire, then his opponent, then froze. The look in the Latvian's eyes was unmistakable. Kukushkin occupied a seemingly impregnable position, but the torpid Parisian afternoon was still young, and Ernests Gulbis suddenly had nowhere else to be.
Gulbis won the next eight games – according to the ITF Rulebook, that qualifies as a spree – then level-pegged before taking a few more, thereby levelling the match at two sets a piece. He broke again to open the fifth set, and had a point for a double break. Kukushkin broke back, and by 4/4 both men looked spent, according to embedded sources. Gulbis called for the trainer. Depending on the treatment he received, it either worked or it didn't. Serving at 4/5, he discovered one last lousy effort, and was broken at love to lose the match. Having confounded our expectations of a perfunctory blowout, he then confounded our hope that one of the greatest fight-backs in the history of the sport could actually mean anything. At times like these it's difficult to assume Gulbis is anything but an instrument of the gods, sent to teach us the futility of all human endeavour. Or maybe he's just an ungovernable headcase. It was reported that Kukushkin lacked the energy even to celebrate the eventual victory. You may recall him surviving a similarly contoured matched against Gael Monfils in Melbourne. Perhaps he's just used to it, and couldn't see what all the fuss was about. Elsewhere on the grounds, Fabio Fognini pursed his lips thoughtfully. Dramatically, the bar had just been raised.
Still, if it was the most dramatic men's match played today – there was a decent scare for Victoria Azarenka – it was by no means the only one. Kevin Anderson saved a handful of match points in seeing off Rui Machado 11/9 in the fifth set – assuming you only have four fingers per hand – in a match held over from yesterday. The slight yet dreamy Machado led 5/2 in the fifth, though play was finally suspended at 7/7. Anderson, rejuvenated, came out swinging today, and connecting. Paul-Henri Mathieu recovered from a two set deficit against Bjorn Phau, winning the last few sets so comfortably that it became a victory procession for the rapturous onlookers. It's a nice change for Mathieu so late in his career, to discover what the other side of a two-set recovery feels like.
(WC) Baker d. Malisse, 6/3 7/6 7/6
Brian Baker defeated Xavier Malisse in straight sets, which was an upset only on paper. The disparity between their respective rankings is shrinking fast. Baker, at 27 just commencing his career, is clearly hungry to play professional tennis. He said as much afterwards. Malisse looks hungry for anything else. The talent is still there, and will be always, but it's hard to refute Federer's blunt assessment that the Belgian just hasn't worked hard enough.
At the key moments today Baker was willing to work, although I suspect for him it feels nothing like work. He was merciless on Malisse's second serve, although the weakness of his own delivery made breaks hard to maintain.
(11) Simon d. Harrison, 3/6 7/5 6/4 6/1
Like Baker, Ryan Harrison is at the start of his career. There the common thread snaps. Unlike Baker, Harrison makes hard toil look like drudgery, and like something he'd prefer to forgo. For the better part of two sets today, when it was all flowing freely, and Gilles Simon was stuttering distractedly, Harrison looked typically impressive. He stepped up to serve for the second set, at which point the French weather and the French crowd and Frenchman up the other end conspired to make it hard work. Simon lifted with the breeze, and Harrison continued to believe he could simply hit through the court at will, a belief that somehow never wavered in the face of mounting contrary evidence. He threw a few tantrums, and more or less looked like he had in losing to Marin Cilic at the US Open last year. His first round loss to Andy Murray in Melbourne had been altogether different, and I'd hoped it betokened a realisation that lots of other players are better than him, and that he should never expect to win. That day he played like a man determined not to lose, but not this day. At his age, imagine what Wilander, Chang, Hewitt or Nadal would have done. Perhaps there's an issue with inadequate fitness, but there's also such a thing as too much belief, and he doesn't have the game to render a tough opponent who has found their range immaterial, the way Sampras could, or Raonic can. Baker will face Simon next. It will be fascinating to see how that plays out.
(3) Federer d. Kamke, 6/2 7/5 6/3
Federer beat Tobias Kamke in straight sets, but it didn't always feel like it. It felt like a mess, although Federer's fans can console themselves that it was a first round, and that he only played as well as he needed to. This sounds comforting when he wins, and hollow when it prefigures a subsequent loss. Kamke is a tremendously entertaining player – his five set tussle with Dolgopolov in Melbourne was electrifying – and I sometimes wonder how is ranking hasn't climbed higher. It was a question that begged answering at various stages of today's match, as he stood up on the baseline and bullied Federer about the court, no minor feat considering his size. (Fans of the spry German will doubtless recall the way he dismantled Tomas Berdych a few years ago in Basel.) Sadly, he spent the rest of today's match answering that question. Too often he was broken at love: he has the capacity to toss away fistfuls of points at a time.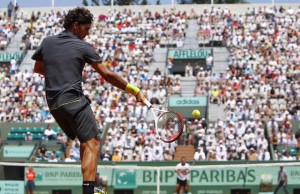 Federer was sloppy – the complete array of late-career tricks was on offer, from shanks into the crowd, to duffed putaways, to mental sojourns on match points – but, inevitably, he was still Federer.
Minor records thence hove into view, the way they often do when Federer takes to the court these days. With this victory he becomes the first player to win at least 50 matches at all four majors. He also ties Jimmy Connors  as having the most wins at Grand Slam level in the Open Era. In the second round he'll face Adrian Ungur, who later upset a lackadaisical David Nalbandian. There's a pretty good chance Federer will break that record.