French Open, Day One
(5) Tsonga d. (Q) Kuznetsov, 1/6 6/3 6/2 6/4
As the French Open's laborious preparations ground wearily on – adapting Lardner's famous stage direction, the curtain was raised for seven days to denote the lapse of a week – we could say that protesting one's non-favouritism had become the tournament's prevailing theme, if it wasn't already the theme of every tournament.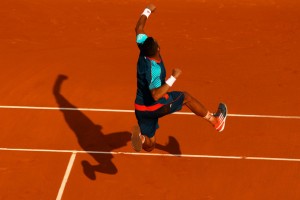 The perennial avowal of underdog status would be tedious even if it was confined to the Davis Cup, but ubiquity has long-since converted it into white noise, which is only of interest when it goes away.
Therein lies the rub. If a player concedes his favouritism he is branded as arrogant. Even saying nothing is dutifully noted by onlookers keen for an angle, since silence is an admission of something or other. Thus we have a race to the bottom, as players think up ever more imaginative reasons why they couldn't possibly win, and attempt to deliver them in the least offensive way possible. Jo-Wilfried Tsonga arguably went too far in opting for a structuralist approach last week, raising hackles by declaring that neither he nor any French player had a chance of winning the French Open, which is more or less what everyone else thought anyway. He was summarily condemned, and it's hard not to think that many people who otherwise lament the blandness of athlete's responses were among those handing down the verdict. Tsonga probably shouldn't have spoken on his compatriot's behalf, and it presumably won't help his chances much, since professional athletes must perform within a bubble of self-delusion. But who among us can begrudge a guy for telling the truth? Lots of people, it turns out, many of whom were quick to point out that belief and hope matter, ephemeral though they are.
As I say, it's not enough merely to avoid saying the wrong things. Forgetting to say all the right things in the right order also lifts eyebrows. There's a sudden gap in the white noise, like sitting on a beach and having the ocean momentarily go quiet. The top players are adept at ensuring this doesn't happen, and thus we end up with gripping headlines like these. One could argue that it's not the players' fault, that in each case they're merely answering a dull question with the answer it merits.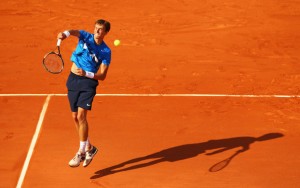 It's a perfectly valid argument, since these are smart guys, and in person they don't sound anything like this robotic. At the beginning of each event, every player should be given a stack of cards, upon which is inscribed: 'I'm sorry, but your question is just too silly, and you're obviously fishing for a sound bite. Also, I'm not going to talk about my socks, any more. I reserve the right to remain silent.'
Tsonga looked like vindicating his low expectations throughout the first set of today's opener against Andrey Kuznetsov, although he picked it up after that, winning the last three comfortably. He  may have determined that no Frenchman will hoist the Coupe des Mousquetaires, but losing in the first round to a Russian qualifier is not the preferred way to go about achieving this goal. Afterwards Tsonga maintained the pragmatic course he'd earlier charted, reiterating his total lack of favouritism, and discussing the related issue of pressure. He apparently feels no pressure in Paris (but will at Wimbledon), since he has no expectation of winning. It's a consistent line, but, like everyone else, I do question its usefulness. The Parisian crowd probably don't realistically believe he'll win the event, either, but he shouldn't go out of his way to quash their hopes.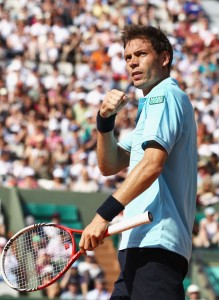 Nevertheless, it sends a powerful warning to the rest of the field, that in order to wrest underdog status from him and his countrymen, it will have to be pried from his cold dead hands.
Even so, the locals had plenty to cheer about on an otherwise quiet opening day. Only two Frenchmen lost, and neither of those were expected to win. Adrian Mannarino has been in terrible form for some time now, and he was dealt a harsh lesson by the reliably exciting Fabio Fognini, who is returning to the site of his greatest triumph, and his most dramatic performance. His partner in drama from last year's production, Albert Montanes, fell in four sets to Juan Martin del Potro, who has something wrong with his knee, though not with his backhand, which was, according to Frew McMillan, 'quite terrifying'.
Nicolas Mahut scored a rare victory at Roland Garros by beating Andy Roddick, which is otherwise fairly commonplace. Afterwards the American touched on the issue raised earlier, remarking that a pro tennis player, even when he realistically has little shot at winning, should still make room for hope. His own situation has grown so dire, especially on this surface, that he didn't even have that, even when faced with Mahut: 'Coming into this, I didn't have much to prop myself up on.' The racquets he tossed to fans upon leaving Lenglen said it all. He just wanted to be done with it. At least on the grass he has belief and hope, which matter, for all that they are castles built on air.
Roddick photo is by Ella Ling, courtesy of Twitter.