Houston, Final
(4) Monaco d. (2) Isner, 6/2 3/6 6/3
Juan Monaco today earned himself a career-high ranking of No.14, the right to call himself the US Men's Clay Court Champion (ladies), and a potentially decisive bone-weariness as he decamps for Monte Carlo, where it will be compounded by jet-lag. Thus debilitated, he will face Robin Haase almost immediately, and can therefore feel confident that either a win or a loss will come quickly.
There is a very real possibility that he will be out of the tournament before I overcome my annual, facile delight that Monaco is playing in Monaco, nearly.
Come what may in Monaco (the principality), Monaco (the player) proved unbeatable on Houston's drab clay – apparently it is hosed down with used dishwater each morning – cracking open the hitherto impenetrable serve of John Isner three times. Both players bore the indelible marks of yesterday's semifinals. In the case of Isner, the excruciating win over Feliciano Lopez expressed itself in a surplus of lactic acid, which lent the American's characteristic air of pedestrian exhaustion a certain authenticity, at least through the opening set. (To be fair, none of us emerged from that semifinal psychically intact, but at least our physical recovery was brief.) In Monaco's case, he was typically spry, and doubtless buoyed by the knowledge that, come what may, the final could not be as lethally dull as his win over Michael Russell had been. What followed was a modestly engaging yet ultimately forgettable final, in which Isner served poorly and Monaco ran lots. Monaco afterwards celebrated by submerging himself in the dishwater tank, which, as health risks go, still ranks somewhere below the Yarra.
With the Championships completed for another year, this will be the last we see of the US Men for a while, unless you live in the United States, where they are still permitted to roam free. By reaching the final, Isner has supplanted Mardy Fish as the highest ranked US Man, the twelfth chap to be so honoured. (With that pressure lifted from his shoulders, there is surely hope for a change in Fish's fortunes. He probably won't win much more, but at least his failures will generate less commentary.) Tennis.com, typically, contrived to spin Isner's achievement into a lament for American tennis:
'The first four men to hold the top U.S. ranking—Stan Smith, Jimmy Connors, John McEnroe, and Andre Agassi—combined for 25 Grand Slam singles titles. The middle four of Michael Chang, Brad Gilbert, Jim Courier and Pete Sampras combined for 19 major titles, while the last four—Andy Roddick, James Blake, Fish and Isner—own just one Slam in singles, Roddick's victory at the 2003 U.S. Open. Neither Blake, Fish nore [sic] Isner has reached the semifinals of a major.'
I'm not sure precisely who they're angry at here. Perhaps it is merely a generalised fury that their recent top players chose their era so unwisely.
Monte Carlo Masters, First Round

Dodig d. Ljubicic, 6/0 6/3
Play has already commenced in Monte Carlo, although in line with official policy only those actually attending are permitted to see the early rounds. There is, apparently, a real risk that players outside the top twenty will gain dangerous exposure if televised, leading to civil unrest.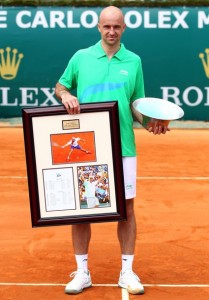 As with Miami, when no one saw Fernando Gonzalez' last match, this issue has become particularly pressing in Monte Carlo, where no one saw Ivan Ljubicic's. The Croatian today lost in the first round to compatriot Ivan Dodig. The ATP released a commemorative video. There was a presentation on court afterwards, which was, by all accounts, rather moving.
It was also rather short, since the event needed the court urgently. There's been rain aplenty in Monte Carlo over the weekend – literally tumbling from the sky – and the qualifying schedule is sodden and rent. Most players were on court twice today, assuming they won their first match, which precisely half of them didn't. Grigor Dimitrov did win his first, but lost his second to Mikhail Kukushkin. Arnaud Clement, who is older even than Ljubicic, lost his first. How does he keep going? The day's remaining first round matches saw the necessary losses of the two local wildcards, Jeremy Chardy and Benjamin Balleret. They were valuable wildcards that could have been better spent. I wonder if Dimitrov feels aggrieved he didn't receive one. I'm not suggesting he deserved it.