Depending on who you talk to, the outcome of the Monte Carlo Masters will have ramifications for the rest of the clay court season extending all the way from the profound up to the negligible. If Nadal wins, he'll win Paris. If Djokovic wins, he'll win everything.
If someone else wins . . . well, no one really knows what that will mean. The last time something like that happened the Mediterranean rose up, and swallowed Atlantis.
I confess that I am no great advocate of the Monte Carlo tournament, although my apathy towards it stems entirely from scheduling, as opposed to any fault I can find with the event itself. Few could cavil at the location; call me a sucker for a links court, but on the tour only Umag and (perhaps) Båstad can rival it for picturesqueness, and neither can match its cachet. But Monte Carlo is contested so far out from Roland Garros that it frankly feels disconnected from it, for all that many pundits talk up the similarities of the surface, and parade the fact that the Monte Carlo champion so often wins in Paris, although in recent years there's been a pretty good reason for that.
If ever there was an idée fixe unlikely to come unstuck, it is the rusted-on assumption that Rafael Nadal will go on winning Monte Carlo until both his knees grow so unstable they are declared a security risk. Seven of Nadal's record 19 Masters titles have come in Monte Carlo, and he hasn't lost there since 2003, when he was eight years old, and forced to face three opponents simultaneously – Coria, Moya, and Kuerten – wielding only a badminton racquet, strung with natural (sparrow) gut. If he wins it again this year, he will join Guillermo Vilas as the only man to have won the same title eight times in the Open era. Given Nadal's history at this venue, and his prowess on this surface, there is no way he can actually have a tough draw, since he cannot face Novak Djokovic before the final. But there's easy, and then there's easy. Nadal's draw this year is unquestionably of the latter variety. If its easiness were any more italicised the letters would be horizontal.
Of course, Nadal, if pressed, will go to extravagant lengths to refute his favouritism, up to and including an impromptu deconstruction of favouritism as a concept. It's just one of those things, although it's one of the things I have little time for. (The best clay courter in history doesn't necessarily have to anoint himself the greatest, but he can at least concede he's better than, say Jarkko Nieminen.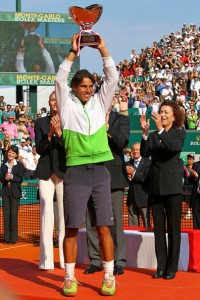 To say so wouldn't be to insult Nieminen, and to pretend otherwise is just weird.) As luck would have it, Nadal will face either Nieminen or Radek Stepanek following his first round bye. I'm calling him the favourite for that one, and convention be damned.
He'll probably find Nicolas Almagro in the quarterfinals, against whom he is 7-0, although this should be qualified: in one of those matches Nadal almost nearly lost. His semifinal opponent could be anyone, although not anyone of concern. Had Federer played, it would have been his quarter. But it isn't, so it's Tsonga's, the new No.5. The Frenchman isn't much chop on dirt, though, so there's no good reason to think he'll reach the final four. If compelled to pick, I'd pick Philip Kohlschreiber, just because he's thrilling to watch when he's winning. Raonic, Tipsarevic and Verdasco are in there as well. Really any of them could scrape and claw their way to the semifinals, and there be torn to shreds by Nadal. The only issue will be those geriatric knees, now held together with depleted uranium pins. He's had his treatment, and appears to be moving fine in practice. But at least his more fanatical fans can now say that even getting to the final will be 'almost impossible'.
The pertinent question, amply asked already, will be what might happen if he discovers Novak Djokovic lurking there. The more pressing question, however, will be whether Djokovic gets there at all. His draw is not easy. Arguably, the world No.1 is no more likely to lose before the quarterfinals than Nadal – some combination of Seppi, Tomic, Istomin and Dolgopolov – but once there it'll be tough. David Ferrer waits in the last eight (assuming the Spaniard makes it past Juan Monaco, who will himself be wearied from a pointless week in Houston). Ferrer on slow clay is different from Ferrer on a slow hardcourt. Djokovic should win, but not in a hurry.
After that the Serb will face the winner of Andy Murray's quarter, which will probably be Andy Murray, who has celebrated his union with Ivan Lendl by adopting the latter's barber, the ne plus ultra of respect. Murray is of course sufficiently talented that he can lose to anyone at any moment for any reason – even Viktor Troicki in the second round – but he should reach the quarterfinals, and he should beat Tomas Berdych when he gets there. I'm confident Djokovic will endure Ferrer and Murray's ministrations, but he won't be unscarred.
Nonetheless, if he and Nadal do face off in the final, Djokovic will doubtless be installed as the favourite by the bookmakers, and all the fans other than his own.
Consistent with the event's mostly ill-defined function, there have been a number of notable no-shows, most of whom did not bother to invent an injury. Del Potro is saving himself for Estoril. Federer is toiling away in Dubai. Isner has his heart set on becoming the US Men's Clay Court Champion. Fish and Roddick are American, and therefore don't play Monte Carlo. Gasquet and Monfils actually are injured. Otherwise, the most notable attendee is Ivan Ljubicic. Monte Carlo will be his last professional tennis tournament. He is in Tsonga's quarter. Perhaps he will make the semifinal.
The full draw can be found here.