Monte Carlo Masters, First and Second Rounds
(4) Tsonga d. Kohlschreiber, 6/2 6/4
(3) Murray d. Troicki, 6/0 6/3
There is a persistent belief, and one that I share in spite of my better judgement, that Jo-Wilfried Tsonga is a fundamentally streaky player. This is unfair, and inaccurate. Even in an era in which the top four monopolise the available points, it is difficult to ascend to No.5 in the world without achieving consistent results. There might still be hot streaks, but those sudden skyward forays require a sturdy launch pad. (The question of how high a truly streaky player might rise is debatable. If surface is no issue, it is defined by Tomas Berdych. If surface and geographical location are limiting factors, there is Mardy Fish.) There was a time – it is even within living memory for all but toddlers and YouTube commenters – when the tendency periodically to lose to players ranked below you was not called streakiness. It was just called tennis.
Of late, the top three have taught us differently, by rarely losing to anyone but each other. It has been a tough lesson for Andy Murray, who remains atavistically committed to losing matches to anyone, sometimes.
Last year at Roland Garros, Murray seemed committed to losing to Viktor Troicki, and was late, though not too late, in reconsidering. He hobbled through, painfully, keeping his perfect record against the Serb intact. Today Troicki demonstrated to everyone's satisfaction that last year's French Open will remain his best chance at beating Murray. Through the first set he never looked like getting a game; he was broken three times, and without apparently difficulty. There was plenty of variety in the points – patient exchanges, scrambling all-court flurries, sudden attacks – and Murray won them all, however he wanted to. The second set was closer, but this is only a relative term. Troicki wasn't close to winning it.
Nick Lester and Chris Wilkinson on the TennisTV feed lapsed immediately in smug complacency, the way English pundits do when the Scot is well on top. The best example of this was in last year's US Open, when Murray won ten straight games and looked to be cruising against Robin Haase, before a violent resurgence by the Dutchman had the commentators eating crow. Today, of course, Troicki mounted no such counter-surge, which afforded Lester and Wilkinson ample space in which to extol Murray's virtues, with devastating loquacity.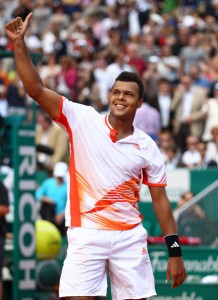 One of them insisted that there is no top player better at making world-class opponents look average, apparently forgetting that Murray himself is pretty world-class, and has been made to look decidedly average by all three of his peers. The long-smothered question of whether Murray is the most talented player out of the top four was duly resuscitated. An awkward ramble on the nature of talent eventually yielded the generous concession that Federer might equal Murray in this regard.
Murray's rapid dismissal of Troicki brought Tsonga and Philip Kohlschreiber on to court in short order, for which I was grateful. Lester and Wilkinson, orgasmically spent, went off for a lie down, and Peter Fleming took over. Seasoned professional that he is, he wasted only a few games before essaying the contractually-required comparison between Tsonga and Muhammad Ali (by way of Joe Frazier). The experienced commentators come prepared with a crib sheet, and get an early start on ticking off each item. Unfortunately, he'd apparently brought the wrong notes for Kohlschreiber, several times suggesting that the German was 'a real pro', who 'knew how to get it done' when the key moments come around. In fact, no definition of streaky would be complete without a portrait of Kohlschreiber to set it off.
My pre-tournament pick was that the German might streak through this open quarter, all the way to the semifinals, and there lose heroically to Rafael Nadal. Clearly, my judgement had been clouded by the superannuated view of Tsonga as a mercurial headcase, reinforced by the awareness that he was at his worst on clay. By no means was Tsonga terrific today, but it's only the second round of a Masters, and he didn't need to be. He was typically aggressive, but he was also sufficiently solid, and his risks were always reserved for prudent moments and makeable shots. Kohlschreiber, however, would typically save his wildest flights for 0-15 or 0-30. Even if he was a seasoned campaigner who knew how to play the big points, he allowed those big points to come around far too often. In the first set, the big points were break points on his own serve. This isn't to say he didn't have plenty of chances on Tsonga's serve, especially in the second set. A streaky player is not a bad player, and there was plenty of hot stuff to go with the cold. He gained six break points against the Frenchman in the second set, but converted none of them.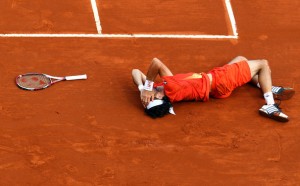 A poor last service game ended it, capped by a final rally in which Tsonga sparred patiently, and Kohlschreiber thrust another backhand into the net.
Haase d. (11) Monaco, 7/5 0/6 2/3 ret.
It is well known that the Nice tournament, played the week before the French Open, is cursed, that the champion on the Cote d'Azur is destined to fall in the first round the following week. The last two years they've blown a two set lead. Why top players continue to show up in Nice at all is beyond me. A similar question might be made of Juan Monaco's determination to be crowned US Men's Clay Court Champion in Houston last week, the week before the somewhat more illustrious Monte Carlo Masters, thereby depriving an American of this coveted accolade. It didn't help that he saw off Michael Russell (a Houston resident) and John Isner in the final two rounds. Neither the gods nor the Department of Homeland Security were likely to let this matter slide. Today, up a break in the final set against Robin Haase, Monaco rolled his ankle viciously, and two points later was forced to retire. No news has emerged as to the seriousness of the injury. It's worth pointing out that Monaco blew a 4/2 lead in the first set, and so shouldn't have been in a deciding set at all. There was also a lengthy rain delay. It's also worth pointing out that the last time the Argentine ascended to No.14 in the world was in 2007, whereupon he rolled his ankle badly. Think about it. If it's not the work of capricious gods or humourless men in suits, then what is it?
Appalling luck, that's what it is. And a damned shame.