Barcelona, Final
(1) Nadal d. (3) Ferrer, 7/6 7/5
Having never won a prestigious tennis tournament multiple times, or even once, I cannot say whether the seventh triumph feels more or less special than the fourth or fifth. Looking at Rafael Nadal and David Ferrer at today's trophy presentation at the Barcelona Open Banc Sabadell, I could not shake off the certainty that whatever seven meant, one would have meant a whole lot more. Nadal was clearly thrilled, but I suspect he would have looked at least as delighted if his friend had won instead.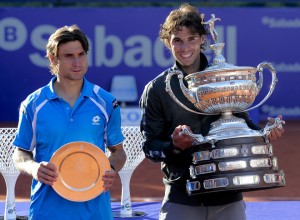 Certainly Ferrer would have been happier. By his own admission, winning Barcelona would have been the climax of his career (which tells you just how passé the Davis Cup has grown for these guys). Of course, he didn't win, and the phantom of that climax haunted proceedings.
Nadal was effusive in claiming the Barcelona trophy had never tasted better: 'The emotions are always high, but probably each year they get a bit higher as you are one year older and you don't know how many chances you are going to have left'. For the record, he is 25, which even for a tennis player is a little premature for intimations of mortality, especially for one who has just won consecutive tournaments without dropping a set. Assuming his knees maintain some structural integrity, his main danger in years to come will be a collapsing shelf in his trophy room. If the shelf holding seven Conde Godó trophies gave way, even Atlas would buckle. And let's not forget he won Queens as well.
Others were undoubtedly more emotionally invested in the match than I was, and therefore have a different take on it, but even as Ferrer stepped up to serve for the second set I don't recall my faith in Nadal's eventual victory wavering. Which isn't to say that the final wasn't exciting. It was, although its strange energy derived mostly from wondering how long Ferrer could sustain his stratospheric level, and then marvelling when he kept it up longer than seemed possible. He sprinted along a tightrope for hours, but, aside from those Nadal fans with the hardest cores, it was surely inevitable that he would slip eventually. Nevertheless, frenzied supposition has thickened the ether. What if Ferrer had taken any one of the handful of set points at 6/5 in the first set? What if he'd served out the second? I think the answer is that he would have lost in three.
We can say that the match was close, and it was, but should not therefore infer that Ferrer was close to winning it. Five times he was a point away from taking the first set. Winning a set goes a long way towards winning two of them, which goes most if not all of the way towards winning a match, and climaxing for real. But winning a set is also necessary for losing in three. I'm wearily convinced that's what would have happened.
Others may have different views. But it was a straight sets victory for Nadal, and once he had broken back (to love) at the end of the second set, he grew, typically, into a titan.
It is, naturally, possible to have a very close match without having it go the distance. It occurs when you feel as though the eventual winner is barely clinging on, and that if he loses that second or fourth set, they're destined to lose to lose the match. The challenger is simply coming at them too hard. The 2002 US Open final provides an excellent example of this. As the fourth set's intensity soared, Agassi grew stronger and Sampras grew haggard and desperate. If it went to a fifth, Sampras was gone, but it didn't. He held on. Last year's best match, the pulsating French Open semifinal between Federer and Djokovic, is also exemplary. If Djokovic had served out the fourth, the odds on him taking the fifth were overwhelming. Federer's only chance, one felt, was to finish it in four. That was the decider.
Today's match didn't feel that way. Had Nadal lost the second set, I have little doubt he would have won the third. Ferrer led in every one of the first dozen or so games, and opened the match by breaking for 2/0, but at nearly every decisive point thereafter, Nadal was superior, and often fearless. Ferrer hammered the Mallorcan's backhand all day, but on those set points he could hardly find it. Nadal landed first serves (one was an ace), and belted forehands (although he also wrapped his frame around a backhand that wobbled in). In the tiebreak, Ferrer stumbled, and suddenly Nadal's forehand asserted itself once more. Nadal's level dropped in the second set, as it has all week, and Ferrer took four straight games. He stepped up to serve for the set. Again, when it mattered, Nadal went big, broke to love, and then stayed that way.
Interviewed afterwards, Ferrer choked on tears. He knew he'd played superbly, but not when it mattered most. Against Nadal, he admitted, you cannot just play well. You have to play perfectly, and you have to do it when it really counts. His lost eyes looked like those of a fine player who had deliberately aimed low for his career's climax, and who now realises he might have aimed too high.