Bucharest, Final
(1) Simon d. Fognini, 6/4 6/3
Fabio Fognini, in his first tour final, fell to Gilles Simon in the final of the Nastase-Tiriac Trophy in Bucharest. For Simon, it is his tenth career title, three of which have come at this event. As a match, it played out almost precisely as one would expect.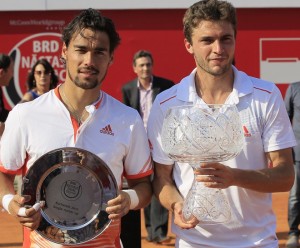 Simon steadily smothered the mercurial Italian, whose flashes of brilliance joined up initially to form a blinding light, before eventually breaking apart into fitful sparks, and then going dark entirely.
Fognini – The Fog – typically began in a flurry. Except that fog doesn't flurry. Ones eagerness to pun on 'fog' is as ever vitiated by the Italian's quicksilver approach to the sport, which is by turns thrilling, irritating and engaging, generally within a single point. As metaphorical classes, there is just no overlap. As a writer, it's frustrating, though I suppose this is an apt testament to watching him play. It turns out that parsing sentences about him is about as tough as deciphering his matches.
Fognini's fans – and his broad appeal is such that these are not demarcated by national boundaries – seem generally eager to proclaim his uniqueness. I will thus court opprobrium by suggesting that he is a very similar player to Xavier Malisse, in his indisputable talent, his capacity to impart pace from nowhere, his instinctive court-craft, his ease in the forecourt, and his tendency to alternate breathtaking winners with clearly not giving a toss. The key differences, for the collector of trading cards, is that Fognini generates drama more effortlessly – Malisse is always strained in this regard – and that he is far more handsome. It could be that I am biased in this area, since Fognini and I currently cultivate a similar facial hair arrangement – sometimes referred to as a 'beard' – although I will concede that he pulls it off rather more successfully.
As Ferrer would later, the Flurrying Fog shot out to an early break. Unpack that sentence at your peril. It seemed as though every rally ended in a winner, and that every one of them was different. Simon, beset, looked set upon, although he often does for some reason. Indeed, I am always surprised to see Simon exhibit so much passion in between points, and then dismayed that so little of it finds its way into his actual tennis. It is especially strange when he plays someone like Fognini or, say, Alex Dolgopolov, and they're running hot and cold. Simon will push one ball airily up the middle of the court, and his opponent will loft it over the baseline. He'll do the same again, and his opponent will smack a winner, whereupon Simon will turn and lavish some invective on his player's box. What does he think will happen, that no one can possibly tee off on his mighty groundstrokes? His entire approach is surely based on the awareness that anyone can belt his shots away into the corners, but that they cannot keep it up indefinitely.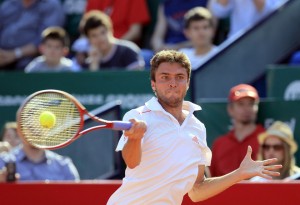 Eventually the opponent will commit an error or drop it short. Simon is admirably patient in waiting for these opportunities. But why, then, does he drop his bundle so constantly? It could be that there are factors at play too subtle for me to grasp. It could just be that he's a human being.
Sadly, it take long before Fognini's winners stopped finding the corners, and began to miss the court (thereby disqualifying themselves), although enough of them didn't that he remained level with Simon for a while. The tennis was delightfully all-court, as extravagant lobs gave way to deft volleys, and scything backhands, but it wasn't quite enough to save a tight first set. There was a realistic fear that Fognini would fall away entirely upon losing that opening set, although, typically iconoclastic, he saved his collapse until the middle of the second. He dropped serve for 4/2, and from there appeared to lose interest. One may posit any number of explanations, but there's no reason to think they'd be correct. Perhaps he'd just had enough. It was only his maiden final, after all. There will be others, and he really didn't seem that upset.