Barcelona, Semifinals
The top seeds have moved through to their respective finals in both Bucharest and Barcelona, following a day of straight-sets semifinals, only one of which inspired much beyond yawns and dyspepsia. These have thrown up – or vomited forth – a pair of deciders that will pit an overwhelming favourite against a sentimental one.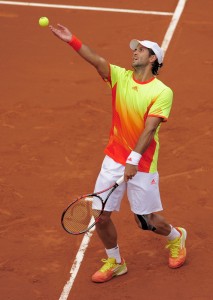 As a way of settling an uneven week, it is as much as we could have hoped for.
(1) Nadal d. (9) Verdasco, 6/0 6/4
The result and the duration of any Nadal-Verdasco clash are wholly predicated on how much better Nadal is at everything on that particular day. Since we're dealing with people, this is a variable metric. Sometimes, like today, Nadal is much better, and the result is a blow-out. Since we're dealing with Verdasco, we can assume that even when it is close, the result remains more or less foregone. Verdasco will always find a way, and usually he will find it via the double-fault. In this area, he remains a virtuoso of the first order, like Arturo Benedetti Michelangeli, who elevated the performance of Debussy to unparalleled heights with his precision and artistry, where others had merely contented themselves with sloppy gush. Such is Verdasco's mastery of the double-fault, that even when they don't prove decisive – and today the decisive moments were dispensed with in the first three games – they maintain an indirect influence on his performance.
The serve is the only area in which Verdasco is putatively superior to Nadal. And yet, haunted by the spectres of double-faults past, Verdasco has lately taken to meekly rolling his first delivery in. It proved disastrous in Monte Carlo, when it cost him multiple set points, and perhaps the match, against Jo-Wilfried Tsonga. Today, faced with an opponent he hasn't beaten in 674 attempts, it was probably never going to matter much, but it would have helped avoid the humiliation of a first set in which he won ten points, and not enough of them consecutively to claim an entire game. Nadal was devastating, but Verdasco was too willing to allow it.
Verdasco rapidly conceded a break in the second set. Then, figuring it no longer mattered much either way, he started to go after his serve, which allowed him to step in on his forehand. It turns out those one-two combos everyone goes on about don't only work in theory. When Verdasco has time to move forward onto the ball, his left-handed forehand is the equal of Nadal's, which is not the same thing as saying his forehand is as good a shot overall. Nadal's remains potent from any position, and for almost any purpose. There was a minor wobble at the end, when Verdasco threatened to break back as Nadal served for it. It was a tricky spot for Verdasco to extricate himself from, since he was returning and therefore couldn't rely on his second serve to save or damn him. But even artists have solid fundamentals. He found some groundstroke errors when he needed them most, missed a few returns, and tracked down a drop shot from Nadal, flicking it casually wide.
(3) Ferrer d. (11) Raonic, 7/6 7/6
David Ferrer has said that winning Barcelona title would be the climax of his career. Of course, players say this sort of thing all the time. Gilles Simon has presumably prepared a victory speech in which he extols the virtues of the Nastase-Tiriac Trophy unstintingly.
Initially, I dismissed Ferrer's words as more of the same. After all, he is a near-permanent fixture in the top ten, and has tarried at the top of the men's game for half a decade. Yet, of course, he has never won a Masters 1000, or ventured beyond the semifinals at a major. This is not secret knowledge, and I have written several times about how utterly the top four control the Masters and Slams. It is, as the hopefully inimitable Donald Rumsfeld might say, a known known. And yet, for whatever reason, I was slow to realise that Barcelona would indeed constitute the biggest title of Ferrer's career, for all that he has an entire orchard of those pear things from Acapulco. A prestigious and richly-traditioned 500 in Spain, which many Nadal fans would prefer to see their idol skip, really would mean the world to the world No.6.*
This might explain Ferrer's reaction upon sealing a straight sets victory over Milos Raonic today, as he collapsed to his back on the clay. It's true that both sets were tiebreakers, but Ferrer was unflappable in both of those, especially in the first, when he flew to a 6-0 lead. This had been a colossal shame, since it capped an excellent and dramatic first set, in which neither player could convert multiple break points. Through the early going, Raonic was as savage on serve as he had been against Almagro and Murray, and his off forehand remained almost as irresistible. Ferrer, apparently more astute than Murray, directed almost everything to the Canadian's backhand.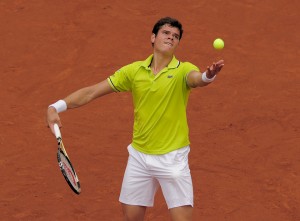 Having dropped the first set, there was an entirely justified fear that Raonic would fall away sharply in the second, and to be frank his level was reduced, and yet it is to his credit that he remained with Ferrer until a second tiebreak. He saved one match point with an inside-in forehand winner, but not the second, and Ferrer hit the dirt.
In the final Ferrer will face Nadal, which means that he will, sadly, lose. He has beaten Nadal four times in official competition, twice at majors, and even once on clay. Aside from Murray, elite athletes are experts at extracting the positive aspect out of any situation, reducing it to a condensed paste, and then consuming it for sustenance. Yet even Ferrer will derive scant nourishment from the consideration that his only clay victory came eight years ago, in Stuttgart, and that it was still 7/5 in the third. Nadal has since won Barcelona six times, which is every time he's shown up since 2005. Ferrer lost to him in the final last year, and in 2009 and 2008. You can't sustain yourself on that.
Getting to the final is not an inconsiderable achievement, and Ferrer was probably justified in rolling about on the court afterwards. He has come a long way. But in the grand scheme of taking the Barcelona title from Nadal, he has barely done more than arrive at the venue.
But anything can happen in sport.
* It has been pointed out, correctly, that Ferrer has already won a 500 in Spain (Valencia, 2010). I've slightly amended the text to reflect my original intent, which was that it's the pedigree of Barcelona, as opposed to the ranking points, that makes it so mean so much to Ferrer.