Munich, First Round
(Q) Farah d. (7) Davydenko, 6/3 6/2
Defending champion Nikolay Davydenko yesterday lost to Robert Farah, the Columbian qualifier who last week tore lustily into the Barcelona main draw, and now looks capable of doing the same in Munich. The score, the stat that matters most, here ably tells the tale of a match that wasn't even close.
By losing so early, Davydenko has jettisoned enough points that he'll float beyond the top fifty. Those faithful fans on earth still waiting for Davydenko would do better to search for him somewhere in orbit.
He has just become a father for the first time, and so there's a good chance he is floating ecstatically, although it will be the haggard ecstasy that nothing before parenthood quite prepares you for.  Thus distracted and encumbered, the chances of Davydenko returning to the truly elite levels of the sport are fading by the week. Soon he will be compelled to qualify for Masters events, a requirement one imagines won't thrill him. A little over two years ago there was a widespread belief that he was destined to win a Major. Then a second set implosion against Federer at the 2010 Australian Open – it's rare to be able to isolate the precise moment when an elite career ostensibly ends, but it's at 6:50 in those highlights – followed by a seemingly innocuous wrist injury sent him into a slump that, somehow, he never recovered from. Once he had returned to the tour, the long wait began for him to return to his previous level. Over the last year that has given way to the hope that he would achieve one last impressive run at a significant event. Now even this looks unlikely. For a very fine player who never received his due, this is a crying shame.
Courtesy of his heroics in Barcelona last week, David Ferrer has been much discussed of late, thereby inspiring interested parties to grow profligate with the term 'dogged', and to celebrate endlessly just how exhaustively he has maximised his talents. I realise I'm courting rancour by saying so, but I'd hazard that Davydenko eclipses even Ferrer in this latter quality. The Spaniard isn't tall, but he is solidly built, and yet we're quick to excuse his lack of power, for all that he's two barely inches shorter than Andre Agassi (who was never accused of being a lightweight) and the same height as Sebastien Grosjean, whose slapped forehand up the line was rightly feared. Ferrer is also only an inch shorter than the ultra-aggressive Davydenko, who is built like a whippet.
Agassi's name is not an inappropriate one to invoke. Not since the Las Vegan retired have we witnessed a player so adroit at taking every ball on the rise, when it is still replete with energy, and then redirecting it at will and at pace. His hands, feet, and endeavour are the foundations of his game.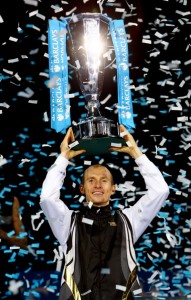 A truly attacking player can hit him off the court – his record against Federer is abysmal – but he refuses to be intimidated by anyone. He boasts a 6-4 head-to-head with Nadal, and three of those losses came on clay. Along with Agassi, Davydenko ranks with the most finely calibrated ball-strikers I have ever seen, and amongst the most fearless.
If everyone with a heart dearly hopes that Ferrer wins a Masters title before he retires, it is worth remembering that Davydenko has won three of them (Paris, Miami and Shanghai), and that he overcame Nadal in the final twice. His crowning achievement came at the World Tour Finals in 2009, when he defeated Federer, Nadal, Soderling and del Potro to take the title, driving the giant Argentinean halfway to despair in the final.*
It all seems like a distant memory now. Over the last 52 weeks, Davydenko has compiled a record of 20-23. They aren't numbers to be proud of, but exceeding even the volume of those losses is their manner. Six of those losses have come to qualifiers, two to wildcards, and one to Viktor Troicki.
A key issue here is the first serve. Despite his modest stature, Davydenko at his best boasted an insidiously tricky first ball, courtesy of a strange torque in his action. I can find no useful stats on his service speed lately, but the perception is widespread that he is going after it less. The numbers that are available back this up. In his best years, which were 2005 – 2009, his first serve percentage was a respectable 67-69%. This is has actually risen in recent years (to over 70% last year). Yet, his ace rate has more than halved. In his glory years, on average 5.5% of his first serves were aces, which is not amazing in the scheme of things – Isner comes in at 16.7% – but is okay for his type of game. In the last year that has been reduced to just 2.3%.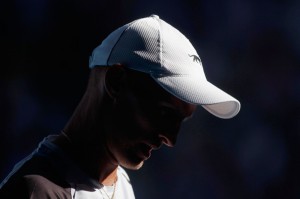 The implication is either that Davydenko has only played guys who are harder to ace, or, more likely, that he has indeed dialled back the heat on his first serve. This helps explain why he's winning so many fewer points behind it (about 6-7% lower than his peak years).
Without his serve to set up points, the widening cracks in Davydenko's ground game have grown broad enough to swallow him up. I was courtside for his squalid loss to Flavio Cipolla in the first round of the Australian Open this year, and a painful experience it was, savagely hot, windy and depressing. Cipolla's game is built around reasonable foot-speed and a sliced backhand, carefully placed atop a large mound of nothing else. He is the kind of player that Davydenko would once beat left-handed, for a lark. Time and again the Russian would attack, achieve the ball he wanted, and then miss the put-away. He wasn't pleased about it, but he mostly just looked nonplussed, gesturing away at his brother Eduardo with an expansiveness and regularity befitting the WTA. For a game that was based around such delicate calibration, it doesn't have to go off much before it doesn't work at all. The last two sets weren't even competitive.
Today in Munich Tommy Haas was immaculate in seeing off the top seed Jo-Wilfried Tsonga. Haas insists that he has no great designs on a late career miracle, and it's easy enough to believe him. He plays on because he loves the sport, and for moments like these, in the full awareness that when it's finally over it will be over for ever. Even as an admirer of Davydenko's game, and his sly, wry attitude, I would never suggest that the Russian loves the sport that much, or enough to continue on once it becomes perpetually frustrating, once he glances around, and finally remarks, 'No, it's not worthwhile now.'
*Perhaps most shockingly, he defeated Monfils, Soderling and Verdasco on his way to the Kuala Lumpur title earlier that year. The draw also included Ferrer, Gasquet, Gonzalez and Berdych. It was only two and half years ago, but the Malaysian Open's glory days feel as distant as Davydenko's.