Dubai, Final
(2) Federer d. (3) Murray, 7/5 6/4
Roger Federer today won his 72nd title from his 102nd final. The tournament is Dubai, which he has won for the fifth time, meaning he now owns enough of those polished boats that he can technically form one of the largest armadas in Switzerland. At the very least his vast trophy room will need a bigger pond. (As runner-up, Andy Murray was given a ceremonial dagger, which seems either ironic or cruel.) Dubai is Federer's second title of the year, and becomes the seventh event he has won at least five times (counting the old Hamburg Masters and the new Madrid one together).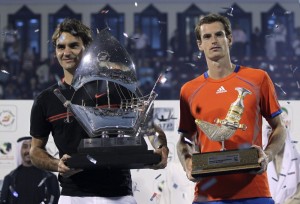 In the six months since the US Open, he has compiled a 33-2 record, and claimed five titles. Federer has now become the kind of player for whom it is simpler and more fun to recount the numbers, since even the deepest well of superlatives has long since run dry.
Today Federer faced Murray for the fifteenth time – the Scot now leads 8-7 – although it was their first encounter since 2010. They used to play about four times a year. They avoided each other last year for precisely the same reason that Murray and Djokovic used not to play much. In an era in which the top four are so dominant, it is difficult for the third and fourth ranked players to meet. So often, too many things have to go right. Today's match only required that Murray inflict upon Djokovic his first loss of the year, and his first at this venue since 2008. With that out of the way, only Federer blocked the Scot's path towards a maiden boat. Alas, for Murray, he could not reproduce yesterday's form, primarily because Federer does not play like Djokovic (especially yesterday's Djokovic). On a fast hardcourt, surfing a towering and unified swell of crowd support, Federer was only ever going to play like Federer.
I feel more or less vindicated in harping on fast court tennis because it probably won't come up again until Cincinnati, in August. The Dubai court allowed Federer to hit through Murray many times tonight, but it was his attacking instinct and vast experience that granted him the wherewithal to stay with it even when his best shots came back. Murray is an outstanding defender, but when your opponent continues to come at you it with immense variety and without discernible relent, it becomes difficult not to crack eventually. Federer's approach forced both men to dance across a tightrope. Rather like Rafter or Sampras' encounters with Agassi, there was no safe option for either player. Murray's detractors – who all too often profess to be his fans – would do well to remember this.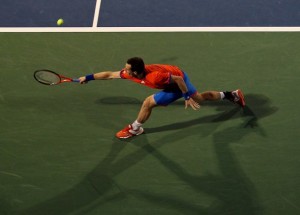 Certainly Murray could have attacked more – although on television it is easy to discount just how thoroughly Federer's court position and refusal to yield ground forces opponents onto their back foot – but even his defence, so often frantically virtuosic, was an option fraught with risk.
Assuming Federer could sustain his level, there was thus the sense that upon winning that tight first set – seemingly against the general run of play – the Swiss would go on with it. Initially, that was how it played out. An early break in the second tinted the match with a familiar hue. It began to look like the US Open of 2008, or, to a lesser extent, the Australian Open final of 2010. Nonetheless, Murray is made of stern stuff, and he broke back for 3/3 by mowing down another Federer drop shot, followed on break point by an audacious combination of topspin lobs. I cannot recall the last time I saw a guy hit two topspin lobs in a row, even Lleyton Hewitt. It was highwire defence, and it was magnificent. The Scot was rightly thrilled.
Alas, for Murray, it didn't last. He was broken again at 4/4, and Federer came around to serve for the match. The second seed grew tight on the ad court and loose on the deuce court. A magnificent rally at 30/30 brought up the first match point, as Federer finally tore into the forecourt and Murray netted an attempted crosscourt pass. Federer then looped a forehand several metres long: Deuce. The second match point arrived courtesy of vintage play (it's at 2:53 in this clip), via a series of savage inside out forehands, each more ferocious than the last. Watch how Federer creeps incrementally forward on each shot, until he is inside the baseline, while Murray is compelled first to retreat, and then to guess.
Finally, he guesses wrong. Federer seals the match with another mighty off forehand into the corner, an echo somehow louder than anything else. The crowd erupts and he punches the quivering air.
Whether the echo will reverberate for long is questionable. Dubai is a fine event, and beloved by the players, who each receive a roll of platinum toilet paper just for showing up, but it ultimately means little within the scheme of the tour, especially when the season features few courts this quick. For Murray, and his fans, it means assurance that 2012 will see no post-Melbourne slump. He is well positioned for the year, and has precious few points to defend in the next few months. Speculating on whether he will somehow claim a maiden Slam is as pointless as it is irresistible for Sky Sports commentators, especially based on a 500 event in the Middle East. Nevertheless, I am confident he will do some mighty damage, somewhere.
And what of Federer? Confidence is a wonderful thing, and he said as much afterwards, once the fatally boring trophy ceremony permitted the players to speak. Yet he knows better than anyone that the upcoming Masters events do not reward exuberant first-strike tennis. Indian Wells somewhat offsets the treacly surface with thin desert air, while Key Biscayne compounds it by taking place in a swamp. The advantage will tilt inexorably back towards the defenders, which means that attack will become riskier, and sturdy defence safer. Federer hasn't won either of those tournaments since 2006 (although before that he won them a lot). Still, until today, he hadn't won Dubai since 2007. Things change.