Dubai, Semifinals
(4) Murray d. (1) Djokovic, 6/2 7/5
(3) Federer d. (8) del Potro, 7/6 7/6
What a difference a topcoat makes. Every few years, for reasons entirely its own, a tournament will lay down a hardcourt that plays almost the way they used to, back when Pete Sampras and Goran Ivanisevic unleashed first serves so wicked and ferocious they nearly destroyed the sport, apparently.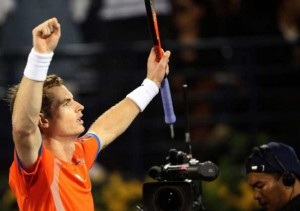 The polarising effect upon viewers can hardly be overstated. There is only one match remaining in Dubai, but everyone suddenly has an opinion. To no one's surprise, these opinions are more or less demarcated according to the play-style of ones favourite players. In tone they cover the entire range from elegiac to disdainful.
We should not too readily discount the degree to which the hurricane slick courts – primarily grass and indoor carpet – eroded the image of men's tennis in the 1990s. Those sections of A Champion's Mind in which Pete Sampras sought to justify his duels with Ivanisevic at Wimbledon were the least convincing parts of what was otherwise just a lethally dull book. His insistence that holding one's nerve as the ace-count soared required tremendous skill and concentration entirely missed the point. No one doubted the skill involved, but there are plenty of things that require enormous skill without being interesting, like mastering the French Horn. The 1998 Wimbledon final was monumentally boring, a marathon French Horn recital for the soul.
Nonetheless, if the nineties saw too much first strike tennis, the current era certainly sees too little. The ATP's official edict, diligently adhered to, is that no court should be fast enough that a winner might be struck in the first ten strokes of a rally, unless the player has been certified as recklessly suicidal. The public want rallies, we're told, the longer the better – anything under ten strokes is barely worth the name.
Dubai's court surface is therefore in direct contravention of this. Andy Murray was today smacking winners past Novak Djokovic at what would normally be called the start of the rally, but was instead, emphatically, the end. Admittedly Djokovic wasn't doing much right, but he was moving fine. It was a risky approach that yielded tangible rewards for the Scot, and it was to his credit that he didn't abandon it even when it continued working. Think back to that fourth set in Melbourne. On the other hand, Djokovic took to rushing the net. It turns out the court wasn't quite fast enough for that. No court can help you if you're inclined to dump volleys into the net. It was, of course, the world No.1's first loss of the season.
Roger Federer had rather more success in the forecourt against Juan Martin del Potro. Suddenly, the men's game has arrived at a point where people are serving and volleying. Admittedly, they do both of those things on other surfaces, even on clay, where volleying takes the form of one guy standing at the net waving his racquet about after tracking down a drop shot. The speed of the Dubai surface, however, has enabled these elements to be combined into a single fluid unit.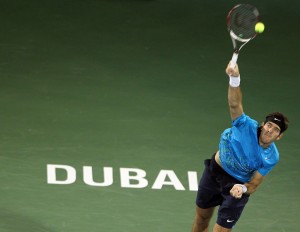 For the sake of convenience, let's call it serve-volleying, at least until the French come up with a catchier moniker. It has also meant that punching through volleys is rewarding – assuming you are among the three or four players who remember how to.
Federer's performance against del Potro was otherwise streaky, but his volleys were uniformly superb, and would have been in any era. In his hands, the volley's function was not merely to end the rally immediately, but to ratchet up pressure. Volleys were strung together expertly. The trick with first strike tennis is not that the rally is over in one stroke. It is that whoever makes the first decisive blow takes control of the point, then each of the next few shots become extensions of this. Decisive blows are chained into definitive combos, leading to a knock-out punch, often at the net. It makes for tremendously exciting exchanges, torrents of errors, and some engaging and fairly misleading highlights packages. There were of course rallies – it was still fundamentally power-baseline tennis, and most points began and ended there – but the longer of these now stood out as desperate tight-rope affairs rather than endless iterations on a single theme. The penultimate point of the match was a 28 stroke masterpiece of baseline assault.
Furthermore, it would be misleading to suggest that it was all about Federer. Del Potro pushed him hard, and squandered four set points to force a decider. That he remained so composed under relentless pressure speaks volumes as to how well the Argentine does the things he does, at how well he moves, anticipates and executes. Some of his forehands were truly fearsome. Had he unleashed them in the nineties, they too might have destroyed the sport.