Delray Beach, Final
(7) Anderson d. (Q) Matosevic, 6/4 7/6
Kevin Anderson won his first tournament at the SA Tennis Open in Johannesburg in February of 2011. Johannesburg was frankly a wretched event that ultimately could not overcome the woes of time and space – timetable and geography – and consequently saw its contract go 'unrenewed' a few months later. In Australian terms, it was 'given the arse'. Anderson will therefore continue on as reigning champion forever.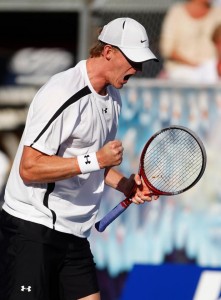 Johannesburg was replaced on the calendar by Open Sud de France in Montpellier, although its spiritual successor is really Delray Beach, which has this year sustained the sterling tradition of being the lousiest tournament in February, traditionally among the weaker months on the tennis calendar. Anderson has now won Delray Beach, his second title. Based on Johannesburg's precedent, is it too much to hope that his triumph is the kiss of death?
This is patently unfair to Anderson, who seems a tremendous guy, and is certainly a very fine player. He deserves to be winning better tournaments. For some reason, I can imagine him taking Rotterdam one day, or perhaps Beijing.
Everything about Delray Beach failed to impress, from the half-empty bleachers – a feature as ubiquitous as the ghastly Kisscam at these flyspeck events – to the red Porsche parked ostentatiously on the court, to the brutal bonhomie of the stadium announcer, peddling Z-grade products at each change of ends. At one point a couple of stiffs were hustled onto court to be thanked for their endowment to a local university, which is not to be derided, although the connection to professional men's tennis was difficult to trace. Of the few people who weren't busily snogging each other for a chance to be shown on the Jumbotron, a smattering applauded.
The action on the court was only sporadically better. Anderson provided the high points – his victory over John Isner especially stood out – although Marinko Matosevic's unlikely run to the final should not be overlooked. Whether it is prophetic of bigger things to come is a tricky question, since the things coming up immediately – Indian Wells and Miami – are likely to be a little too big for him. Nevertheless, he displayed a tenacity that he was not otherwise known for. Kohlschreiber was fabulous early, a high point, and then wasn't, a low. His fans will understand.
Andy Roddick, depressingly, provided the lowest point, which came when a linesperson had the temerity to call him for a foot fault, and merely because he stepped on the line while serving. In lieu of the tried and trusted method of retaliation – i.e. death threats – Roddick opted to humiliate the official publicly, remarking (among other things) that 'My left foot has stayed in place for 12 years . . . That's all right, my first match was here, too.' It was a strange comment, given that the linesman's job is to stare at the line, while Roddick's is to win tennis matches. It seemed to me that only one of them was fulfilling his obligations. Tennis.com reported that Roddick thereafter took to commemorating all of his winners by pointing at his wife Brooklyn Decker in the stands, the subtext presumably being that by marrying a swimsuit model he can step on whichever line he damn-well pleases. It might have been a bigger issue if he ever struck more than two winners per set.
As I said, Anderson provided the high points of the tournament. The highest came as he saved three match points to defeat Roddick in the third round. The South African was rightfully elated at the victory, which had predictably been marred by another joyous episode of Roddick haranguing an official, this time the umpire. Being a nice guy, Anderson didn't gloat. Had he been Boris Becker, however, he too might have pointed at Roddick's wife.