The men's singles draw for the Indian Wells Masters has been released, meaning that we may now hunt it for sport. The astounding news is that Federer and Nadal are in the same half. Again. That's twice in a row. I don't have a calculator handy, but I'll hazard a guess that the odds on this happening are one in a million. Seems fishy.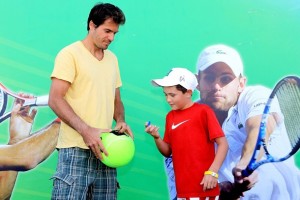 The corollary is that neither man is in Djokovic's half of the draw, another 'coincidence'. When this many coincidences pile up – that's two, now – it's hard not to conclude that the draw is rigged. The evidence is irrefutable.
Anyway, there are other men in the draw – like a hundred of them or something – and even more in the qualifying draw, which is paring itself down as I write. Entry to the main draw cuts off at No.89, which has forced the indignity of qualification on several men who might otherwise have hoped for a smoother run, such as Frederico Gil and Matthew Ebden. Still, both are progressing nicely. So is Marinko Matosevic, whose first match took place scant moments after he narrowly lost in the final at Delray Beach. From a final in Delray Beach to qualifying on the back lot at Indian Wells . . . talk about a leap in prestige.
The presiding genius of the Indian Wells draw – which decreed for some reason that all 32 seeds should enjoy a first round bye – has determined that a pair of successful qualifiers must face each other in the first round, for the right to face Djokovic in the second round, ostensibly another bye for the top seed. Certainly the ATP is laboring under few illusions. They've already pencilled in Djokovic to face Murray in the semifinals. It is being termed a 'Duel in the Desert', because they're kind of in the desert and there are two of them. Djokovic, apparently, is keen to avenge his loss in Dubai. Woe betide any of the other seeds in his or Murray's path, including Mardy Fish and John Isner, who are fated to meet in the fourth round. Without any evidence whatsoever, I contend that Isner is desperately seeking atonement for last year's Atlanta final, in what later generations will whisperingly dub the 'War in the Wastes'. Tommy Haas and Olivier Rochus are on separate sides of the draw, but will nonetheless meet for a 'Catch-Up in the Player Lounge'.
On to the inevitable question of who will win the whole thing, meaning it's time to essay a prediction based on nothing more substantial than the fact that I've now seen the names of all the players I knew were turning up anyway, arranged on a piece of paper. To this bland element I can add some entirely unremarkable considerations of recent form. Based only on this year's results, can I declare with any confidence that del Potro will beat Federer, or that Federer will beat Nadal, or that Nadal will beat Djokovic? Experience tells me that the top four will make the semifinals. Those with sophisticated statistical models have arrived at the same conclusion. So have casual pundits who know little about the sport. Given this pervasiveness of weary certainty, it's hard to fathom why anyone would bother to rig a draw.
But wouldn't it be something if, say, Benoit Paire pushed through to the semifinals, and Florian Mayer won the whole thing? Imagine that.