Buenos Aires, Semifinals
(2) Almagro d. (6) Wawrinka, 6/4 3/6 7/5
A good day of tennis will sometimes come at you from nowhere. When it occurs on the final Saturday of a slow week boasting nothing more glamorous than a few disparate 250 events (and a 500 event that shouldn't be), then it can recede just as quickly into the more profound nowhere of lost memory. I suppose one must merely be appreciative as it happens, and to make note of it; a quixotic attempt to quell the surge of general forgetting.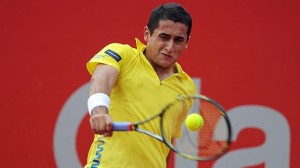 Too many of those lists purporting to recap a season's best matches ignore too many of the truly best, just because they happened 'nowhere'. Today was a good day of tennis.
Nicolas Almagro's defeat of Stan Wawrinka in Buenos Aires today probably won't go on to feature on any best-of list, even one compiled tomorrow. This is a shame, for it was a tremendous encounter, and among the more notable clay court matches I've seen in years. I am, admittedly, a sucker for a great one-handed backhand. (Late at night, alone, I'll sometimes even settle for an average one, and dig up some old footage of Sampras or Henman hacking about, the aesthetic equivalent of Hugh Grant cruising the LA streets for ghastly hookers. Like Grant, who had Liz Hurley waiting at home, I sometimes just need a break from marvelling at Gustavo Kuerten. I'm not proud of it. But I digress.) Almagro and Wawrinka have two of the most attractive, secure and effective one-handers in the world. Both can create from the backhand, like a forehand, achieving angles and touch denied to their double-fisted counterparts. There were entire rallies, especially in that third set, without a forehand being struck. Anachronistic perhaps, but it was also a delight.
Until Almagro broke at the end, it was anyone's match. Wawrinka seemed to have breakpoints in every game. Indeed, it is worth reminding ourselves that for all Almagro never loses in this part of the season to anyone but Ferrer, he does go to three sets a lot. His record seems dominant, but he rarely dominates. Often, he isn't far from losing. That he goes on winning anyway – except against Ferrer – suggests greater mental fortitude that he is usually credited with. Nonetheless, the question of why he cannot reproduce these results in Europe is not merely a nice one, but an essential one. In tomorrow's final, he faces Ferrer.
Marseilles, Semifinals
(4) Del Potro d. (1) Tsonga, 6/4 6/7 6/3
Llodra d. (3) Tipsarevic, 6/4 7/6
If neither of the fine Marseilles semifinals were quite as good as that ripper in Buenos Aires – a ball-tearer, my father would say – collectively they added up to something more. What they added up to was another succinct argument in favour of speeding up more of the hardcourt events. It was a curt rebuttal to the belief that doing so would return the sport to the serve-centric blitzkriegs of the 1990s.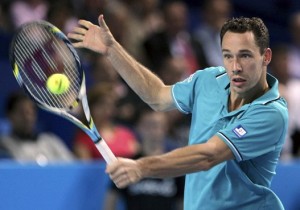 None of the four players involved lack a decent serve – Tipsarevic's is a marvel given his size – yet there was no shortage of rallies.
The wonder, however, was that there weren't only rallies. There was plenty of serve-volleying, especially from Llodra but also from Tsonga, and streams of aces. Returning also came into its own as an aggressive element of the sport, and not merely as a measure of how effectively the returner could negate the server's inherent advantage. Within the rallies themselves there was ample variation, and buttressed the point that a three-stroke point is quite unlike a ten-stroke one, while most rallies beyond a dozen or so groundstrokes will come to feel the same. Variety is the key.
Nonetheless, it probably wasn't the key for del Potro, whose best bet against Tsonga will almost always be to maintain equilibrium while the Frenchman cools and combusts from point to point. At his best del Potro retains control while essaying minor elaborations on a theme of tremendous pace. He can hit players from the court without seeming to take undue risks. His shortcoming is that he cannot go with the best players when they lift to vertiginous heights, as we saw last week in Rotterdam, when he mostly matched a merely good Federer in the second set, but was scrambled by a great one in the first. That match only reinforced a tendency in del Potro's game to start slowly, and thereafter recover. Although fans might prefer it otherwise, as a pattern, it is certainly better than the inverse, of fading after a strong opening. At least his recoveries give him something to work with, and are a testament to his underlying commitment and resilience. That was again much in evidence today after he'd lost a match point in the second set tiebreak, but then went on to break Tsonga early in the third, and run away with the match.
Tomorrow will be del Potro's second final in as many weeks. He will face the newly shaven Michael Llodra, whose one-handed backhand and virtuosity at the net would mark him as a throwback if his advanced age didn't instead reveal him to be the last of a dying breed. The modern game has driven the Frenchman to doubles, although he still emerges for the odd run at a fast indoor event. Tomorrow's final with thus represent another rarity in the modern game – a true contrast in styles. If del Potro wins – and he likely will – it will be his first indoor title, a rare first in this nostalgic week, the nowhere week of fast indoor courts and one-handed backhands.