Marseilles, Second Round
Olivetti d. (2) Fish, 6/3 3/6 6/3
Mardy Fish today lost in the second round of the Open 13 in Marseilles, having survived a bye in the first. He lost to Albano Olivetti. Casual fans will be forgiven for asking 'Who?' Hardcore fans have been asking the same thing. The trusty internet reveals that he is French, a qualifier, ranked No.388, aged 20, and stands at 6' 8''. The tournament organisers are probably asking whether Fish's appearance fee – purported to be somewhere north of $300k – has been justified.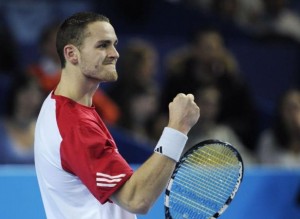 It begs the question of whether it would have been worth it even had Fish somehow won the event, assuming he'd received five byes instead of one. It seems a very strange business indeed, for a minor French tournament that had already procured the services of Tsonga and del Potro, not mention Gasquet and Dolgopolov. Does Fish have a sizeable underground French fan base that we know nothing about: L'Ordre du poisson?
I cannot remember the last time a top ten player losing to an opponent ranked 380 places lower engendered so little surprise. Fish, afterwards, appeared as accepting, or perhaps disinterested, as everyone else. Cynics might be inclined to read between the lines, and suggest that he did just enough to guarantee his fee. However, the lines were in a song book, and Fish wasn't deviating from the tune as written. He waxed loquacious about his opponent's first serve, which he stridently insisted was the hardest he had ever faced, eclipsing that of Karlovic or Isner. He was predictably keen to add that Olivetti would not be ranked so low for long – the Frenchman will indeed ascend about 100 spots even if he falls to Llodra in the next round – since no one will concede they went out to a clueless duffer. Instead the American has recast his loss as a tough encounter in which he didn't play his best, and was bested by a rising youngster with the world's greatest serve. No shame in that.
Memphis, Second Round
Rochus d. (WC) Harrison, 6/4 7/5
Fish was the highest seed to tumble anywhere today, but he was far from the only one. Still in Marseilles, Dolgopolov fell to Llodra, while over in Memphis Anderson went down to Querrey. It's hard to call either of those results upsets, since both winners are recent champions who've fallen on hard times. Speaking of which, Nikolay Davydenko was forced to retire against del Potro when he sustained a foot injury in the second set. If history is any guide, del Potro is therefore due to bugger his foot in the coming days.
Meanwhile in Memphis, Ryan Harrison has just lost to Oli Rochus. Neither man was officially seeded, although I suspect Harrison was in his own mind. A mostly pedestrian affair only came alive in the final games, amidst a flurry of breaks, double faults, scampering rallies, monstered returns, deft volleys and some sumptuous topspin lobs from the Belgian. Rochus let out a sharp bellow on Harrison's final backhand error, momentarily drowning out the tepid applause from the dozen or so onlookers.
Buenos Aires, Second Round
Andreev d. (7) Verdasco, 7/6 6/3
Berlocq d. (3) Simon, 6/2 6/1
Nalbandian d. (5) Monaco, 6/3 6/1
However, it was Buenos Aires that witnessed the most vigorous release of seeds, like a pinecone in a brushfire. I am apparently not allowed to say mean things about Verdasco, because he has tendonitis in his knee, and therefore shouldn't be upbraided for opting to play consecutive clay court tournaments, and thereby lose to a procession of chumps. He'll presumably turn up in Acapulco next week: another masterpiece of scheduling.
Today he was hit off the court by Igor Andreev, who, it turns out, has a big forehand. Nonetheless, Verdasco's loss was nowhere near as comprehensive as those of Simon and Monaco, who collectively managed just seven games against Berlocq and Nalbandian respectively. Berlocq was, according to eyewitness accounts, flawless, while Simon, by his own account, is on holiday. As he has done for a decade, Nalbandian is looking like the best player in the world, and will continue to do so until he doesn't. As ever, his ranking – currently No.85 – bears no relationship to his ability, form or general interest. It was the same when he was ranked in the top ten. I suppose he and Mardy Fish have that in common.