Memphis, Final
Melzer d. (4) Raonic, 7/5 7/6
Isn't the ATP Entry System peculiar? This morning John Isner, Jo-Wilfried Tsonga and Milos Raonic awoke to the thrilling news that the number representing their ranking had shrunk to be the smallest yet, despite the fact that they all lost on the weekend. Meanwhile David Ferrer and Juan Martin del Potro, who won on the weekend, saw their ranking either remain immobile or actually grow larger. I assume casual fans, if they knew or cared, would be baffled by this, although knowing or caring might disqualify them as casual.
Lest any are reading, I'll just say that it comes down to a muddled February schedule impacting on a 52 week ranking system, which is something of a cautionary tale for those advocating wholesale changes to the calendar. It'll sort itself out before long, but until then for some players it hasn't been enough simply to replicate last year's results, even if it was impossible to do better.
Raonic, however, could have done better, even as he perfectly reproduced his breakout run of 2011 by retaining the San Jose title, and falling in the Memphis final a week later. The abundant,  trivial similarities – such as Monfils pulling out of San Jose both times – obscured the degree to which the Canadian has blossomed as a player. Last year's run felt audacious, unlikely, and, finally, portentous. This year's felt imposing and inevitable, although in this he was certainly helped by some frankly generous draws, especially in Memphis. Still, if the Memphis field was weak – and it was frankly anemic for a 500 – we can hardly begrudge Raonic that. You can only best the opponents that show up, and he did best all but one of them without dropping a set.
Nor should we belittle Jurgen Melzer for being that one (although it's forgivable to deride his adidas kit, even if he has mercifully eschewed the matching shorts, unlike Tsonga and Verdasco). Of all the players who entered this disappointing event, the Austrian was still the only one to win it. In winning it he saw off Isner, Stepanek and Raonic, all of whom are aggressive players in rare form. Faced with this, Melzer is to be commended for remaining assertive himself, although he rarely plays any other way. It's a tough balance to strike, and in Melzer's case he struck it through being particularly belligerent on his returns, by forcibly disarming some of the most potent weapons in the game. I was courtside in the first round of the Australian Open last month, when he emphatically failed to do the same to Ivo Karlovic.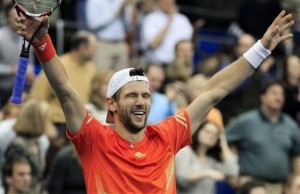 He'd seemed beset and impotent that day – doubly so in the face of a hostile crowd – but in Memphis the spark and assurance had returned. The spark, and the footwork, which turned out to be saying a lot once it was revealed he was playing the entire event with a broken toe, an injury he sustained by twisting it in his bed sheets one night, a classic tennis injury.
Today's final commenced predictably enough. Service games trickled by with a burbling fluency, inspiring drowsiness and vague desire to relieve oneself. I did so, and didn't miss much. Neither player looked like breaking, or like being broken. Rallies were rare, although Melzer was clearly better in them. He didn't have the serve, but he had a serve, and everything else he had was better. By 5/5 the tiebreak seemed slightly more inevitable than it had at 1/1. Then Melzer made a few returns, with the happy result that rallies ensued. Raonic missed some forehands, and was duly broken. It wasn't dramatic. They traded breaks in the second set, but all the games were tighter. This time the tiebreak did arrive, though by now Melzer's overall superiority was sufficiently obvious that the title seemed but a few missed Canadian first serves away. Raonic's first serve, as potent as any in the sport, had not faltered for two weeks. Finally, it did. It still wasn't dramatic.
Elsewhere in the world there were bigger events than Memphis being decided, even if they boasted smaller draws, and leaner rewards. Nevertheless, Melzer's joy upon winning was unrestrained, as he raced to embrace his coach. Somehow, it is only his fourth title, which is startling for a player of his abilities, with his firepower. Throughout a long decade on the tour, Melzer has undoubtedly graced countless tournaments even leaner than Memphis, but somehow he rarely won them. Casual fans, perhaps unaware that a tennis tournament actually took place in Memphis, Tennessee this week, and that an Austrian beat a Canadian in the final, will surely be ecstatic to hear that the victory has halved Melzer's ranking, propelling him from No.38 back into the top twenty.