Davis Cup, First Round
Croatia d. Japan 3-2
Karlovic d. Soeda, 7/6 6/1 6/4
It wasn't the only story to emerge from the first Davis Cup weekend of the year, but the big story was of big men playing big man tennis. The steady, throbbing thud of monstered first serves striking canvas backstops was like an ostinato for the weekend, although the variations that unfolded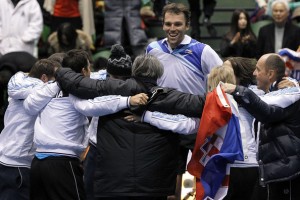 above it were of considerable variety and surprising invention.
John Isner's four set victory over Roger Federer on Friday in Fribourg proved to be merely the most rousing elaboration of a theme that had already been established by Ivo Karlovic in Hyogo, at the poetically-named and gastronomically-irresistible Bourbon Beans Dome. Milos Raonic later chimed in, in Vancouver. The most feared servers in the sport – many contend that a serve is all they have – were winning matches comfortably, with barely any recourse to tiebreaks. Unless they had somehow discovered how to break their opponent's serve using their own, this meant they were actually makign returns, as many as four per game. As fantastical as this sounds, various eyewitness reports have borne it out. It turns out the more derisive pundits knew less than they thought they did, which the rest of us knew anyway.
To my regret, I have occasionally numbered among them. I once joked that Karlovic should embroider '7/6' on his shirts, in much the same way other (unnamed) players do with 'RF' or 'Nole'. In my defence, Karlovic is a sufficiently sardonic guy that I could see him going for it. And yet, throughout a heroic weekend in Japan – the details of which I am gradually coming to – he only once had recourse to a breaker. He outplayed Kei Nishikori from the ground, on Decoturf, at the fabled Bourbon Beans Dome. This proved merely a prelude to beating everyone else. He won all three points in Croatia's victory, although he might conceivably have had a partner in the doubles. Indeed, we can blame that partner – the perpetually rumpled Ivan Dodig – for a single dropped set, marring Karlovic's otherwise perfect record.
Sadly, since he doesn't play for the United States or Spain or France, Karlovic's performance in Japan will go largely overlooked. This is unfortunate, since on those special occasions when he can find the court, his ground game is a delight.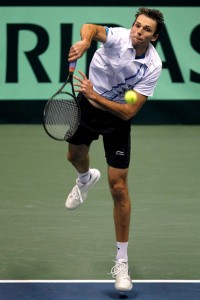 Beyond that, the act of leading his nation in the absence of Ljubicic or Cilic was a colossal achievement for a veteran nearing 33, still making his way back from injury.
And he did it almost unaided. Dodig can usually be relied upon for maniacal commitment if not transcendent ability, yet his efforts in both singles rubbers lacked his characteristic grit. Against Nishikori, this can be forgiven readily, since Nishikori outranks him handily, and will periodically grow unplayable. Against Go Soeda, however, forgiveness was more provisional, carefully withheld until Karlovic had casually claimed the fifth and deciding rubber. Last year, in the midst of an especially disastrous personal effort, Janko Tipsarevic remarked that it was nice to have teammates to cover for him: 'Even when you feel and play like crap, your team mates are there to fix the problem. 2:1 Serbia … Idemoooo!;)' He was not wrong. It is nice, especially when the teammate is either Novak Djokovic, or Viktor Troicki (for whom Djokovic will blithely substitute himself given the chance). Who could have imagined that Dodig might feel that same security in Karlovic?
The best thing about these weekends is that there is always at least one performance to inspire a bellowed rendition of that hackneyed show-tune This Is What Davis Cup Is All About. The worst thing is that there is so often only one. This last weekend, there were plenty, and Ivo Karlovic had us singing the loudest of all.