Sao Paulo, First Round
(Q) Andreev d. (WC) Gonzalez, 6/2 6/3
Although the chances are good that later events will run it close, the award for least surprising news of the week must so far go to Fernando Verdasco's decision to forgo the SAP Open in San Jose. Notwithstanding that he was the 2010 champion – the fourth of only five career titles – I can see how he might have soured on the place.
Last year San Jose became the ninth of Verdasco's eleven career runner-ups, and it was arguably the most memorable of the lot as he screwed falling short to an agonising new level of intensity. Especially unforgettable was the surliness with which he finally succumbed to the virginal Milos Raonic, and his subsequent self-righteousness in blaming everyone but himself.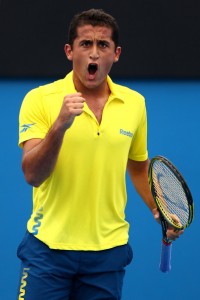 He then enshrined the result by losing again to Raonic in Memphis the following week, although this only confirmed the Spaniard in his certainty that he was losing because his opponent refused to play 'real tennis', an unworthy thought he foolishly relayed to the attendant press. It was a performance and an attitude ill-befitting a member of the top ten, and so it was in some ways appropriate that his inexorable descent from that lofty position began immediately. He has since plummeted all the way to No.27, but San Jose was wherethe slide began.
This year he finds himself in Sao Paulo, where a relatively weak draw has yielded Verdasco the No.3 seeding. Nicolas Almagro returns to mount a title-defence. Thomaz Bellucci is the local hope. Nevertheless, the main story was all Fernando Gonzalez, until he lost. It's hard to say what the story will be now. I'll offer the controversial opinion that David Nalbandian is a better player than his ranking of No.84 suggests, and the bold prediction that he will meet Almagro in the final. The rather shorter view is that his first round match against the outrageously talented Benoit Paire will be worth staying up or waking up for, depending on your location. Brazilians or those in geosynchronous orbit will make their own arrangements, I suppose.
Rotterdam, First Round
Youzhny d. Kunitsyn, 6/0 6/7 6/0
There are three tournaments running concurrently this week, although it's unfair on two of them that the third is Rotterdam, which usually ranks with the best of the 500 events. The top draws are Roger Federer, Tomas Berdych and Juan Martin del Potro, who has finally returned to the top ten, where he truly belongs, though not to the top four, where so many are convinced he belongs. Three of the eight seeds have already departed – Dolgopolov, Lopez and Granollers – as have most of the locals. Mikhail Youhzny has already won his first round match, with the most curious double bagel. Since claiming Zagreb a week ago, the Russian's beard has already evolved from merely magnificent to downright vengeful. Sadly, Ljubicic's farewell tour is going about as well as Gonzalez'. He's out too.
San Jose, First Round
(6) Anderson d. Dimitrov, 2/6 7/6 7/6
Meanwhile, over in San Jose, Grigor Dimitrov's young career has already progressed from narrowly choking away tough matches he should probably win, to blowing ones he certainly should. In his determination to emulate Federer's career, he appears to have skipped the outrageously successful and absurdly long part in the middle.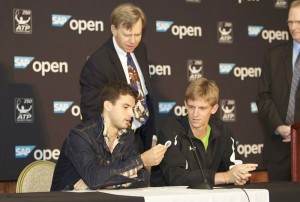 He was superior to Kevin Anderson in almost every aspect of the sport, with the sole exception being the tiebreak. The first set recalled Dimitrov's hiding of Mardy Fish at the Hopman Cup. The second and third sets recalled too many other Dimitrov moments to mention. He looked assured and elegant throughout, until the tiebreaks, when he looked inexperienced, which is ironic because these are exactly the situations he constantly finds himself in. The trick is to win before the sudden-death moment. That way you don't have to suddenly die. I don't mean to shrug off Anderson so lightly – to consign him to obstacle status the way so many people do for Ivo Karlovic – but he began slowly and never really sped up. He played about as well in the third set as he had in the first. I suppose that's the point: Dimitrov didn't. Last year I suggested he should be in North America rather than Europe. Now I don't know what to think.
The organisers of the SAP Open have once again obtained the use of the HP Pavilion, which is apparently otherwise used to store empty bleachers. One presumes that by not clearing these away, the tournament received a discount, and saved themselves considerable effort. Certainly it sets off the action much better than having actual human beings watching.
As ever with American sporting events, there appears to be a concern that more than a few seconds of inactivity will cause the crowd to succumb to rigor mortis, or to develop revolutionary leanings, or something. As a consequence, sensory assault was visited upon the dozen or so people in attendance at each change of ends. The best moment came when they were invited to watch a trio of animated tennis racquets bounce on the Jumbotron, each emblazoned with a HP logo. The aim, I assume, was to see who could stare at flagrant self-promotion the longest without weeping. This was enlivened by a corny announcer explaining things in  infantile detail via a boneshaking sound system. At one changeover Rick Astley's 'Never Gonna Give You Up' crooned out. The stream went down for a little while after this. A Rickroll of this magnitude was enough to break the internet.