Davis Cup, First Round
Day One
Fish d. Wawrinka, 6/2 4/6 4/6 6/1 9/7
Isner d. Federer, 4/6 6/3 7/6 6/2
Last year's Davis Cup first round was as crushingly dull as it was predictable, or crushingly dull because it was predictable, or crushingly, well . . . Even thinking about it envelops my brain in a dense miasma of indifference. The good news is that this year's instalment has been refreshingly different – an enervating and crisp zephyr to clear the fog away. Of course, plenty of the results have still gone as predicted.
The French, cunningly opting to field almost none of their top players, have had a tough time of it in Vancouver. Even without Djokovic, Serbia has somehow fought its way to a 2-0 lead against the Swedish dream-team of Ryderstedt and Prpic, ranked 348 and 1426 respectively.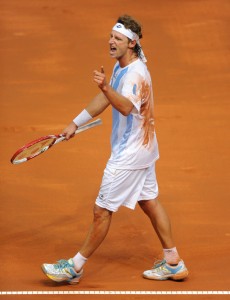 There was much made of Nadal's decision not to play Davis Cup in order to rest a wounded shoulder (presumably it isn't either of the shoulders he used in the Australian Open, which seemed fine). Characteristically, Ferrer's withdrawal elicited less fevered analysis. In any case, Ferrero and Almagro got the job done against Kazakhstan, eventually.
The talk, once the wreckage of the weekend has been hauled away, will be about the surfaces. Australia's choice of 'real' grass was a no-brainer. The modest Chinese team has barely threatened for a set at a time. The slick and low Geelong court is one that rewards variety – tailored for Tomic and Hewitt – and the Chinese players aren't terribly imposing even in the one dimension they have. As I write, they're emphatically losing the doubles rubber from the back of the court. Conversely, Germany stuffed up royally by laying down a clay court for the Argentinians, like a 78 foot welcome mat. Nalbandian and Monaco duly made themselves at home. Mayer professes to prefer the dirt, but his patented funk should translate readily to grass. Even if it doesn't, Petzschner and Haas are proven adepts on the green stuff.
The most searching questions, however, will be asked of Switzerland, and their choice of high-altitude indoor clay for the home tie against the USA. Being Switzerland, they had little say in the matter of altitude – unless they annexed part of Eastern France for the weekend – and on the face of it the choice of red dirt seemed obvious when faced with Mardy Fish, whose three worst surfaces are European, indoor and clay. The Swiss now find themselves 2-0 down, so the question begged is whether the obvious choice was the right one.
I suspect it was, and I also suspect that those pundits contending otherwise are going too far in seeking to justify Federer's disturbing loss to Isner, or, more accurately, Isner's stirring win over Federer. Isner afterwards insisted that as a big [read slow] man, he rather enjoys slower courts, since it gives him time to set his feet and wind up his strokes. That mighty five set loss to Nadal in last year's French Open has been paraded as a clear precedent. What was Switzerland, or the tiny part of it involved in its Davis Cup campaign, thinking? They were thinking, quite correctly that clay is Wawrinka's preferred medium, and that while it may not be Federer's, he remains the second most accomplished performer on it this century.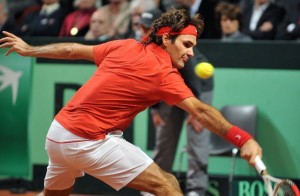 To the reasonable contention that neither man had set foot on it since Roland Garros, one could reasonably respond that neither had the Americans. In other words, the decision to inflict clay on the visitors was a tactical one, and it was the right one. The true problem lay in the execution, as it so often does.
Fish remarked during the week that the temporary Fribourg surface was of especially poor quality, that no two balls bounced even remotely the same. He was quick to quell any accusations of carping by pointing out that this helped the United States more than Switzerland, since these particular Americans are stylistically inclined to hit only one good shot per rally, and hopefully no more. If it happens to be a first serve, all the better. It turns out Fish was astute in his analysis. The quality of the surface made all the difference, and it is to the Jim Courier's credit that he noted this, and planned accordingly. He instructed Isner to unload whenever he had a shot he liked the look of, and to make it count. Isner was to treat that hacked-up clay court like a strange grass court, one that conferred the further benefits of allowing him to position himself, and of encouraging his second serve – the most monstrous in the sport – to rear over his opponent's shoulders.
Federer erred in not figuring this out, and by not conducting an old-school grass court match himself, up to and including serve-volleying. To the bitter end he confined himself to clay tactics, including
the desperate ploy towards the death of receiving serve near the back-stop. Severin Luthi, from his court-side vantage, should have noted the issue once the match was underway. That he was reduced by the end to hoping Isner started missing spoke volumes about how wrong the Swiss team had gotten it, and of how much they rely on Federer's brilliance to make up the difference. Perhaps they can be forgiven, since the equation of Federer + Clay = Win had been endorsed by every betting agency in the world.
Nevertheless, as with the choice of surface, nailing the tactics means little if you cannot execute them. The biggest issue for the Swiss was that Isner was magnificent. Courier knew that his No.2 had precisely one shot at beating Federer, which was to play imposing first-strike tennis, and to never let up. He and Isner displayed absolute single-mindedness is honing the American's game for this purpose. Nothing extraneous to it was even practiced. 'This is how I should play all the time,' remarked Isner afterwards. Indeed he should.
The Swiss remained typically sanguine afterwards, notwithstanding that they must now win all three remaining rubbers if they are to secure a tie they were yesterday certain to win. There is every chance that Federer and Wawrinka will return for the doubles, where the reigning Olympic champions will be encouraged by Bob Bryan's absence. Were they to win that, Team Suisse would surely fancy Federer's chances against Fish in the first of the reverse singles, which would force a deciding rubber between the potentially fatigued Wawrinka and the certainly lethal Isner. They may not fancy their chances in that one, but it's the only chance they have.