I've always maintained that Nicolas Almagro is the best clay courter in the world until the better ones turn up. It was an uncontroversial opinion usefully illustrated during last year's Golden Swing, as Almagro conducted a stately procession through Brazil, Argentina and Mexico, winning everything until David Ferrer showed up in Acapulco to rain on his compatriot's golden parade.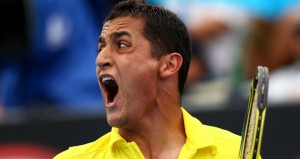 It was also illustrated in Europe a few months later, when Almagro's abject efforts in the tournaments that matter were punctuated by a title in Nice, which doesn't.
So far this year Almagro has looked like repeating his efforts. He has already defended his title in Brazil, untroubled by the relocation from Bahia to São Paulo. With confidence sloshing over the cup's rim, he turned up in Buenos Aires in fine fettle, only to discover that Ferrer had landed in the Americas a week early. To Almagro, who's gone native, the senior Spaniard is surely about as welcome as Cortés. Protestations that the world No.5 has jumped the gun were summarily dismissed. Ferrer retorted with an icy patrician patience that the reshuffled February tour was at fault. He always plays in the fourth week of February – by God! – for his schedule is predicated on the eternal shifting of the seasons, and pays scant heed to anything so laughably changeable as the ATP calendar.
It merely crowns the curious theme of the week, which is of players turning up in unexpected places. Kei Nishikori is at his best on hardcourt, and his only title came at Delray Beach some years back. Yet he too graces the Copa Claro this week, where he has already seen off Juan Carlos Ferrero, who two years ago produced an Almagro-like run through South America. Meanwhile, I note that Alejando Falla is not in Argentina but in Memphis, surely an ideal choice for a game like his, so beautifully tailored to a fast indoor hardcourt. Also absent from Buenos Aires is Juan Martin del Potro – he's in Marseilles – although I cannot say if this has ruffled any plumas back home. I recall Stan Wawrinka copping a hard time a few years ago for playing Valencia over Basel.
Perhaps most surprisingly, Mardy Fish is in Marseilles – he's seeded second behind Tsonga – making him the only American to skip Memphis, by which I don't just mean American tennis players. Like those events that kick off the US Summer Series, the draw appears to be almost exclusively composed of locals. All four qualifiers are American – Ginepri, Levine, Kendrick and Reynolds – suggesting that the rest of the qualifying draw was, as well. All three wildcards are, too (Sock, Querrey and Harrison), and so are the top two seeds. Fish, presumably, had to get away so badly that it trumped his innate aversion to playing away from home. It could be that he is avoiding Falla.
Surveying the weak Memphis draw, especially beside that of Marseilles, and taking into account the 'intimacy' of the venue and the lack of Hawkeye, one has to wonder precisely how it warrants 500 status. Marseilles is merely a 250, and boasts four of the top ten. The top seed in Memphis is Isner, ranked No.13. Whatever is wrong with tennis in the United States – since I'm not American I don't find this topic anything like as crucial as those pundits who are – one can hardly say they haven't been given every chance.
Speaking of which, I note that both Grigor Dimitrov and Bernard Tomic contrived to salvage defeat from deep in third set tiebreakers, from Donald Young and Ivan Dodig respectively. Tomic blew several match points, which is breaking new ground, although Dodig saving them isn't.  Sadly, Dimitrov's loss merely continues a trend that had been developing for some time. The Bulgarian has now lost six consecutive tiebreaks, including a couple in his painful capitulation to Kevin Anderson last week in San Jose. I submit that the issue may be mental. At this time last year I admonished him for lingering in Europe when there were soft American draws to exploit. It was initially gratifying that he took my advice. This year, in a week when half the guys seem to be playing in the wrong place, I believed that at least Dimitrov's decision to play Memphis was the right one. Shows what I know.