Dubai, First Round
The lowest seed at the Dubai Duty Free Tennis Championships this year – Juan Martin del Potro – would have been the top seed at the Regions Morgan Keegan Championships in Memphis last week, if only he had shown up. I might be biased, but the Dubai draw seems sturdier, despite the fact that both tournaments are of putatively equal standing. Perhaps you are as surprised as I was to learn that Dubai boasts even greater prize money. This helps explain the presence of eight out of the top ten players – only the Spaniards are absent, toiling or gambolling elsewhere – since to a man they have refused any appearance fee [citation needed].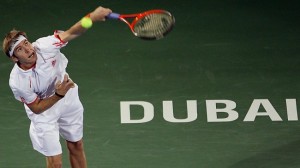 Scurrilous rumour has it that each seed was gifted a pair of solid gold trousers upon arriving, but this can surely be discounted. Dubai's field is always strong. It's just the honest thrill of competition that draws them. I'm sure money has nothing to do with it.
This year it is stronger and more thrilling than ever, worthy of the Masters events soon to commence in North America. There were absorbing matches from the very outset, which I found almost as exciting as the fact that I could enjoy them before midnight, which is a rare treat for the Australian tennis fan. A shimmering blue vision before bedtime, punctuating these long arid months of huddled torpor beyond the witching hour; in every sense Dubai is an oasis. It's an effect reinforced by the coverage, which never wastes an opportunity to send a helicopter past yet another 57 star hotel, each a madman's confection soaring into the immense Arabian vault. Clearly, we're not in Tennessee any more.
(2) Federer d. Llodra, 6/0 7/6
With only a few exceptions, the top eight soared easily beyond the reach of their first round opponents, even quality opponents such as Alex Dolgopolov and Michael Llodra.
Llodra's encounter with Roger Federer – who boasts more pairs of golden pants than anyone else – was expected to be competitive given his recent run to the Marseilles final. However, Llodra fell to del Potro in France, who had in turn fallen to Federer the week before in Rotterdam. Therefore . . .
As a rule – or at least a guideline – I have no time for transitivity when applied to sports. The assumption that since Player A beat Player B, and that Player B beat Player C, therefore Player A will beat Player C is facile in the extreme, and ignores nearly everything that matters. But I can confess to feeling mildly pleased when it works out that way. I suspect we all are when reality confirms the silly myths we tell. A simpler and more effective formula would have been that Federer beats Llodra, no exceptions, although I was surprised to learn that this was only their second match. Anyway, Federer was far too good in the first set – some of those backhand passes were vicious – although it predictably grew tighter in the second. This seems to be the pattern of Federer's matches these days. In his noisily lamented heyday he would start, proceed and end well. He still starts well.
(1) Djokovic d. Stebe, 6/4 6/2
It's the exact opposite of how Novak Djokovic shapes his matches, which of course says a lot about both players' approach to the sport. Djokovic gradually gets on top. There was a time when he couldn't stay there for very long, but not now. Now he will ride you into the ground, and he doesn't care how long it takes. Yesterday Cedrik Marcel Stebe kept his feet for longer than I had expected, but eventually he was driven nose-first into the dust.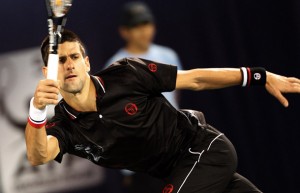 I've only watched Stebe play three times, and I've yet to see him win, but that doesn't mean each loss wasn't enormously promising. For his sake I hope what they're promising is victories to come.
(3) Murray d. Berrer, 6/3 4/6 6/4
Andy Murray beat Michael Berrer. It is only a month since the Australian Open concluded, so he is to be commended. Usually he leaves off winning again until May. He has been adamant that his habitual post-Melbourne sojourn will not be repeated this year. Unfortunately he was no less adamant last year. Tennis players, like drunks and teenagers, are not at their best when permitted to analyse themselves. (Knowing this, it seems strange that they're granted daily press conferences in order to do nothing else.) Anyway, Murray won, but it was not convincing. He won 29% of points on second serve in the losing second set, against a guy that could barely land a return on break points. That soared to 38% in the third set, a set that saw five breaks. Early in that second set, the English commentators had dared to suggest that, 'like Djokovic yesterday' Murray was now 'getting on top after a tough opening set'. The remainder of the match was a gentle lesson in hubristic comeuppance. Murray was just lucky he wasn't playing someone better than Berrer.
(4) Tsonga d. Baghdatis, 7/6 6/4
Am I alone in sensing a certain melancholy in Marcos Baghdatis these days? He seems to have lost his exuberance, his love of the competition. Of course, anyone sharing a court with Jo-Wilfried Tsonga is likely to seem dour in contrast. The Frenchman is mighty in his ebullience. After a tight first set – Baghdatis served for it, hopelessly – Tsonga ran away with the match. Like Djokovic yesterday.