Australian Open Qualifying, Day One

Kooyong, Day One
Like the scarred face of a basalt cliff, tennis in Melbourne today was destined to be shaped indelibly by the vast frictions of air and water. The forecast was for strong winds and showers, and to be fair there were a number of showers laced amongst the rolling storms. In all, a typical midsummer day, assuming you live in England, where weather is a penance. Still, given that the storms were also relieved by brilliant sunshine, we could say that it was a typical Melbourne day, which as a locale sneers at the cliché of four seasons in one day. Why take an entire day when you can cram it all into recurring ten minute periods?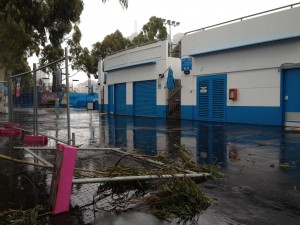 Shine or rain, the constant was the inconstant wind, pulsing and raging as it pushed heroic landscapes of cloud across the sky.
When a large portion of your field of vision is in motion, the mind plays deft tricks in its endeavour to compensate. Anyone who has idled beside a vast river – such as the Amazon or the Meekong – can attest to this, to the way the river banks seem to flow in the opposite direction to the water. Glancing above the juvenile eucalypts dotting the outer grounds, the skyscrapers of downtown Melbourne are clearly visible against the flowing and tumbling sky. Immense banks of cloud are flowing too rapidly to the right. Perspective tilts worryingly, as the buildings crawl gradually left. Reason quickly intervenes, reminding me that buildings don't generally move like that. So my mind offers another, more mundane explanation: I must be drunk (notwithstanding my New Year's resolution to consume less whisky before 10am, which has been mostly successful). Or perhaps I have an inner ear infection. The experience has left me queasy. The only solution is to keep my eyes down
The ground crews, toiling with minimum-wage intensity, are displaying a similar inclination. So long as the rain stays its hand, the wind is actually helpful. In only a fraction of an hour – perhaps 5/6ths – the courts are useably dry. With their eyes thus affixed on the surface, the staff appear oblivious to the storm clouds closing, and thus to the Sisyphean shape their day is to take. By 11am play is set to commence. Then the rain returns, heavier than before, though it's soon augmented by hail. The wind gains force and the thunder booms. This might conceivably be called a shower, in biblical times or the monsoon belt. A chain link barricade collapses beside me. We all jump, apart from the vast woman to my right, who wears her obesity heavily, in the American fashion. Her girth is somehow exceeded by her capacity to be personally affronted by the weather, and she curses with great fluency.
As the downpour abates I climb to the top of Court Three and survey the grounds. It occurs to me that these cobalt courts are displayed at their greatest advantage in Australian sunlight, when they mirror the endless sky. There are certainly surfaces that match the crackle of a sweeping downpour or an onerous sifting drizzle, but not these. At their best they evoke oases in the immense heat. Today they look just like disused swimming pools.
Kooyong is no great distance from Melbourne Park as the crow flies – as the storm cloud scuds – and therefore tastes the same weather. The difference is that today's matches at Kooyong mean little, while for the Australian Open qualifiers they mean everything. Another hour and a half passes, replete with weather and sunlight and giant squeegees pushing moisture from the courts. Players actually appear on court, gazing amiably at each other but nervously at the sky, and the trees whipping fitfully. The rain, it turns out, had been protecting them from the startlingly changeable breeze. The matches at Kooyong are thus not only meaningless, but almost entirely useless, since it is debatable how valuable a practice match played in a gale can be. I recall Pete Sampras beating Scott Draper in similar conditions a decade ago, and remarking afterwards that he would never practice on days like that. Certainly Jo-Wilfried Tsonga looks willing to call it off today, notwithstanding that he won Doha in a pea soup fog just four days ago. He falls quickly to Jurgen Melzer. Both players look wryly amused.
Here at Melbourne Park, play is actually happening. However, I am quickly reminded that these guys aren't qualifying because they're the world's best, and that a large part of what has hitherto curtailed their journey up the rankings is an inability to perform in adverse conditions. In other words, the weather clearly isn't helping. The capacity to deal with it is broadly determined by experience. This is part of what makes Qualifying so intriguing, the way it is a snapshot of so many divergent career paths.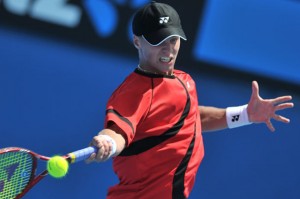 There are the youths just passing through on their way up (although this year these are harder to discern, whereas last year both Grigor Dimitrov and Milos Raonic stood out). There are the veterans on their way down, and out. And there are the guys who seem to be here every year (where's Alex Bogomolov?). The wherewithal to cope with the mounting pressure wrought by constant swirling tosses and shanked groundstrokes is proving decisive. Few of the youngsters can resist a tendency towards extroverted despondency. This is their big chance, and it wasn't meant to be like this. I have yet to pass a court without someone gesturing histrionically, elaborate mimes and riffs on the single theme of wind.
Disconcerted, Amir Weintraub opts for a safe approach, seeking to limit the weather's role by rolling his first serve in. He seems to be landing plenty, but his opponent tees off, and it's a rout. The Israeli has climbed about a hundred places since last year, when he scraped into qualifying as an alternate. Sadly, the result this year is the same. I miss most of the second set bagel – I cannot say if there was a health issue – but see him leaving the court. He looks numb. No player has gone into greater detail on the trials of subsisting in the Challenger hinterlands, and every one of the miles Weintraub has pointlessly travelled to be here sits heavily. Perhaps he is hurt. Meanwhile, Ricardas Berankis moves through safely, courtesy of quick feet and compact strokes. A year ago he was the highest-ranked of the much-lauded new guard, but this time around he's the only one who still has to qualify. Conditions or not, he is a class above his opposition. He plays safe – up and down, mostly – which is the way to play on a day like today. I won't pretend it is exciting, though.
In general the veterans are more resigned to conditions. Why some of them are resigned to their fate is a decent question, though. Eleven years ago Arnaud Clement made the final at the Australian Open. He is now 34, and has lost in the first round of qualifying. Commentating in Doha last week, Robbie Koenig countered the constant calls for Davydenko to quit by pointing out the Russian earned over $600,000 last year, and asking what he might possibly do that was more worthy of his time. I suppose we can make a similar case for Clement, although admittedly on a more modest scale. In any case, he falls to Bjorn Phau, another veteran, who has made long career out of qualifying.
Based on the set I watch, it is a phenomenally dull encounter, with both players under-powered and error-prone. I am surprised to note Clement has not entered the doubles, since this discipline has proved fundamental to his longevity.
Rainer Schuettler also reached the final here (in 2003), and at 35 is the oldest man in the draw. Like Peter Luczak still toiling away on Court Three, Schuettler maintains an evergreen demeanour, but two decades of water, air and sun has further hardened a face that was never soft. He is stern in seeing off Chris Guccione in an inevitable pair of tiebreaks. The standard here is higher, although it takes a seeming eternity to get going. They trade breaks in the second set, and we all gasp at the momentary thrill. Otherwise the serve dominates, largely owing the quality of the Australian's serving and returning: enormous and execrable respectively. Nor should we overlook Guccione's proven capacity to fold in the tiebreaks. Schuettler, as he has for well over a decade, stands indefatigable in the face of the elements, and makes enough of his chances when they finally arrive.