Australian Open Qualifying, Day Two
To live in Australia is to be never entirely free of sport, unless you are maniacally bent on avoiding it. This is especially true of Melbourne, which rightly prides itself on being the sporting capital of a sports-mad nation, and where regard for football transcends mere love, spiralling upwards and outwards into something closer to mass-psychosis. Furthermore, being an essentially insecure country, we are inclined to look outward, and maintain a more-than-casual appreciation of the sports prevailing in the mother countries. Nevertheless, it is in summer that the flame of interest flares blindingly, and even those un-Australians determined to eschew all sports can no longer shield their eyes from the blaze. Sport, suddenly, is ubiquitous.
Certainly it's everywhere in our house. My son's birthday is in early December – he has just turned three – and he already associates getting older with total sport saturation. He intercepts me as I come downstairs this morning, wielding his cricket bat and warning me to stay out of the lounge-room: 'I'm Roger Federer, and I'm playing golf on my basketball court.' He's either a genius – of course he is – or he has anticipated the next craze to sweep the globe. He is surely right that Federer would be the ideal front-man to sell it. I promise to put it to Roger if I bump into him today at Melbourne Park.
As it happens, I don't run into Federer, although I do come across Nikolay Davydenko, thrashing balls on a remote back-court under the baleful gaze of his brother, Eduardo. The overwhelming impression of Davydenko on television is that he is diminutive, but in person he's not especially tiny (although his brother is). Eduardo also maintains a pretty terrible beard, though since that is all that protects us from his perpetual scowl, I suppose we should be grateful.  As ever with Davydenko, watching him hit from extreme close range is a transfigurative experience, especially on the prac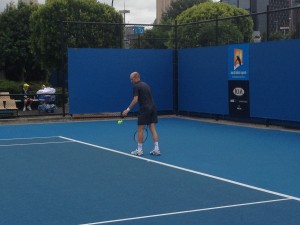 tice court where he still strikes the ball the way he used to in competition. He remains categorically superior to all the qualifiers toiling away on the surrounding courts, and so it's a sad thought that his current career trajectory might see him rank among them before long.
I glance around at a sudden commotion, whereupon I am frozen by an endless tan and miles of teeth at eye-level, followed by the realisation that Ana Ivanovic is as disturbingly flawless from two feet away as she is when viewed remotely. All eyes follow her, including those of the Davydenko brothers. They are the only ones who don't look impressed, although I suppose being Russian millionaires they don't find Slavic goddesses all that hard to come by. 'One last point!' instructs Davydenko to his hitting partner Blaz Kavcic. The Russian millionaire wins a fine final rally with a savage forehand pass.
Yesterday's ferocious wind has largely calmed, although today's cloud cover is more dismally comprehensive. There will be no storms, but at least the storms blew away quickly, even if they were replaced by new ones just as play was due to resume. Today's clouds aren't going anywhere, and the drizzle might turn out to be more frustrating as a consequence. Even before play was stopped, conditions were heavy. Now, with everyone milling about awkwardly beneath improvised cover, they're a bummer.
Before play is stopped, Florent Serra and Robbi Ginepri make it through a whole set of their first round qualifying match, and an engaging set it is. It's tough on the still-coming-back Ginepri to draw Serra first up, since they're both frankly too good to be languishing outside the top hundred, and either man would fancy his chance against anyone else in the field.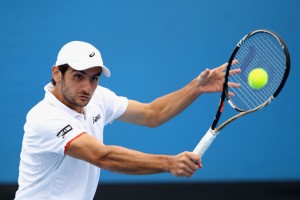 Both are aggressive, with Serra superior on serve and the American striking more clean winners. Serra, on the other hand, is forcing more errors. The standard is admirable in the conditions.
Serra is that specific, perpetually-rumpled incarnation of Frenchman, in appearance something of a sewer rat, and given to offhand shrugs and mordant muttering. Unusually among male pros, he will generally reuse the ball from a missed first serve for the second. At one point he frames a second serve onto his own service line, has the good grace to look embarrassed, but then demands that ball back for the next point. A sense of poetry dictates that he then blasts an ace with it; comedy requires another double-fault. Sadly, he does neither, and Ginepri takes the point. They gain the tiebreak, and suddenly the American inexplicably goes away.
Meanwhile Conor Niland and Stephane Bohli grind out about five games on serve – what little I see is not inspiring, though it seems character-building – while Thiemo de Bakker and Dustin Brown are locked in a titanic and enjoyable tussle nearby. The much-fancied Malek Jaziri is already down a set and a break, which is only slightly less noteworthy than his decision to kit out in an identical shade of orange to the officials. The drizzle intensifies, and the umpires suspend play with ragged cohesion. I huddle in the lee of a temporary stand with Carlos Bernardes, hoping it will blow over. It shapes to, but re-intensifies. The ball-kids receive a master class on the manifold intricacies of court-drying. I kid you not.
The concern is occasionally voiced that electronic review systems result in a deskilling of officials, that too great a reliance on machinery only dulls an umpire's judgement, sapping his or her conviction. Days like today are a useful corrective to such a view. There is certainly no technology on offer in qualifying – Rainer Schuettler remonstrated about this at some length – and there are plenty of top shelf umpires on hand, honing their skills. The Serra-Ginepri match is governed by Enric Molina, while Gremelmayr's snooze-fest is overseen by Pascal Maria. They look as sharp as they need to be, though Molina does miss one clanger. I confer briefly with Serra's coach, who amazingly agrees that his player was cheated.
Play resumes eventually, but Ginepri's focus proves unsustainable. Serra gains the break in mid-set, and rides it to the end. Niland, for whatever reason, is never quite the same player after the rain delay. Most of the games are still tight, but Bohli is now winning more of them.  De Bakker drops the second set, and he and the arch-Teutonic Brown fight out a tight, serve-dominated final set. The Dutchman wins it 8/6. Jaziri is gone.
As am I.