Chennai, Final
(3) Raonic d. (1) Tipsarevic, 6/7 7/6 7/6
Chennai was won by Milos Raonic, who overcame a couple of transient top-tenners in the final two rounds. In neither the semifinal against Nicolas Almagro nor in the final against Janko Tipsarevic did the Canadian drop serve. To be fair, he didn't manage to break serve in the final, either, although one should not therefore assume that the encounter had the contour or flavour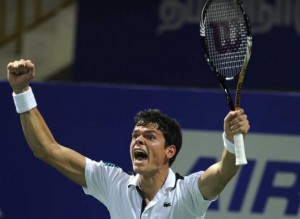 of an Ivo Karlovic production. Raonic created plenty of chances, and Tipsarevic fought with the determination and skill we should expect from the world No.9. It was a gripping final, and a deserved finale for a tournament invariably overshadowed by its peers in Doha, Brisbane and Perth.
Tipsarevic has now fallen to 2-6 in ATP finals, but for first the time we can safely assert that there was no shame in losing. He performed mightily in merely making it close, but when a guy like Raonic serves at 73%, and unleashes almost nine entire games worth of aces (35 in total), there's only so much you can do. That kind of security on serve encourages a guy to cut sick on his return games – dans la manière de Sampras – and Raonic did not hold back, lashing lustily at any forehand he could lay a racquet on. Fearing that the tournament had not yet received its moneys-worth, Tipsarevic then retaped his feet and won the doubles event. Raonic was already bound for Melbourne. Both retaping and plane-boarding were dutifully relayed via Twitter, providing further comfort to anyone worried the medium wasn't ideally suited to the utterly mundane. The most interesting thing a tennis player can do is play tennis, and it remains a large mercy that they haven't yet found a way to tweet while doing so.
Brisbane, Final
(1) Murray d. (3) Dolgopolov, 6/1 6/3
When they do achieve this synergy, Alexandr Dolgopolov will perhaps be among the first to exploit it. Thankfully he waited until he'd left Pat Rafter Arena before firing up his mobile phone, although he subsequently only reiterated what he'd already told the crowd, which is that he was sorry for playing such a 'boring' match, but that he'd been protecting his leg and had only taken to the court to satisfy a packed house. Put that way, his abject loss was actually heroic, an act of consummate martyrdom.
Andy Murray, whose victory was merely routine, waxed studious in praising his new coach ('Mr Lendl'), and hit all his marks in singing the praises of all interested parties. Given that top tennis players no longer proffer anything truly controversial, the main interest now lies in confirming whether they've said all the right things in the right way and with precisely the right emphasis. Alas, Murray was impeccable. The pitchforks remained sheathed. (Yes, that's right, they make sheaths for pitchforks now, and I totally didn't mix metaphors.)
Doha, Final
(3) Tsonga d. (4) Monfils, 7/5 6/3
The Doha final was arguably the most atmospheric of the weekend, although this owed less to the crowd or the play, and more to the rolling fog that several times disrupted play. I don't think I've seen that before. Otherwise the match played out as you'd expect it might, given that Jo-Wilfried Tsonga is overall a superior player to Gael Monfils, especially in finals.
Monfils moves to a ghastly 4-12 in deciding matches. Amassing a record like that requires a special variety of consistency. Today he took ample care to ensure the aggressive virtuosity with which he'd dismantled Viktor Troicki and Rafael Nadal was nowhere in evidence. It probably didn't (or did) help that his elaborate preparation for the final consisted of retweeting pretty much any bozo that asked him to, for no discernible benefit at all.
Tsonga, once he'd endured a characteristically sluggish start, looked exactly like the second most in-form player of the past three months, which what he has been. It naturally didn't hurt that the most in-form player withdrew in the semifinals. But other than a strange loss to Sam Querrey in Valencia back in October, Tsonga hasn't fallen to anyone besides Roger Federer since Shanghai, and has proved that in some cases the vanishingly brief off-season can prove helpful, by not rupturing momentum. He will be dangerous in Melbourne, where he has already enjoyed definitive success. His odds – currently a generous 16-1 – may well shorten considerably over the coming week. Whatever they land on, no top player will fancy Tsonga in their quarter.