Australian Open, Fourth Round (Day Eight)
(1) Djokovic d. Hewitt, 6/1 6/3 4/6 6/3

Channel 7 has hopefully learned its lesson. Whereas yesterday's promos blithely contended that Tomic would take it to Federer, today's were more circumspect, not to say understated: 'Lleyton Hewitt gears up for another massive challenge!' Yesterday they asked their viewers whether Tomic could actually win, with predictably absurd results. Today they wanted to know what Hewitt must do in order to win, to 'pull out the big one'.
Shockingly, no one came up with much. Once the match began, and Novak Djokovic gambolled through the opening set, it became clear even to the viewers that it really didn't matter what Hewitt did. The world No.1 proved some time ago that resistance is useless.
He proved it again in the second set, even though the resistance was stiffer, and the score closer. The third set moved to 3/0 to the Serbian, but it already felt over. Pre-composed eulogies were adjusted, and padded with commiserations that it had to end with a bagel. But then the seagulls arrived –  which sounds like a euphemism, but isn't – and the spell, somehow, was shattered. Courtside colour-commentators scurried for cover. Brad Gilbert wore bird-shit, and Todd Woodbridge only narrowly eluded a similar fate. Somehow, en route to a blowout, Hewitt held, then broke, then held again. The numbers had barely changed – perhaps Djokovic was striking fewer winners – but Hewitt was marshalling everything he had, as ever making much of little: a patchy serve, and fumes and a loathing of defeat. At 4/4, Djokovic grew tight on serve, and Hewitt, desperate and everywhere, gutsed the break. He gradually served out the set, saving a break-back point with an icy drop shot, and weathering a return barrage from Djokovic. As he claimed the set, the Australian turned to his box and raised his fist, his eyes sheened. If he was to go out, this was how it was meant to be, taking the battle to the world's best player. The fanatics went bananas, but then all of Rod Laver Arena did. Out in Garden Square they were capering. Resistance, it transpired, always has its uses.
The fourth set began evenly, but there was only one outcome. Djokovic was lifting, inexorably. Melbourne Park has been beset by communications issues for days, which perhaps explains with Channel 7 didn't get the memo. They put the possibility of a Hewitt comeback to the viewers. Predictably, the viewers believed he could do it. Predictably, they were wrong. But they believe, like Channel 7 believes, because it must. It will never learn its lesson.
Now that it has finally concluded, I am compelled to say the story of the first week has been the gallant Australians, and not only because the penalty for not doing so is immediate deportation.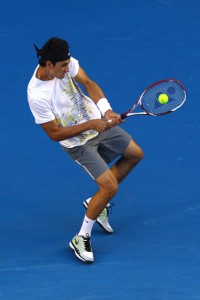 Some blame can be laid at the mangled feet of the players themselves. Having two home-grown men push through to the fourth round of the home slam was always going to resonate with the natives, and therefore with the presiding broadcaster.
Channel 7's current ascendancy in the Australian market can be traced back directly to Hewitt's run to the Australian Open final in 2005, which was aired fleetingly in between relentless promos for Lost and Desperate Housewives. The night he lost the final to Marat Safin – still the highest rating program in Australian history – Hewitt assuaged his disappointment by proposing to his Channel 7 soap opera girlfriend. Now that he has lost to Novak Djokovic, he will be joining their commentary team for the tournament's remainder. Have a player and a television network ever been so tightly entwined?
Having Hewitt and Tomic scrap their way to the fourth round has therefore proved a godsend for the Channel 7, who know better than anyone just how quickly ratings trail off once the local talent flies the coop. If you can't watch Federer or Nadal – who remain the biggest draws everywhere – then watching strangers who by sheer coincidence were born in the same country as you is apparently the next best thing. Network executives still break into a cold sweat at the recollection of the 2002 Open, when the big names and the locals fell early. Thank god Safin unleashed his 'blondtourage' that year. By any measure, tonight's match was therefore gold.
To be fair, Hewitt and Tomic have provided adequate entertainment in their own right, and it's hard to begrudge anyone their excitement, since I've hardly been above revelling in it myself. Just two days ago, Hewitt resurrected a strikingly dull day of tennis by defeating Milos Raonic in four stern sets, while Tomic's recovery from two sets down against Fernando Verdasco was a fitting centrepiece for the first day.
For someone who follows the majors closely – and I do, though I ration myself to only four per year – I am generally amazed at how quickly and cruelly the draw pares down. In just a week, the tournament has shed all but eight of its original 128 entrants. Even General Haig didn't achieve that kind of attrition at the Somme, although, unlike in that fateful battle, Gallic losses have been particularly horrendous. Of the 15 Frenchman who commenced last week, none now remain, although it is regrettable that their putatively best players – Monfils, Tsonga, Simon – fell with perfunctory ease.
Kei Nishikori has become the first Japanese man to reach the Australian Open quarterfinals in 80 years. Frederico Gil became the first Portuguese man to reach the third round at any major, ever.
David Nalbandian famously exited in a haze of cock-ups and hammy bafflement. Baghdatis, more famously, flipped out and threw a fit that was disturbing not only in its cold intensity, but in its thoroughness. It's gone viral, and he's become a verb: 'to Baghdatis', for when you just have to smash every-fucking-thing. Wearied, Isner fell to Lopez, who fought bravely, until he met Nadal, when he fought barely. Llodra and Murray proved that tennis can still be fun, offering a match that was so entertaining even Murray enjoyed it. Roddick lost his hamstring, Kukushkin lost his hip, and Tipsarevic lost his head. Kohlschreiber, as ever, played well until he didn't. Gasquet is just a pretty backhand.
Ivo Karlovic pushed Federer to a miraculous first set tiebreak, but no further. Harrison's first set against Murray and Hewitt's tonight remain the only sets the big four have collectively lost. Tommy Haas hit upon the winning tactic against Rafael Nadal – variety without relent to the Spaniard's backhand – although it turned out not to be quite winning enough. Before tonight, Djokovic dropped 10 games in three matches. These four guys are so often the story of the second week – the week everyone will remember – so it is entirely appropriate that they have barely featured in the first.
No, the first week has largely belonged to everyone else, even if they're now mostly on their way home. But most of all, it has belonged to the two who've finally lost, but are already home.