Australian Open, Quarterfinals (Day Nine)
(3) Federer d. (11) del Potro, 6/4 6/3 6/2
As I made my way in to Rod Laver Arena tonight, where Rafael Nadal aimed to become the first Spaniard to defeat Tomas Berdych ten times in a row – a match widely expected to be close -Â  I noted a forlorn figure hunched on a bench. Draped in a pale blue and white striped flag, I quickly surmised that the figure was Argentinean, or else engaged in an elaborate hoax.
I also surmised that it was a young lady, wracked by heaving sobs, and quite beautiful, despite her extravagant sunburn. Granting her the breadth of her patriotism, I conceded that she probably was Argentinean, and that her grief was therefore pursuant to the hiding her countryman Juan Martin del Potro had just copped at the hands of Roger Federer.
I'm quite partial to Federer myself, the way most of us probably are deep down, and so I had rather enjoyed the match. I could say that in my pleasure I had overlooked how the fans of the other guy must feel, a failure of empathy. Honestly, though, it had hardly occurred to me that del Potro might boast fans who felt his losses so severely, which is borderline solipsism on my part. Given that gorgeous sobbing women exert a gravitational force roughly equal to a collapsing star, I was tempted to go over and offer some consolation, at least a pat on a sun-pinked shoulder. Of course I didn't, telling myself I didn't want to hurt her peelings. I left her alone on the bench, while somewhere below her feet her hero was already explaining himself to the media.
Her disappointment, and presumably del Potro's, certainly stemmed from the collective belief that today's quarterfinal with Federer would be a much tighter affair than it was. The giant Argentine, his perpetual two-day growth bristling, was widely expected to push the great Swiss hard. Their last match at grand slam level had been the fateful US Open final of 2009, when del Potro became the only man other than Nadal to defeat Federer in a major final, an accolade he retains. The stage was set, the table laid, the superlatives loaded, the heat was savage, and the breeze was a light southerly. Unusually for Melbourne, it brought no relief.
Federer emerged on to court, introduced with special emphasis by the inimitable Craig Willis, a study in resolve. It was his 1,000th match. He immediately moved to a 3/0 lead, his winner count edging towards double figures, as yet untroubled by errors. Del Potro was serving at 75%, but there were no free points. Gradually he found his way, however, and after breaking Federer, levelled at 4/4.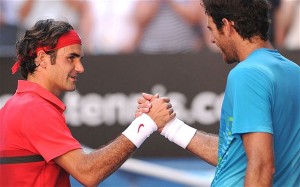 Federer was moving his opponent at every opportunity, deposits in the exhaustion bank, to be collected later if it came to it. It was that kind of day, and fitness would mean everything. Then at 5/4, Federer accelerated, Sampras-like, and tore the set away in a hail of forehand winners.
From there, the backhand took over, but mostly because that was the side del Potro opted to target. It proved about as effective as Bernard Tomic's cherished belief that keeping the ball low to that wing would entirely nullify it. I suspect that there is nothing Federer fans enjoy more than seeing their idol's backhand deliberately pressed, and for him to then beat the other player into submission with it. Federer himself probably enjoys it, too. Unless you're Nadal on clay, attacking his backhand merely provokes it. It was entirely fitting that he finally took the match with one last backhand winner up the line past a stranded and wearied opponent, by now immobile as a tower.
I could say that Federer put on a clinic today, but aside from being a cliché, it is also wrong, since visits to clinics aren't this fun. There is tremendous joy to be had in watching the world No.3 in this form, expertly dismantling a classy and powerful oppon­ent, melding his own power and guile into the most lethal combination the sport has known. Indeed, there is clearly plenty of joy in being in this form, judging by how close to a giggling fit Federer came in the on-court interview afterwards. And it's definitely for the best that I didn't console that weeping del Potro fan this evening, since this is probably the kind of stuff I would have said, and it really wouldn't have helped.