Australian Open, Fourth Round (Day Seven)
(3) Federer d. Tomic, 6/4 6/2 6/2
Channel 7 in Australia tonight asked its viewers whether Bernard Tomic could 'pull off the upset' against Roger Federer. Sadly, thanks to the miracle of social media, the question was not merely rhetorical. Viewers were invited to respond, whereupon Channel 7 usefully collated the responses into a single number and relayed it back to us.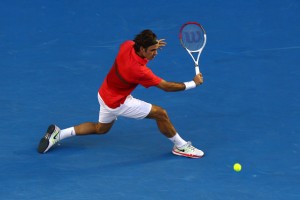 It turned out that 69% of us believed Tomic would prevail; further proof, if more were necessary, that patriotism is a species of insanity.
To say that Tomic had no real chance at winning isn't to say that he played badly. He didn't. In fact he played very well. That is how he won eight games, although Federer's lackadaisical serving and intermittent application played its part. The gap between the top four and the rest of the field is wide already, but in the case of Tomic, who relies so much upon out-thinking and bamboozling his opponents, the gap can seem like a chasm. The top four are rarely confounded by strange play – although Murray is sometimes troubled by his own – and they all move so well and understand the court so instinctively that mere sophistication is dealt with savagely. It is to his credit that Tomic understands this, and his approach to tonight's encounter was radically unlike his others this week. He'd known both Verdasco and Querrey could be outfoxed, so he duly outfoxed them. He'd known he couldn't outhit Dolgopolov, so he didn't try to.
Tomic knew he couldn't outhit Federer, either, but it was the best shot he had. It's hard to know precisely when this became clear to him, but I assume he received some useful advice after his last press conference, in which he'd been brimming with blithe candour. There was ample discussoin of how educational his previous encounter with Federer had been, and that he now knew where and how Federer could or could not hurt him. He was expansive on his tactics, which apparently relied heavily on keeping the ball low to Federer's backhand. At some point in the following two days, someone hopefully suggested that the lessons learned facing a jet-lagged, US Open-scarred Federer on a dodgy Sydney grasscourt were not strictly applicable to a rested, hungry Federer on a grand slam hard court, and that advertising your strategy ahead of time isn't wise.
On this surface, and in this form, Federer was never going to allow Tomic adequate space and time in which to operate. Consequently the only long rallies were tightrope affairs, a few of which saw Tomic rock Federer back on his heels, even outslugging him in forehand duels. But this was not the majority of rallies, which mostly went to Federer. Especially as the match wore on, the world No.3 sought to expose the young Australian's poor movement, mercilessly exploiting the drop shot and the backhand up the line. Tomic first began to guess, and then to guess wrong. After one Federer drop shot, Tomic turned to his box and mouthed 'Wow', later admitting that 'I don't know how he does it in that situation'. He confessed that he'd even enjoyed watching Federer hit his best shots back for winners. I wonder if he appreciated that so many were struck from the backhand, given how allegedly 'simple' nullifying it is.
It must be borne in mind that while tonight will mean everything for Tomic, for Federer it was just another fourth round. He has now won 31 of these consecutively at grand slam level, and they were a pretty big deal for all 31 of his opponents at the time. The miasma of hype that surrounded tonight's encounter – so cloying for viewers, and crippling for Tomic – will be brushed off easily by the great Swiss, who eight years ago became exempt from Sampras' adage that you can lose a major in the first week. He will be looking ahead, to the quarterfinals, and a match with Juan Martin del Potro. Channel 7's viewers, if asked, would doubtless insist that Federer is a shoe-in. Seasoned onlookers know better. The matches that he can lose are about to begin.