Australian Open, Quarterfinals (Day Nine)
(2) Nadal d. (7) Berdych, 6/7 7/6 6/4 6/3
Serving at 5-6 in the second tiebreaker, Rafael Nadal came within a foot of trailing Tomas Berdych two sets to love. Luckily for the Spaniard, the foot belonged to Berdych, and it was, typically, in his mouth, where it had been for days, ever since that set-to with Nicolas Almagro. An engaging point ended with Berdych at the net, and a testing but makeable backhand volley on his strings. The volley found the alley,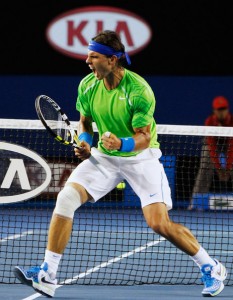 and Nadal claimed the set a few points later. His celebration was a marvel of avante garde choreography, Petrushka in fist pumps. The first stage of the match was over – after just two and a half hours on court – and the second was set to begin. Fluffed volleys and extravagant fist-pumping would henceforth define the evening, which somehow had hours to go.
This is not to say that Berdych lacked fight, or that Nadal's celebrations were not merited (although I did note several cries of  'Vamos!' on utterly unforced Czech errors). It also isn't to say that Nadal would have lost from two sets down – I suspect he might still have won – but securing that second set certainly freed something within the world No.2. He began to cut loose on his forehand, with an abandon hardly glimpsed in years. Instead of gradually working Berdych over via long chains of crosscourt blows, pushing him back and across until he was put away, Nadal began to launch ferocious one-two combinations. By the fourth set he was crushing return winners at will, and expertly matching each with a tailored fist-pump, a sommelier of celebration.
The crowd's delight was immediate and unstinting. Whereas Berdych arrived on court to lusty booing, and hastily adapted pop-medleys from the Berdych Army, Nadal emerged to a bellowing swell of adulation. While the boos were manufactured, the affection aimed at the Spaniard felt real enough. The way it cascaded upward through the stands in ramified swells testified to that. When he claimed the point of the match – a 29 stroke masterpiece of thrust, parry, probe and flutter – the eruption was immense. As with many such points, it ended with Berdych stranded at the net, forlorn amongst the wreckage of volleys not dealt with.
It was symptomatic of a match in with Berdych could create but not complete. His groundstrokes, especially through the early going, were vicious and penetrating, until he achieved the short ball,
or the cherished net-position. He made plenty, but he missed too many, especially on break points. He ended on 2/13. There's such a thing as a killer instinct, and his opponent has it, although I suppose Almagro did, too.
Perhaps ironically, there was a point in which Berdych would have won the rally had he only targeted Nadal at the net. Alas, Asimov's first law of robotics forbids him from deliberately causing harm to a human – although it has little to say about acting pissy about it afterwards – and he attempted a regulation pass, which he missed. Speculation abounded prior to the match whether Nadal would 'do it for Nico', following two days stewing in patriotic juices. Certainly Nadal seemed more pumped up than usual for a quarterfinal, but who is to say why. He generally doesn't need a reason, and tonight's match was conducted in fine spirits, capped by a handshake rich with mutual respect. After four hours on court, both men deserved it, and the crowd, commendably, no longer felt obligated to revile the Czech.
A year ago, I watched Berdych fold meekly to Novak Djokovic at the same stage on the same court. Then he'd been recovering from a horrendous end to 2010. He saw out 2011 in far better trim, pushing to the semifinals of the Tour Finals, and then having his hard drive defragged. His loss this time around was altogether more accomplished, and honourable. If the players ranked above him were not so fine, I would predict big things for him in the coming season. Let's just say he's a worthy world No.7, and that right now that is no small thing. As for Nadal, his strong finish was tremendously encouraging, and suggested that he has finally played himself into something like top form. He may well need it. For the first time in seven years, he will face Roger Federer in the semifinals of a major.