The immediately striking feature of this year's ATP top ten is that it bears a suspiciously strong resemblance to last year's. Expanding the selection, the same holds true for the top fifty, and even the top hundred.
Perusing the lists side by side – a mesmerically dull diversion, I can assure you – reveals that while there are inevitable exceptions, the prevailing theme has been rearrangement rather than rejuvenation.
Whether the rearrangement has merely been of deckchairs on the Titanic depends largely on your point of view. Some insist the sport has never been stronger, for all that the same guys keep winning everything. Others suggest that for a top sport to go so long without wholesale renewal is at best numbing, and at worst foreshadows an iceberg on the horizon. I am temperamentally averse to conspiracy theories and doomsday proclamations, and find myself without a strong opinion. There have been years when every winner commuted in directly from left field, but I don't recall being more interested as a consequence. In any case, while the top four have again dominated, no one foresaw the way it would unfold. And for all that the exceptions to the general hegemony have been sparse, they've also been fascinating, particularly the youngsters on the rise, and the host of players claiming maiden titles. More on those later.
For now, some numbers. Here are the players who have gained the most ranking points in the last twelve months (with their point gain in brackets). This list demonstrates whose 2011 was the biggest improvement over their 2010:
Novak Djokovic (7,390)
Juan Martin del Potro (2,135)
Jo-Wilfried Tsonga (1,990)
Janko Tipsarevic (1,660)
Andy Murray (1,620)
David Ferrer (1,190)
Gilles Simon (1,160)
Alexandr Dolgopolov (985)
Mardy Fish (974)
Milos Raonic (910)
Unsurprisingly, Djokovic is on top, although even for those of us intimate with the figures they remaining astounding. While Federer finished with a higher tally in 2006, he started from a much higher base, as the undisputed world No.1. Djokovic has been an elite player for years, but a gain like this reveals just how profoundly his breakout season has come from nowhere.
Del Potro's place is hardly surprising, since he is also an elite player, and he had almost nothing to defend this year. Both Ferrer and Fish have built on strong results last season, and have become noted presences at bigger events. Gilles Simon hasn't, but he is somewhere back where he should be after a year marred by fatherhood.
Janko Tipsarevic is arguably the big story here. He finished 2010 ranked 49th, with 935 points to his name, having spent his final match of the year benched while Troicki won Serbia the Davis Cup. He finished this year ranked forty places higher at No.9, reached five tour finals, and actually won a few, which proved to be a refreshing change. His final match of the year was at the O2, where he took out Djokovic. That can be regarded as belated revenge for dozens of prior losses, or, radically, it can just be viewed as a tennis match.
Andy Murray gained almost as many points as Tipsarevic, and consequently saw his ranking soar from No.4 all the way to No.4. To further illustrate this – since the concept of a number not changing is just too complicated to grasp in one go – here are the top hundred players who have seen the largest ranking jump this season. Murray features nowhere on this list. The first number is the ranking jump over the last twelve months. The current ranking is in brackets.
Cedrik-Marcel Stebe – 297 (81)
Juan Martin del Potro – 257 (11)
Bernard Tomic – 166 (42)
Dmitry Tursonov – 157 (40)
Flavio Cipolla – 136 (75)
Alex Bogomolov Jr – 132 (34)
Milos Raonic – 125 (31)
Matthew Ebden – 97 (86)
Lukas Rosol – 94 (70)
Ryan Harrison – 94 (79)
A disparate collection, to be sure, and it would be quixotic to seek a unifying theme here. Del Potro and Tursonov are accomplished tour mainstays returning from injury, although the magnitude of their accomplishments is in inverse proportion to their flamboyance (Tursonov is hilarious). Milos Raonic features on both lists (unsurprisingly), but here he is joined by Tomic and Harrison. I will discuss this group in further detail soon, but for now it is worth pointing out that Raonic's dramatic ascent was achieved in a season abbreviated by injury, suggesting he has a ways to rise yet.
Matthew Ebden is an interesting case: a kind of Australian Ferrer on under-drive, his ranking is testament to how even quintessential journeymen are only ever one strong run away from a year in the big time. He scrapped his way through qualifying to the quarterfinals of the Shanghai Masters, and there gave an honest account of himself against a rampant Murray, and for that has been rewarded with a year's worth of direct entry into the majors, and a solid base from which to ascend higher should the gods smile again.
Young German lefty Cedrik-Marcel Stebe tops this list, although it was a steady year on the Challenger circuit that pushed him arse-backwards onto the main tour. Final and shocking impetus arrived when he romped to the title at the ATP Challenger Tour Finals, overcoming such A-list journeymen as Dudi Sela and Rui Machado. He posted four wins at tour level this season, and I saw two of them, and both were over Nikolay Davydenko. The prevailing vibe was that this demonstrated just how far the Russian had fallen, and I remain more or less inclined to this view. However, it is harder to defend when I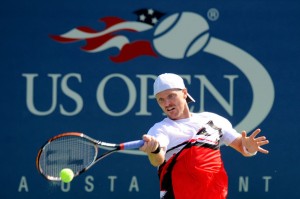 note that he also beat Juan Carlos Ferrero in straight sets on clay, although the fact that he did the same to Fabio Fognini and Thomas Muster could mean anything.
Alex Bogomolov Jr also rates a mention, although he has hardly gone unmentioned of late. If Ebden's example is suggestive, then Bogomolov's is exemplary. A Challenger fixture for nigh on a decade, prior to last May Bogomolov had only fleetingly cracked the top 100, and that was eight years ago. I can hardly recall not seeing him grinding away at the Australian Open qualifying event each year, and on at least three occasions I have wondered aloud how this diminutive fellow with no appreciable gifts beyond doggedness and a certain flair for mis-wearing hats summoned the will to continue. Like so many Americans, his faith in the big break rewarding honest toil was apparently unshakable. It turns out his faith was justified. He is somehow two withdrawals away from an Australian Open seeding. And now, having realised the American Dream, Bogomolov has committed to pursuing a Russian one.
Next I will discuss those players who fell away in season 2011. Andy Roddick will not go unmentioned.