Here are my top ten matches for the 2011 season, as I saw them.
Lists such as this are inevitably skewed towards the top players, for reasons that should be more or less self-evident. First, the top players are at the top due to their proven capacity to play well often, and the very top players can even play well when their opponent is. Lower ranked players tend to take it in turns, although as the ranking number gets bigger many grow disinclined to play well at all.
Secondly, the top players are more like to be competing in the biggest arenas, at the most dramatic stages of the most prestigious tournaments. Djokovic's astonishing defeat of Federer in the US Open semifinal only gained from taking place
on the world's largest tennis stadium, packed and roaring. Conversely, Djokovic was unbeaten for the year coming into the French Open semifinal, and everyone in the world knew it. The quality of play counts for a lot, but context and atmosphere still matter. In extreme cases, it counts for everything:
10. Fognini d. Montanes, Roland Garros, Fourth Round. 4/6 6/4 3/6 6/3 11/9
This match will surely cement the charismatic and polarising Fognini's reputation among the foremost tragicomic figures in the sport. Barely mobile due to severe cramps in the fifth set, Fognini began lustily swinging at every ball he could lay a racquet on. This turned out to be almost all of them, since the cramps were the rare contagious kind, and had spread to Montanes' brain. Deploying the double fault with a potency unheard of since Kournikova, Fognini lurched and limped his way to an impossible win.
9. Nadal d. Karlovic, Indian Wells, Quarterfinal. 5/7 6/1 7/6
Nadal began the first Masters Series event of the year in patchy form, but was ably assisted by an utterly collapsed draw, which meant he would face no seeds en route to the final. However, returning from injury, Karlovic was in unprecedented touch, posting wins over Simon and Ferrer in which he had frankly and shockingly outplayed each from the baseline. His superior power rocked Nadal back in the first set, before Nadal dialled in his returns to super-human levels in the second. The third lifted to an ecstatic tiebreak, with Nadal saving a match point.
8. Gasquet d. Federer, Rome, Quarterfinal. 4/6 7/6 7/6
From a set and a break up, Federer surely fancied his chances, especially against a man he had not lost to in over six years, and who can generally be relied upon to fold when behind. But not this day.
Gasquet's backhand was superb, as it always is. The real revelation was his forehand, which he lashed with reckless intensity. Do not for a moment imagine Federer played badly. Gasquet was exceptional.
7. Soderling d. Hewitt, Wimbledon, Third Round. 6/7 3/6 7/5 6/4 6/4
Much as he had against del Potro in 2009, former champion Hewitt looked to have the grass court measure of his opponent. Soderling, constantly forced to hit forehands from unfamiliar parts of the court, was driven to roaring distraction. The adjustment came in the third, when the Swede drained some of the excessive pace from his shots, and patiently forced Hewitt to defend. It was a comprehensive and mature fightback from the Swede, especially on his least favoured surface.
6. Djokovic d. Nadal, Miami, Final. 4/6 6/3 7/6
Djokovic defeated Nadal in six finals this year, after having never done it before at all. Miami was the second of them, and it more or less recreated the Indian Wells final of some weeks prior, but with all the settings dialled up. Nadal's form was stronger, the court, air and balls were slower, and the physicality of the play was more demanding. The importance of this match should not be overlooked, for it set up the clay finals to come, and established that Djokovic could outlast a truly committed Nadal.
5. Soderling d. Kohlschreiber, Rotterdam, Second Round. 6/3 5/7 7/6
For some reason, this pair have always pushed each other to the limit, even as Soderling's career has taken flight, and Kohlschreiber's has remained earthbound due to flashy inconsistency.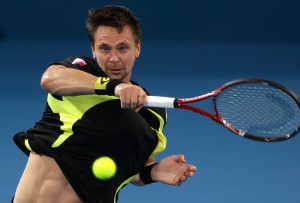 This was their fourth encounter, and all had so far gone to third set tiebreakers. On a fast indoor court in Rotterdam, Soderling finally triumphed in a sadly-forgotten encounter of astounding shot-making and jaw dropping power.
4. Murray d. Tsonga, Queens, Final. 3/6 7/6 6/4
This was Tsonga at his mercurial best, producing the finest display of dive-volleying I have ever seen, Becker included. Murray was driven to the edge, but somehow snatched the second set when the Frenchman dipped, and then expanded into an unplayable colossus in the third. It was Murray's first title of the year, and well deserved. And although he lost, Tsonga's Queen's campaign set his season truly in motion, including a tremendous Wimbledon effort just weeks later.
3. Djokovic d. Federer, US Open, Semifinal. 6/7 4/6 6/3 6/2 7/5
To an extent, the top three matches in this list are interchangeable, although all deserve inclusion for varying reasons. This was arguably the year's most dramatic encounter, and also its most improbable. Who could have predicted that Djokovic would defeat Federer in the US Open semifinals two years running, both times 7/5 in the fifth after saving two match points? This time round, the two match points occurred with Federer serving at 40-15, and landing both first serves. And who could have predicted that Federer would bow out of consecutive majors after leading two sets to love, something that had not happened in his entire career? Djokovic's forehand return winner on the first of the match points remains one for the ages.
2. Djokovic d. Murray, Rome, Semifinal, 6/1 3/6 7/6
It was May, and for the first time in the season Djokovic looked in serious danger of actually losing a tennis match. Murray, on the other hand, had barely won since January, having indulged in his annual post-Melbourne slump.
The first set conformed to the form guide, but then Murray began inexorably to suck the Serbian into his psychic mire. Djokovic pulled himself free with his final gasp.
1. Federer d. Djokovic, Roland Garros, Semifinal. 7/6 6/3 3/6 7/6.
While (debatably) not as dramatic as their US Open classic, this one was unquestionably higher quality, and it had a lot more riding on the outcome. Unresolved narrative tendrils whipped fitfully, searching for satisfaction. With victory, Djokovic would have eclipsed McEnroe's 27 year record for greatest start to a season, reached his first French Open final, and deposed Nadal as the world No.1. I have the full match on my hard drive, and an excellent highlights package, and the two are virtually identical for long stretches. The pace is staggering, the shot-making extraordinary, and the pressure, as the light died and the riotous Parisians realised that any fifth set would have to wait until the next day, was immense. Djokovic broke and served for the fourth. Federer, knowing he had to finish it in the twilight gloom, produced a colossal game to break back, and closed with a majestic tiebreak. His mistake in New York was to prepare only two match points. In Paris he cooked up three, and smoked an ace down the T on the last of them. Djokovic had finally tasted defeat.
Honourable Mentions
Djokovic d. Nadal, US Open, Final.
Gruelling, yet pedestrian. It might have been a classic had Nadal not faded so sharply, and had they hit the ball a bit harder.
Weintraub d. Raonic, Davis Cup, World Group Play Off.
This is what Davis Cup is all about.
Soderling d. Almagro, Rome, Second Round.
A minor classic, with a wonderful matchpoint save.
Dodig d. Nadal, Montreal, Second Round.
A stunning upset. Dodig has balls the size of cantaloupes.
Tsonga d. Federer, Wimbledon, Quarterfinal.
Federer cruising to a routine victory, when Tsonga rises to that rarefied place usually haunted by Federer himself.
Murray d. Haase, US Open, Second Round.
A match entirely on Haase's racquet. As far as Murray was concerned, that proved the ideal place for it.
Worst Matches of the Year
Nadal d. Verdasco, Cincinnati, Third Round.
Just bad. And long. So very, very bad and long.
Djokovic d. Troicki, Paris Masters, Third Round.
How far would you go to not beat Djokovic?