Previously I discussed the players who had complied their most memorable season in 2011, at least relative to 2010. Today I'll talk about those who fell most sharply away.
There are various reasons why this might happen. Some players subside as a matter of course, their allotted year in the light having expired. Others, veterans, will sense the race outrunning them for some time, and are finally trampled underfoot. Some get injured. Some just don't play very well.
Here are the players who shed the most ranking points in 2011. The number in brackets is their points loss for the season.
Robin Soderling (3460)
Rafael Nadal (2855)
Mikhail Youzhny (1815)
Andy Roddick (1725)
Fernando Verdasco (1690)
Jurgen Melzer (1615)
Sam Querrey (1271)
Roger Federer (975)
Marcos Baghdatis (845)
Ernests Gulbis (720)
Ever since Robin Soderling's ascent in 2009, the top eight has looked sturdier for having him in it. Now that glandular fever has buggered his season and his ranking, it feels as though a crucial link between the truly elite and the rest is missing. Clearly he wasn't beating the top four with any regularity, but he was a sufficiently imposing quarterfinal presence to keep them honest. He has already withdrawn from next year's Australian Open (where he has never performed well) and Brisbane (where he is the defending champion). However far he has already fallen, he has some way to go before he can begin climbing again. For a time his mid-career breakthrough was the most intriguing tale in the sport. Let's hope he can tell it again.
Rafael Nadal's 2010 season ranks among the most accomplished in the history of the sport. It would have been a tough act to sustain for more than a season, and thus it is essential to remind ourselves that but for the grace of Djokovic, Nadal's 2011 might well have eclipsed it. There is no way of knowing either way, and to speculate more than idly is the business of the fanatical fan. Djokovic did happen, and Nadal merely registered a season that 99% of professional players in history must envy. He is still No.2 in the world – a not unfamiliar position – despite jettisoning a huge number of points. To put this volume into perspective, if world No.9 Janko Tipsarevic was to shed as many points as Nadal has, he would no longer be ranked as a tennis player, and still owe some change.
Like Nadal, Roger Federer dropped points and fell a place in the rankings, momentarily departing the top three for the first time in over eight years. A mighty finish to the season staunched the wound in time, and provided some confusing signals heading into 2012.
Andy Roddick has been on the slide for years, and the fact that the gradient has hitherto been so shallow and smooth speaks amply of his fighting qualities. It also demonstrates how the constant and deliberate effort to purge his game of all dynamism has ensured he mostly beats those ranked below him, but can barely trouble those ranked higher. With the exception of Ferrer at the US Open, Roddick's efforts against the best players were dire. He was savaged by Nadal in the very next round in New York, beaten up by Federer in Basel, and mugged by Murray at Queens. Indeed, Ferrer had already exacted 'prevenge' by cleaning Roddick up in the Davis Cup, on a slick court in Austin. The difference in 2011, and the reason why Roddick briefly departed the top 20, is that he has grown increasingly vulnerable to players below him, such as Lopez at Wimbledon. Holding the floodgates shut as proved an exacting task for many years, and as he now rounds on thirty, it might well have broken him. He will always have his serve, and it will always remain a deal-breaker on fast courts, but barring a miracle run at SW19 I suspect Roddick's slide will only accelerate.
Youzhny and Melzer are classic examples of players who'd earned a year in the big time – Youzhny had been there before – but inevitably plummeted once their hauls went undefended. I am partial to both guys, particularly Youzhny, and so have been saddened to see it happen. My feelings regarding Verdasco are more ambivalent.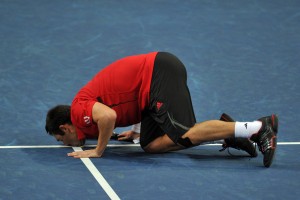 He lasted a full two years in the top ten, but ever since Milos Raonic broke his will in San Jose and Memphis, he has barely put together consecutive weeks of real tennis.
When Ernests Gulbis won LA, defeating del Potro and Fish en route, there was a pervasive sense that he had finally found his way. Forgotten in all the hoopla was the fact that LA is a tournament whose best days are long past. Forgotten since has been Gulbis himself, who returned to his feckless shenanigans the following week, and has hardly been heard of since. Meanwhile the ATP website ran an inspirational puff piece on Marcos Baghdatis at the start of the season, the overarching theme of which was that the streaky Cypriot was finally prepared to buckle down and become a proper tennis player, for realsies. The video mainly consisted of him doing sit-ups on a perfect beach, although whether this was meant to stand in metonymically for a broader effort, or whether this was the true extent of his regimen, was never made clear. The upshot is that Baghdatis has attained his lowest ranking in six years, and worked damn hard to get there.