World Tour Finals, Day Three
(4) Federer d. (2) Nadal, 6/3 6/0
Andy Murray is out, Roger Federer is up, and Rafael Nadal is down. Mardy Fish is probably out, too – his results so far living down to his own pre-tournament assessment – while Janko Tipsarevic is in, meaning he'll have something to do at the end of those daily speedboat jaunts he's been relishing so much. Doings have been a-transpirin' at the O2, and the week is still young.
Statistics may not always reveal the whole story, but they at least outline the right one in lop-sided matches, though the story is already familiar to anyone who has actually watched the match. Still, being told something you already know can have its charms, if it's something you want to hear. Tonight's 26th encounter between Federer and Nadal was among the most emphatic shellackings in their rivalry.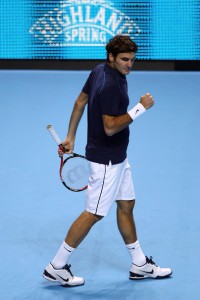 This was already clear from watching it, and the numbers do not pretend otherwise: Federer hit 28 winners, Nadal won 27 points. Only nine of those points came in the second set, and almost none of them in a row. There were entire games decided by nothing but winners, mostly but not exclusively from the Swiss forehand. All told, it felt uncannily like last year's final, but more so. Federer's attack wide to the deuce court was similarly comical in its relentlessness, and his cross court backhand not only stood up to Nadal's forehand, but actually dictated to it.
I was put in mind of the Australian Open semifinal of 2007, when Federer's winner count merely equalled Andy Roddick's point-total, a match that is still whispered of with reverence by aficionados of consummate thrashings. Indeed, 2007 was much in the air tonight, and not merely because it has been about four years since Federer sustained this kind of form against a top opponent. Hamburg 2007 marks the last time Federer bagelled Nadal, which astute readers may recall was the match that ended Nadal's record clay-streak of 81 matches. Nadal was gracious after that one – "If anyone is going to beat me, he is the man, no?" – and he was again tonight, refusing to blame anything other than his opponent: "It's funny, but I didn't play really bad. He didn't have one mistake during all the match or two mistakes during all the match. He was playing too aggressive . . . [W]hen Roger plays like this he is better than me, and that's it."
We have to travel back to the Masters Cup of 2007 to find a comparable performance against Nadal, when Federer dismissed his greatest rival 6/4 6/1 in even less time than the dawdling hour he took tonight. Of course, we needn't go back so far to find Nadal reversing the result. Miami earlier this year was a pretty thorough dismantling – less close than its 6/3 6/2 scoreline – although the standout in this area remains the incomparable 2008 French Open final.
Anyway, the upshot is that Federer has become the first player to qualify for the semifinals, although he will still have to play Fish on Thursday, where he will doubtless set out to confirm the American's initial fear of not belonging in so august a company as this. Nadal will have to overcome an in-form Jo-Wilfried Tsonga in order to progress.
(5) Ferrer d. (3) Murray, 6/4 7/5
Following yesterday's loss to David Ferrer – an exercise in who could sustain ineptitude the longest – Murray has today pulled out of the Tour Finals with a groin strain, which is undoubtedly the right move. Ferrer was the only gimme in Group A, and Murray boasts a losing record against his next two opponents, Novak Djokovic and Tomas Berdych.
In his press conference, he remarked that he "was trying to find reasons why I should play and no real positives were coming out. I was really unhappy on court." It's his call, of course, but I will point out that 'really unhappy' pretty much sums up how he looked even while winning Shanghai some weeks back, so it's hard to take that as a measure of anything. I've never known anyone to bring such nuanced variation to 'glum'.
Still, it's a colossal bummer for the Scot, who could well lose his No.3 ranking, and for the event, which like all tournaments prefers it when local talent is on show, even if the local chose to be born in another country, and continues to live there. Fans with tickets to tomorrow's day session – in which Murray was to play Berdych – will surely feel the most bummed of all. Instead they will watch Berdych play Janko Tipsarevic. Those two last met in the third round of Bercy a few weeks back. Tickets to the Palais Omnisports de Paris-Bercy were considerably cheaper than to the O2, and the hall was half-empty for that one. For all their manifold differences, Parisians and Londoners can probably feel united in their indifference towards two players they've barely heard of. Perhaps this solidarity will provide some comfort to tomorrow's ticket holders. Perhaps not.