World Tour Finals, Day One
(4) Federer d. (7) Tsonga, 6/2 2/6 6/4
(2) Nadal d. (8) Fish, 6/2 3/6 7/6
The first match of the irregular tennis season – the dusky coda of the World Tour and Davis Cup finals – yielded the same result as the final match of the regular one, with Roger Federer overcoming Jo-Wilfried Tsonga. It's a coincidence that would surely bring more pleasure if it actually meant anything. Einmal ist keinmal, so the saying goes, but sometimes zweimal doesn't mean much either. It is of course the writer's task to tease out meaning from the disorderly flow of events, but it is the lot of the bad writer to uncover meaning where there is none. Federer himself is constantly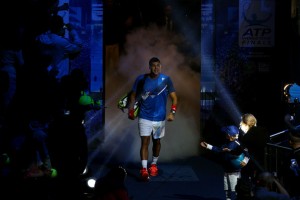 invited to compare and contrast his losses, and he constantly declines to, to the disappointment of an attendant press gallery, full of writers who will not be convinced there is no pattern to be found.
Of today's match, we might say that, as with the Paris final from last week, Tsonga came out flat and uncertain. We might usefully wonder why he hadn't taken measures to ensure it wouldn't happen again – such as playing differently, for example. But then we have to recall that this isn't his first run-in with Federer in 2011. They have actually met six times this year, and in all but one of those encounters the Frenchman has commenced poorly, dropped the opening set (or two), before recovering with the utmost vigour. Once may not mean anything, or even twice, but five or six times is hard to ignore. Fünfmal probably means something. It mostly means he's playing Federer, who is a fast starter, and a pretty handy tennis player. That last factor doubtless figures in the other predominant trend in many of this pair's encounters, which is for Tsonga to collapse when the going gets tight, late in the match. So it proved again today, where a fluffed volley and a double fault proved disastrous.
The patterns were harder to decipher in Rafael Nadal's eventual win over Mardy Fish, since so many of the many errors were truly unforced. They were randomly arrived at, but their outcome proved drearily decisive. Fish hit three winners to 16 unforced errors in the first set, and lost it. Everything about the second set was reversed. 16 Winners, four errors, set Fish. Nadal was just kind-of there. There was much talk centring on the American needing to believe he could match it with the world No.2, but on a more practical level, he probably just needed to play like he did the last time these two met, when he won. Breaks were doled out freely in the final set, but evenly. A tiebreaker loomed, and then arrived, and Fish neither believed nor executed. Nadal, still there, took the win and professed himself lucky afterwards, although he stopped short of comparing himself to an inspired junior.