World Tour Finals, Day Four
(5) Ferrer d. (1) Djokovic, 6/3 6/1
(6) Berdych d. (9) Tipsarevic, 2/6 6/3 7/6
Previewing the World Tour Finals last week, I declared with stentorian finality that David Ferrer would surely not figure heavily, given his dismally winless O2 adventure last year, and that his qualification this year resulted largely from only three strong performances across the season, spaced a long way part.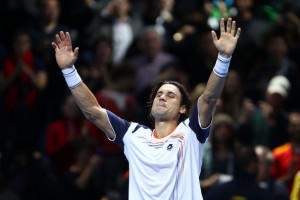 Covering myself glibly, I concluded with the proviso that 'I could be wrong', but even as I wrote it I didn't believe it. Yet somehow, that line has turned out to be the most accurate thing I had to say on the matter, although I draw some comfort from the fact that I wrote Mardy Fish off just as thoroughly – correctly as it turned out – and that no one else gave Ferrer much of a shot, either
Honestly, who could have? Sure, he's a nice guy, a fine technician, and so tenacious that he boasts his own page in the Illustrated Dictionary of Canine Metaphors. But, drawn in a group with Novak Djokovic, Andy Murray and Tomas Berdych, indoors, he appeared terribly over-matched. The only upset I saw coming would surely come from Berdych. But then the upset I didn't see coming arrived, and, assisted ably by Murray's dislocated groin, Ferrer saw off the world No.3 in two very bent sets. Now he's beaten Djokovic as well, with no help from the latter's groin, and the sets could hardly have  been straighter. This was Ferrer at his dogged best, although it is important to resist the lazy assumption that that dogged is all he is. He is not a simple baseline grinder.
One thing that was clear against Murray, and is generally a feature of Ferrer's most dashing wins, was how eager he is to move up into the court, and, prudence permitting, thenceforth venture all the way to the net. He might not reach it, but he's generally on his way as he deals with the short ball. His volleys are compact, though like nearly all modern players he heavily favours the angled drop-volley. This used to be a Spanish thing, and therefore a clay court thing, but is now just a thing, since few know how to punch through the shot. Still, it's effective, since his approaches are exclusively deep. Ferrer only sallied forth five times today, but he found success on every occasion.
He was rarely bullied away from the baseline, refused to retreat, and remained determined to push the world No.1 around whenever he could. Thus committed, it turned out he could push Djokovic around a great deal, and Djokovic, strangely, appeared willing to be pushed. The Serbian struck 33 unforced errors, and plenty of those were made on the run, at least in the early going.
Later on, the errors gave up pretending to require a reason at all, and the majority of those found the net. It would be unfair to take the victory away from Ferrer, but it would be misleading to pretend this was Djokovic at his best. It's hard to say what was wrong with him. He looked unusually dispirited, but only if one takes the short view. He used to look like this all the time when things weren't going his way. Thinking on it, he's looked this way a lot since the US Open, and the part of the season before Flushing Meadows is coming to seem vaguely unreal (although the fourteen billion points buttressing Djokovic's ranking lends it some substance. Oh that's right, we recall – this man won everything).
Whether he has a shot left at winning the Tour Finals will depend on how Friday's matches play out. Berdych blew a heartbreaker to Djokovic on Monday, and today won another against Janko Tipsarevic. In both cases match points begged, but ultimately went hungry. Ferrer has already progressed, meaning that Djokovic and Berdych will be fighting for that last semifinal berth. Berdych is currently slightly ahead, and will move through if he beats Ferrer in straight sets in the next match. If he doesn't, and Djokovic overcomes Tipsarevic – as he should – the world No.1 will scrape through, and discover Roger Federer waiting. Tipsarevic twice fell heavily in the final point of today's loss, and so he'll be feeling a trifle ginger anyway. Is it beyond reason to think he might feel obliged to help Djokovic through by producing a less than a stellar effort? Thankfully, the two Serbs will play each other first on Friday, and so cannot tailor their efforts based on the outcome of the other match.
Not that I'm cynical.