World Tour Finals, Semifinals
(4) Federer d. (5) Ferrer, 7/6 6/3
(7) Tsonga d. (6) Berdych, 6/3 7/5
As a rule, Roger Federer assaults the net with far greater constancy, faith and success against David Ferrer than against any other top player. Like all rules, this one has its exceptions, but today's match was not one of them. The head-to-head between this pair has now progressed to 12-0 in Federer's favour, suggesting that as tactics go, it's a winner.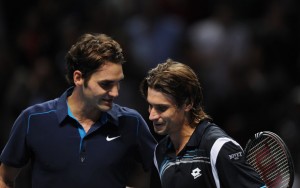 I won't pretend to have seen all of these matches, but I've watched the key ones. The most important of those was the Masters Cup final of 2007, in which Federer relentlessly bullied Ferrer from the court, and refused to yield the forecourt.
This game plan's enduring efficacy means that Federer will surely stick with it for their thirteenth meeting, and it's useful to understand why it works. Naturally predisposed to attack wherever possible, it is unlikely that the Swiss would ever be willing to sit back and rally aimlessly with Ferrer, who can happily keep the ball in for weeks at a time (although he will press an opening if one presents itself). Secondly, I suspect Federer doesn't rate Ferrer's passing shots particularly highly, for all the Spaniard has great wheels and soft hands. Thirdly, Ferrer's groundstrokes lack sufficient penetration and heaviness to pin Federer back, the way a Berdych or a Soderling can. They also mean that Federer can take control of the rally, and work his way to the net. He rarely rushes in desperately against Ferrer, and I can barely recall a chip-charge. The upshot is that Ferrer runs a lot, and Federer takes each match pretty comfortably, even on days like today where nothing else is working that well. Because he isn't sprinting forward like Tsonga, you are never left with the impression that the match is being decided at the net, but the stats afterwards invariably tell the tale. Today he won 15/17 approaches (although one of the two he lost was the point of the match, with Ferrer at his scampering best, retrieving a lob and executing a superb backhand past the net-stranded Federer). For all that Federer was r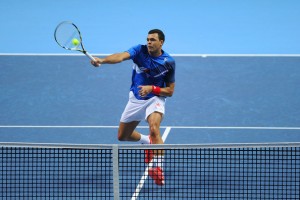 agged in the early going, he also faced no break points, and barely dropped a point on serve in the second set.
Tomorrow he will contest his 100th tour level final, and aim for his 70th title, and record sixth at the year end championships. He will play Jo-Wilfried Tsonga, for the eighth time this year, and for the third consecutive Sunday. In utter contrast to today's match, Tsonga will be determined to wrest the net from his opponent wherever possible, notwithstanding that he was out-volleyed by Berdych in today's second semifinal. But when it mattered, Tsonga hurtled forward behind muscled serves and volleyed with daring and virtuosity. With both men determined to annexe the baseline and the forecourt, tomorrow's final will undoubtedly play out as a territorial battle, with the Frenchman's ebullient and often reckless endeavour coming up hard against Federer's easy brilliance and vast experience. There will be monstered forehands, and uncounterable serves. Backhands will be assaulted, and cries of 'Allez' will boom through the O2. For the first time in well over a decade, the final match of the season will be decided by attacking, all-court tennis, just as the gods intended.