World Tour Finals, Final
(4) Federer d. (7) Tsonga, 6/3 6/7 6/3
Roger Federer has captured his sixth title at the ATP's season ending championships, though it is hard to begrudge him that. For the fifth time he has taken the title without dropping a match, which sounds like an amazing statistic until we recall that he replicated that feat in winning all of his other titles, too. There are 64 of those, making for a grand tally of 70, from an even 100 finals.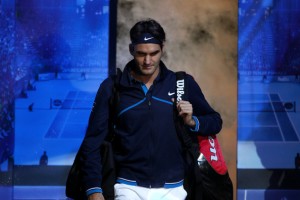 Astonishing numbers from an astounding career, although what was once a torrent has lately slowed to a trickle, and for a time ceased to flow at all. If asked, Federer would doubtless insist that 2011 has not been a disappointing season, thereby uniting fans and detractors in their scepticism. It has been a disappointing season for the sport's greatest player, but at least it has ended in the best possible way. He has gone undefeated since the US Open, producing a 17-match winning streak, including three consecutive titles. The records are again tumbling, like a burbling, stony brook. History, which only stares backward but still misses most of the details, will doubtless elide the finer points of this run. But the fact that he has won more Tour Finals than any other man will surely endure.
There was, briefly, a fear he wouldn't. He stepped up to serve out the match at 5/4 in the second set and duly collided with an iceberg, and after watching a match point evaporate in the ensuing tiebreak, there echoed a collective global sigh from the faithful legions, momentarily accelerating the thawing of the polar caps. The capacity for Federer's opponents to soar to vertiginous heights where once they had dutifully plummeted has defined his year, finding grand expression in Tsonga's improbable recovery at Wimbledon, and Djokovic's moribund forehand in New York, a last-gasp shot fired from the gallows. All the signs were there again today. Tsonga, as he had at Wimbledon and in Montreal, hovered over the crevasse and discovered inspiration. Suddenly every Federer serve that wasn't an ace became an invitation. The Swiss could not land a first delivery, and in the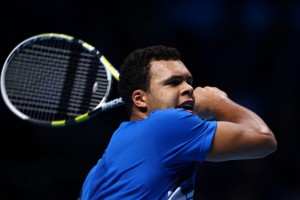 grip of a wild pride chose to direct second serves to the Frenchman's forehand, whereupon they were pummelled, as a prelude to being taken out the back and shot. A 5-2 lead in the tiebreak returned to 5-5, match point stumbled in, and Tsonga's forehand again escorted it away to be dealt with.
In Melbourne, it was just clearing 6:20am. Had Federer taken that second set, I could have collapsed into bed for an hour or so. He didn't, so I roundly cursed his ancestors, and peered out at the grey Monday city slowly rediscovering its purpose. A delivery truck had apparently stalled out the front of my house, a situation the driver sought to rectify with only colourful language. I suppose things could have been worse. Then again, the experience looked decidedly better in the O2, where the crowd's delirium fundamentally  favoured Federer, but proved sympathetic to Tsonga's energy and endeavour if it meant a third set, further justifying the cost of their tickets. Federer is well-loved for the way he makes the impossible look easy, but Tsonga inspires affection for the way he makes the brilliant look fun.
As with the first set, the third set saw a pensive and passive Federer weathering constant pressure on serve. Deuces came and went, but Tsonga couldn't win those crucial return points on the first court. This had been the pattern in the first set, until the Frenchman had punctuated a sequence of flawless service holds with one truly horrible game, ceding the break and with it the set. This was how the pair's round robin match ended a week ago, and seems to be a fatal pattern. It happened again today.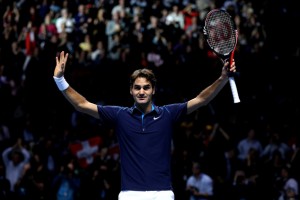 Apparently from nowhere, Federer broke. Tsonga's best comes when he's behind, but he basically sucks at level-pegging through a deciding set. A mighty shout erupted from Federer, half a second before it erupted around the arena. This time, he served it out at love, each point rounded off with a pumped fist.
We saw Federer at his most vicious against Rafael Nadal earlier in the week, but today's Federer barely resembled that one. Partly it was due to Tsonga, who unlike the Spaniard will not grant him so much space in which to work. Partly it was Federer simply having an off-day. But mostly it was a question of intent. Tsonga loves to dictate play, and Federer for the most part allows him to, which seems to me a perilous ploy against so courageous a player, one who doesn't resist the madness of inspiration when it strikes, who can rip a forehand winner down match point, and ride that momentum for a quarter hour stretch. They played eight times this season, including in the first and last tournaments for the season. Federer won six of those encounters, but I wonder how many he would trade for that Wimbledon quarterfinal. Probably most of them, but assuredly not today.