World Tour Finals, Day Six
(9) Tipsarevic d. (1) Djokovic, 3/6 6/3 6/3
Without being privy to any inside gossip on the matter, I would be surprised if Novak Djokovic and Janko Tipsarevic did not conduct an earnest man-to-man discussion at some point in the last two days. It conceivably ranged across any number of topics – such as how swell it is to be young, handsome and wealthy – but almost certainly centred on their upcoming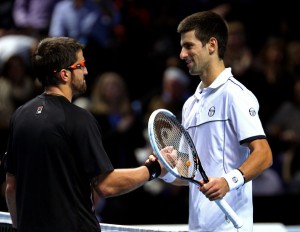 round robin tie at the World Tour Finals. They are close chums, and elite tennis players. Unless you're Pete Sampras or Jimmy Connors, these two states are not mutually exclusive for most pros, though if the relationship is to experience strain it would be at times like this.
Tipsarevic could have greatly enhanced Djokovic's prospects of reaching the semifinals by tanking the match. He already had a losing record against the world No.1 (0-3), and could not qualify himself. On the flip side, a win would net Tipsarevic 200 ranking points, and $120,000, which is hardly chump change, even for handsome young Serbs with underwear modelling contracts. Furthermore, a realistic shot at the world No.1 doesn't come around every day, even when you're the world No.9 and he's your best mate. Plus, well, Djokovic looks buggered, and his semifinal opponent would be Roger Federer, who looks murderous. This entirely theoretical discussion might have yielded any number of outcomes, and all for good reasons. However, as cynical as I am by nature, I suspect the discussion was brief, and the outcome entailed Djokovic telling Tipsarevic to simply play to win, like any other match. Everything Djokovic has achieved this year, he has earned fairly, and I doubt he would want to conclude his greatest season any other way. The way the match played out suggests I'm not wrong, an uncommon occurrence of late.
In the first set, it was Djokovic playing to win, breaking Tipsarevic at 2/1, and holding comfortably thereafter to see out the set. Weariness began to tell in the second, however, as it has all week, and the rivulet of errors broadened to a stream, and his commitment began to wane. Tipsarevic's tempo accelerated, and he grabbed the break at 4/2. Djokovic's drop shot, so effective for much of this season, began to revert to its erstwhile role, which was bailing him out of rallies he couldn't be bothered continuing, an altogether less decisive tactic. By the third set, it looked like he couldn't be bothered continuing with his year, and Tipsarevic took it with a couple of breaks. This ended the No.9's season – exultantly, and slightly wealthier – but Djokovic was obliged to await the outcome of the night match between David Ferrer and Tomas Berdych.
(6) Berdych d. (5) Ferrer, 3/6 7/5 6/1
Ferrer has already qualified for the semifinals, but added motivation remained insofar as a win would help him avoid Federer in the semifinals, which all interested parties seem eager to do. For Berdych, a win would see him top Group A. Djokovic, luggage packed, idled impatiently in his hotel, his learjet doing the same at Gatwick.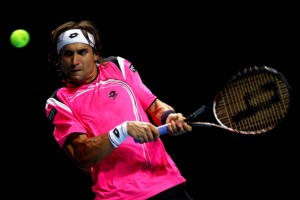 Then Ferrer took the first set, and went up a break in the second. The Czech could barely scrape points together. The learjet powered down. Berdych fans collectively groaned, along with Djokovic, who gave up slathering himself in reef oil for the moment. Berdych, suddenly majestic, broke back. Ferrer broke again, then, sloppy, gifted that one back, too. The learjet's fuel bill was mounting, and Djokovic was a sight, in board shorts and a dressing gown, his luggage in disarray. Berdych took the set, somehow. Ferrer, recalling suddenly that the semifinals would commence in a mere 15 hours and the Davis Cup final in less than a week, went to his bag for the white flag. Bafflingly, he emerged instead with a pink shirt, so he put that on. Somehow, the effect was much the same. Set Berdych – 6/1 – and the match. Ferrer will face Federer in the first semifinal. Berdych will face Tsonga. Djokovic, 70-6 for the season, is headed for the Maldives, assuming sufficient fuel remains for the trip.