US Open, Second Round
(4) Murray d. Haase, 6/7 2/6 6/2 6/0 6/4
The distinct character defining each of the US Open's first four days gave way on day five to a more heterogeneous mash-up of results, although at least one trend has persisted in the mounting number of defaults and walkovers. This time Nadal was the beneficiary, and Mahut the victim, or offender.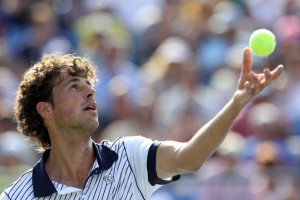 A handful of Americans have progressed to the third round, temporarily allaying fears of impending national irrelevance. Notwithstanding Monfils' loss yesterday, the Men's draw has yet to witness an upset on par with Sharapova's egress from the Women's, but it was a near run thing. Jurgen Melzer is out.
If you aren't American, and therefore are not constitutionally bound to give a toss about Donald Young either way, day five's centrepiece was undoubtedly Andy Murray's five set victory over Robin Haase, a fascinating encounter that didn't showcase both men at their best, but did show each at his most typical. This was character as destiny: Murray grim, passive and brilliant, and Haase blithe, powerful and mercurial. With these basic materials in place, it was easy to see that the resulting match would be long and oscillating, by turns scintillating and spiritless, coruscating and crap. Easy in hindsight, that is, just like anything. Both men share extended lanky frames, a tendency towards affro if left untended, and truly cavernous mouths, factors which boasted little influence.
A ferocious athlete and determined shotmaker, Haase is seemingly impossible to stop once he gets on a roll. Fortunately for his opponents, his roll is only rarely got on, which partially explains his ranking of 41, and when it is on, the roll never lasts longer than two sets, which explains the rest. We saw this structural limitation play out last year at Wimbledon, when he led Rafael Nadal two set to one, only to mortally fade. We saw it again in Melbourne this year, when he blew Roddick from the court for a set and a bit, but proved fatally incapable of sustaining the attack. We saw it again today, when after matching Murray and claiming a tight first set, he lifted beyond the Scot's reach in the second, teeing off on every second serve, lashing the lines, and hustling Murray all over and then off the court. He conceded an early break in the third, and then a long, tough Murray hold proved decisive, initiating a run of thirteen straight games lost, occasionally punctuated with racquets launched at the court and a return launched into the crowd.
(Carlos Bernardes proved uncharacteristically reluctant to inflict the requisite code violations for these transgressions – recall Roddick's fit in Cincinnati – but it hardly mattered.) The enduring lesson is that Haase can be ground down, and that once the initial tempest has been weathered, plain sailing ensues. The best-of-five format provides a lot of ocean in which opponents might manoeuvre.
With Murray leading 4/0 in the fifth, the Eurosport commentators clearly agreed, and at the time it would have taken a visionary to contend otherwise. The Scot had won 13 straight games, Haase was flirting with point penalties and clutching his back, and the commentators began to assess the Murray's chances against Feliciano Lopez in the next round, laughingly admonishing each other to 'not get ahead of themselves' with wearisome bonhomie. They were British, but even so it was hard to begrudge them their presumption. Then, courtesy of divine caprice, Haase mounted an audacious comeback, taking the next four games in a passage of sustained all-court attack. Without precedent, a second hurricane had formed.
Murray looked too concerned even to remonstrate with himself or his player's box, always a sure sign that the trouble he's in is serious. Given the suddenness and unexpectedness of the fightback, perhaps there was simply no time. At 4/4, a tough game unfolded on the Dutchman's serve. Murray buckled down, he got a lucky net-cord on a pass, and burst out laughing at the absurdity of God's whimsy, then he broke. He served for the match, finally. A match point came and went. He took the second when a scorched Haase forehand landed wide. Looked wide. Haase challenged, perfunctorily. Why not? Millimetres in. Murray gave no response, and made no objection when deuce was called. Another match point, a second serve. This time Haase's return sailed long. Another challenge, but the handshake was concluded before the result was even shown. It was out.