US Open, Second Round
The 2011 US Open is well into its first week, which in the final reckoning will be the week that no one remembers. It is ever thus, especially in New York where the final set tiebreak rule precludes the possibility of a timeless – or merely endless – epic.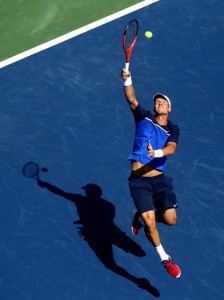 This is a shame, since, even if history doesn't agree, there is no shortage of great tennis in the first week, fascinating trends and by-plays, which may or not see resolution by the second Monday.
Chief interest through the early going has lay in the striking contrast between the first and second rounds. The first round was defined by tremendous chokes (Golubev, Troicki) and stirring recoveries from two sets down (Darcis, Bogomolov, Kunitsyn, Mahut, Sela). We are now halfway through the second round, and the main things to take away from today were the severity of the thrashings doled out, and the comprehensiveness with which French hopes were dashed (although Tsonga won). Without aiming to insult either the thrashed or the French – only Llodra was both – the overall sense has been of chaff being separated out: less thrashing than threshing.
Roger Federer took 77 minutes to dispose of Dudi Sela, while Fabio Fognini fought to 5/5 in the first set against Tomas Berdych, and then lost the next 14 games. He might well have claimed the 14 after that but the match was over. Marin Cilic and Bernard Tomic were widely expected to fight out a close one, and of the three games Tomic eventually won, all were indeed close, although few of the other 18 were. As I write this, Novak Djokovic is typically looking to top everyone, taking the first two sets at love, although he has just been broken in the third, denying us the first triple bagel in 18 years.
Ferrero d. (7) Monfils, 7/6 5/7 6/7 6/4 6/4
It is now eight years since Juan Carlos Ferrero reached the final of the US Open, where he fell to Andy Roddick, and over seven years since he has achieved much else of note. This isn't to say that beating Gael Monfils in five sets in the second round is a particularly stunning achievement, but given that Monfils was seeded seventh and wasn't playing half bad –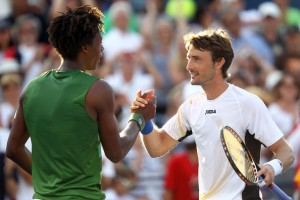 the more aggressive tendencies we glimpsed in Cincinnati were once more sporadically in evidence – it must be considered an upset.
Ferrero's jaggedly-contoured career is irreversibly winding down – the Indian Summers growing more frigid and farther apart – but enough of the old spirit is there, and that's where it counted today. Ferrero fought his way to the No.1 ranking on the back of his superlative court-speed and his forehand, but here today the twin narratives of mortality and progress were writ large. At 31, the Spaniard has naturally slowed, and his forehand has lost its erstwhile penetration, but he was never as fast as Monfils, and he could never rip groundstrokes at over 150km/h the way the Frenchman can and does. But he is a champion, enormously more experienced than his opponent, and, as the fifth set got underway, for a wonder boasted greater reserves of stamina. Mental and physical fortitude have ever been the areas where Monfils is most suspect. Even coming off a five set victory in the first round, Ferrero looked fresher and sturdier.
Monfils' US summer adventures are now complete, and for all that he has fought more valiantly and applied himself with greater diligence than last year – recall his embarrassing collapse against Djokovic in New York 12 months ago – his results have hardly improved. He has much to think on, although based on the aggregated evidence of his on-court behaviour and Twitter updates, you'd have to say that thinking is not his greatest strength.