US Open, Third Round
Ferrero d. (31) Granollers, 6/1 3/4 ret.
(20) Tipsarevic d. (9) Berdych, 6/4 5/0 ret.
Word is that the ATP record for most retirements in a single tournament stands at ten, a tally that was today equalled in New York, and will doubtless be surpassed by the quarterfinals. If the women's event is included, that total climbs to something like 19. Inevitably, everyone has a theory to explain these numbers, and just as inevitably the most likely reason – coincidence – holds little allure. Coincidence makes for bland copy, and it denies one the chance to confect those narratives whereby sport approximates life, but not reality.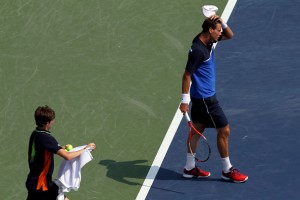 Sport needs to be meaningful in order to be more than merely diverting. Anyway, the upshot is that players are apparently dropping left and right due to the heroic span of the season, the physicality of the modern game, and the hardness of the hardcourts.
However, whilst these explanations are not without consequence, given the broad variety of reasons cited for the defaults, as explanations they remain insufficient. The hardness of the surface does not explain the high number of upper body injuries, and the season's length has little to do with those stricken with viruses or food poisoning. Shit happens; when a lot of it happens in the same place at the same time, we might more usefully say that shit coincides. It's no less of a shame, but it's still just shit, and so ought to be kept in perspective. An arch of the eyebrow is more appropriate than a jerk of the knee.
As for today's casualties: first Tomas Berdych then Marcel Granollers failed to complete their respective matches. Granollers' back went early, and unexpectedly, providing welcome relief to his opponent, the aged and battle-wearied Juan Carlos Ferrero. Meanwhile, Berdych's engineering team apparently used the wrong kind of lubricant on the servos in his shoulder assembly, leading to a catastrophic mechanical failure as the first set got serious. The immediate winner was Janko Tipsarevic, who will now clear the cusp of the top twenty. In the longer view, the ultimate beneficiary will be Novak Djokovic, which is about as touching and useful as donating your dole payment to Bill Gates. Berdych in ominous form might have presented the top seed's only challenge prior to the semifinals. Alas, Tipsarevic, if he progresses so far, will present no hindrance whatsoever. Whatever else defines the current era of men's tennis, the ossified national hierarchies are usually decisive in their way. Tipsarevic can no more defeat Djokovic in a major than Wawrinka can defeat Federer, or Verdasco defeat Nadal.