US Open, Semifinals
(1) Djokovic d. (3) Federer, 6/7 4/6 6/3 6/2 7/5
Roger Federer was defeated in the US Open semifinals after leading two sets to love, the second time he has lost from that position in as many majors, and the fourth time ever. However, the inevitable comparisons to his loss at Wimbledon will be as misleading as they are tempting. Insofar as comparing two tennis matches yields much interest at all – and Federer is generally among the first to declare it doesn't – the true precedent lies in the nearly identical match between the same men at the same stage of the same tournament almost exactly a year ago, a match in which Novak Djokovic eventually saved two match points, before going on to break Federer and serve out the match 7/5.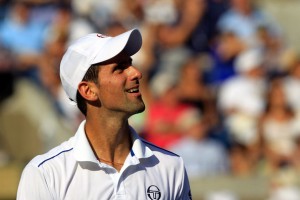 To be fair, no one has been slow in making this comparison, either. The attractive thesis is that today's loss thus draws together the two prominent threads of the great man's decline, but why that should be important is hard to explain. In other words: so what?
If we look at the two matches, the similarities quickly pile up, but they still don't amount to much. If we swap sets two and three today, the two matches are all but identical, both featuring Federer playing over Djokovic to claim a couple sets, and going down early breaks in a couple of others while the Serb lifted. Once again, it took until the fifth set for both men to play well at the same time. Djokovic blinked first, Federer took the break at 4/3, and stepped up to serve (last year he never served for the match). He moved to 40-15, and Djokovic nodded in recognition of this moment, his old concession – lately subsumed – that Federer just has his number. Federer played it safe, opting for a slider, but one that lack slide and width. Djokovic read it, swung as hard as he could, and produced the forehand of the year. Federer's next matchpoint vanished in a mid-court forehand that found the tape. The margins at this level are minute, but the better player usually still wins, somehow.
For all that something occurring once is meaningless – einmal ist keinmal, after all – the idea that twice therefore matters doesn't necessarily follow. Federer lost but he was obviously good enough to win, which more or less vindicates his assertion that he remains capable of claiming majors. Djokovic won, but very nearly lost, and will still go into Monday's final as the favourite. All of this was known yesterday, and by restaging last year's semifinal they have proved nothing either way. I suppose this is just a long way of saying that I don't quite know what to make of it, and that I suspect that the wrong conclusions will be drawn. If Federer was a business, there would be an entire parasite industry based around analysing these supposed patterns in performance, and thereafter recommending sweeping structural reform. The conceit of spectators – and by extension journalists – is not far away. This is why Federer was invited repeatedly in his press conference to ruminate on the things he might have done differently, as though these are lessons that might come in handy when he and Djokovic next go 7/5 in the fifth in a US Open semifinal. He disdained to speculate, as he always does, knowing that even were the situation to arise again, there's no reason to think it will play out like that. He was careful to praise Djokovic, but did admit that he didn't quite understand Djokovic's thinking in going for that forehand on 40-15 down. He suggested the forehand was 'lucky', which is predictably and depressingly the sound bite fated to endure.
The thing is, Djokovic happily conceded the forehand was lucky long before Federer did. It was in that part of the post-match interview before he started dancing with the crowd. Honestly, it was lucky, but that doesn't disqualify it from being an exceptional shot. You still have to be brave enough to attempt it, and good enough to hit it. Saying it is lucky hardly contradicts Djokovic's later elaboration that 'I took my chances, and I hit it very clean'. It can be lucky and gutsy, brilliant and heart-breaking. It can be, and it was.
(2) Nadal d. (4) Murray, 6/4 6/2 3/6 6/2
Half-soused by the drama of the first semifinal, there was little chance the second match would thrill the crowd more than any other hangover. That little chance wilted to nothing under the baleful glare of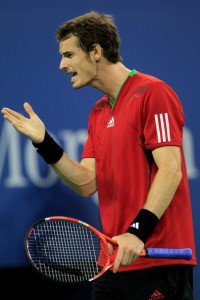 Andy Murray, who apparently had a bone to pick with all 23,200 people in attendance, but particularly with the ne'er-do-wells infesting his players box. I imagine he'd be an angry, angry drunk. The first two sets were a sour and fuming effort even by his standards, the kind of self-consuming slow-burn that he usually reserves for finals. He was down two sets to love in in only a fraction of the time it took Federer and Djokovic to get through four sets: about eleven eighths. It was frankly a bummer.
Murray harnessed his rage more usefully in the third set, for a time overwhelming Nadal in a manner that would surely prove an issue for the Spaniard if it might only be sustained. Of course, it couldn't. It lasted just over a set, after which point Murray returned to berating those loved ones who had dared show their faces, muttering mordantly unfunny asides to himself behind the baseline, and getting passed at the net. If the first semifinal was a divine comedy, the second was the tragedy of character-as-destiny, although this was – classically-speaking – a kind of comedy, too. So long as Murray wasn't shouting directly at you, it was even kind of funny.