US Open, Quarterfinals
For the third time in a major, the Big Four make up the final four, an outcome that was apparently so unlikely as to be unforeseeable, even if the odds on it were reasonable. Now that it has happened again – and it is a common occurrence outside of the majors – it of course looks inevitable.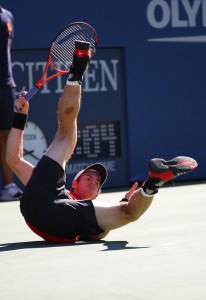 How could anyone bet against it? Recall, however, the widespread certainty that Murray would find a way to fall early – and he almost did, to Haase – and that Federer would struggle to get past either Tsonga or Fish. Meanwhile, Nadal was in lousy form and would undoubtedly face Ferrer in the quarterfinals, whereas no force on earth would stall Djokovic, apart from his right shoulder.
Six weeks ago, the odds on this semifinal composition were 5-1, conceivably the shortest in history (I really have no way of knowing). This was just prior to the US Open Series' commencement, and it speaks volumes for the clarity of thinking wrought by a long perspective. It suggests that all the sound and fury since the Series got under way has signified little, a cacophony serving only to scramble our judgement. All of these disparate narratives, all that weather, all that drama with burned fingers, and bung shoulders, and early losses and losses to big hitters, all the decline and the pressure and questionable motivation. And where do we end up? Exactly where we did at the French Open, and largely where we ended up in Melbourne and London. It also means that only twice this year has someone outside the top four progressed to a major semifinal: Ferrer in Melbourne, and Tsonga at Wimbledon. I suspect that is unprecedented, and only signals that the statistical domination by the top four shows no sign of lessening, more proof that tyrants never tire of tyranny.
If the serfs are to stage an uprising, it is hard to see who will lead it. Soderling has glandular fever, Monfils is a headcase and Berdych is a robot. Roddick is clearly angling for a post-tennis career in the media. Consider this: across this season at the majors there have been 16 semifinal slots available, and these have been filled by only six different players. Meanwhile, there have also been 16 losing quarterfinalist slots, and every time it has been a different person,
and that outside of the top four, only one player has progressed to the final eight more than once (Tsonga at Wimbledon and the US Open). The gap between the Big Four has become a chasm.
Nonetheless, treating the top four as a unit should not carry the implication that they are necessarily equal. After all, Murray has never won a major, and Djokovic has hardly lost all year. Nadal would appear to have Federer's number, and yet has never beaten Murray at a hardcourt major. Federer beat Djokovic in Paris, but lost to him in Melbourne. It is therefore anyone's guess how this weekend will play out, although the odds are favouring a Djokovic – Nadal final.
A few further points to divert us: This will be the fourth consecutive year that Federer and Djokovic will meet in the US Open semifinals, with Federer leading 2-1. If Federer falls in the semifinals and Murray takes the title, the Scot will take over the No.3 ranking. That is the only outcome that will see a rankings change. If Federer and Nadal progress to the final, it will be the ninth time they have contested a major final, but the first time they will meet at the US Open. If Nadal wins it all, this will be the first time he has defended a hardcourt title. If Djokovic wins, it will be his first US Open title, and he will become the third active player to claim three majors in a season, which used to be considered a rare feat. If Andy Murray wins, Britain will go bananas, and he may even crack a smile.