US Open, Women's Final
(9) Stosur d. (28) S. Williams, 6/2 6/3

I don't usually post about women's tennis – entirely because I don't know enough about the players, and it always pays to limit your scope – but I have to congratulate Sam Stosur on winning her first major title, and becoming the first Australian woman to claim a Grand Slam in 31 years. Here in Melbourne, the mood is pretty upbeat.
It was the most composed performance I have ever seen from her, especially when she was leading, which is her usual cue to go haywire. Given how poorly she performed in last year's French Open final as the overwhelming favourite, you'd have to imagine today's unfettered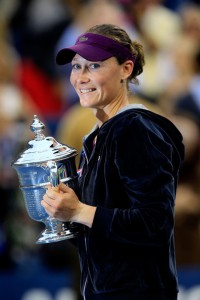 shotmaking owed a great deal to her underdog status. Playing Serena Williams in New York on the 11th of September was always going to be tough, but one had to imagine that however daunted she felt, the pressure on Williams was going to be comparable.
And so it proved. Stosur produced an immaculate first set, with her strangely effective forehand – does it have any backswing? – and vicious kick-serve scoring heavily, and her sliced backhand drawing errors from a sluggish opponent. The match turned at the beginning of the second – sadly, this will be the prevailing memory – with Williams serving, down break points. She saved the first with a typically muscular ace, and then the second, but carelessly screamed 'Come on' before her winning forehand had reached Stosur's side of the court. Stosur laid her racquet on it, and the umpire had little choice but to invoke the hindrance rule. You aren't allowed to shout stuff out during a point, especially when your opponent is about to hit the ball. Actually, the umpire did have a choice, but rightly chose to impose a point penalty. Stosur thus claimed the break, and Williams, true to form, dropped her bundle.
Her consequent harangue of the umpire – Eva Asderakia – was not particularly creative even by her own low standards, although it was presumably sufficiently threatening to warrant further investigation. Even Dick Enberg in the commentary box disapproved, with William's outrage that that the umpire would try to curtail her self-expression – 'I'm an American!' – felt to be in particularly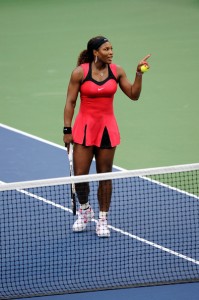 poor taste, on today of all days. She also told the umpire she was 'unattractive on the inside', a 'hater', and if they ever found themselves alone in a corridor, she 'had 'better look the other way'. She asked if Asderakia was 'the one who screwed me over last time', suggesting that her display of contrition after the last episode was as false as it sounded.
The unfortunate upshot was that it distracted Stosur at precisely the moment it fired up Williams and the crowd. The Australian remarked afterwards that 'I felt the noise kind of go right through my chest.' Thereafter followed a few desperate games, with the American expressing herself freely. By the seventh game, however, Williams had cooled somewhat, and Stosur broke, and then held in imperious fashion. Given her history of gagging while serving out sets and matches, she was right to attack her opponent's next service game. Playing with house money, she fought to two match points, which yesterday was proven to not necessarily to be enough. The first was saved. Then, for the second time in two days, a scorching forehand winner return proved definitive on a match point. It was in, and Stosur had won. Her smile was endless.
Asked at the trophy presentation whether winning a Slam felt like she thought it would, she replied that yeah, it pretty much did. I'm largely immune to patriotism, but the bluntness of her assessment was winsomely Australian. I don't know that much about women's tennis, but I know that it was also wholly Sam Stosur.