US Open, Fourth Round
(3) Federer d. Monaco, 6/1 6/2 6/0
(11) Tsonga d. (8) Fish, 6/4 6/7 3/6 6/4 6/2
Exceptional in so many ways, Roger Federer also eludes the various cliches directed at the elderly, most particularly that they aren't at their best late in the evening, having apparently dined at 4pm. He didn't appear on court until nearly midnight tonight, and, cranky at having to bother at all – not to mention all the commotion –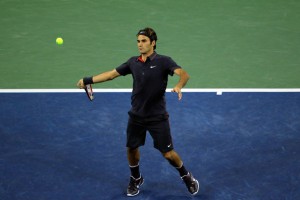 he left in short order. Confounding common wisdom, he remains admirably merciless in his dotage, and massacred Juan Monaco in a touch over 80 minutes, less than half as long as he'd remained mired in the locker room while Karl Pilkington's sister – Caroline Wozniacki – gradually drew a shroud of tedium around Svetlana Kuznetsova, eventually smothering her to death.
Connoisseurs of Federer's trouncings will immediately think back to Miami, when he was obliged to wait past midnight while Maria Sharapova inflicted a coma-inducing double-fault clinic on the helpless crowd. Federer duly took out his frustrations on Olivier Rochus, ostensibly a friend. Tonight felt much the same, with the added threat of impending rain to augment the urgency. With every reason to be in a hurry, he hurried. Federer is usually pretty no-nonsense, and tonight there was even less sense than usual, especially on serve. Some of his service games lasted under a minute, less time than it takes Nadal to extract his underwear. One game consisted of four aces.
The parallels with Miami continue: Federer's following match was against a Frenchman who has historically had his measure (Gilles Simon). Replace 'historically' with 'recently', and we arrive at his next opponent in New York, Jo-Wilfried Tsonga, who today saw off Mardy Fish in five very excellent sets. This was the tournament's first truly enticing match-up – widely anticipated the moment the draw was released – and it thankfully lived up to expectations. Fish won the US Open Series, which is mostly meaningless but nice for him, and given a more generous draw probably could have gone further in New York. He led Tsonga two sets to one today, but produced a truly lousy game late in the fourth, and ran out of juice in the fifth. Tsonga, meanwhile, only grew stronger. There was also a bit of a set-to between each man and the other player's box, prompting Fish to declare 'I don't speak French, dumbass' at Carlos Bernardes, although no one can quite say why. It wasn't clear at the time.
Tsonga and Federer will meet in two days time, weather permitting. The Frenchman has defeated Federer twice of late, both times in quarterfinals. Meanwhile, back in Miami, Gilles Simon retired after just three games. If historical precedent is your thing, take your pick.