Montreal Masters, Final
(1) Djokovic d. (6) Fish, 6/2 3/6 6/4
Novak Djokovic's excellent gambol through 2011 continues untrammelled, although for all that it has ranked among the most impressive runs in men's tennis history, it is only now that he has captured a significant record. He has become the first man ever to claim five Masters 1000 events in a single season. (The manliness of this achievement has been appropriately commemorated.) Contrary to what some have written, he has not swept them all, since Nadal won Monte Carlo; a minor quibble, given it's just Monte Carlo and Djokovic declined to play.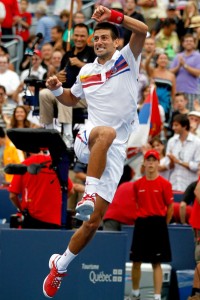 There are three remaining in 2011 – with one already underway in Cincinnati – and who's to say he won't claim one of them, or all of them? Certainly the rest of the men's tour seems to have scant say in the matter.
Such considerations usher weightier records into view, most particularly McEnroe's unsurpassed 1984, in which he lost just three matches, and won 84. Federer came within a few points of replicating that in 2005, before he fell to Nalbandian in the Masters Cup final. Djokovic now stands at 53-1, and at a rough guess I would say he has another nine or so events to play before year's end, assuming Serbia makes the Davis Cup final. 31 more wins and two more losses is a tough ask, especially across a stretch that will feature the US Open (which he has never won) and the World Tour Finals (which he has). It seems like a long shot, but Djokovic has proved the folly of positing limits based on mere history. Then again, I have a quite irrational feeling that he won't be winning the US Open. If pressed I couldn't say why.
Possibly it is because he wasn't all that far away from not winning Montreal. Given how lustily I sang Mardy Fish's legitimacy as a top ten player just yesterday, it was gratifying when he set about living up to it today, although it is possible he was motivated by something other than a desire to prove me right. Either way, he has supplanted Gael Monfils at No.7, and so it was fitting that his loss to the world No.1 contrasted so radically to the Frenchman's effort two rounds earlier. Monfils checked out early and thoroughly, while Fish shrugged off a hugely disappointing first set to make a real match of it in the second. He has now lost more Masters finals than Andy Murray has major finals, but unlike the Scot he invariably goes down fighting. His third set wasn't bad either, besides a couple of game when it couldn't have gone worse. Unforced errors flowed, and Djokovic was suddenly everywhere.
This sudden ubiquity also provided the most telling moment of the week. During a change over in the Federer-Tsonga match, a tediously lightweight interview with Djokovic appeared on the Jumbotron. Distracted, Federer glanced up. A sardonic smile ghosted his lips. Then his expression collapsed into disgust, he shook his head, leaped up and strode back out onto court, well before Lahyani could call time. Djokovic was in the great Swiss' head. He is in everyone's head. Resistance is futile.