Montreal Masters, Semifinals
Fish d. Tipsarevic, 6/3 6/4
When Mardy Fish assumed the mantle of the top ranked US male tennis player, there was a widespread and mostly justified belief that his ascent owed as much to Andy Roddick's decline as anything else. Fish himself was neither slow nor coy in agreeing, and he remains manically diffident in all matters Davis Cup, insisting to anyone straying into earshot that Roddick is still the main man.
That's generous, especially since they recently combined so perfectly against Spain, but there's a difference between playing second fiddle and taking up the viola. US fans were probably right in hoping their top player would assert himself a little more. The United States hasn't gotten to where it is by not throwing its weight around, loudly.
Reaching the quarterfinals at Wimbledon was a stride in the right direction, given that it is both a surface that should suit Fish's game, and a tournament that American fans associate with excellence, even if Roddick himself associates it with crushing losses to Federer. But it has always been on the North American hardcourts that Fish's finest results have accrued – passive voice intended – suggesting that the goodwill of his compatriots means as much to him as whatever the court is made of. His perennially poor showings on foreign hardcourts – from Australia and Asia to the European indoors – attest to this. As the tour returned to the States, patriotic eyes – wept dry after Houston – were typically merciless, unblinking.
So far so good. Fish defended his Atlanta title, if barely, before being hustled out of LA by Ernests Gulbis. Pulling out of Washington hardly endeared him to the tournament organisers, who were rightly worried that the event might consequently disappoint, a worry that proved justified. Still, it turned out to be a scheduling masterstroke from Fish. Thus rested, he has ambled through to the final of the Montreal Masters, the only person not named Novak Djokovic to do so. Mostly interestingly, until today he had progressed without playing very well at all. The quarterfinal against Stan Wawrinka was particularly uninspired. He and his fans should be encouraged by this. Until now, Fish's greatest accomplishments – including his top ten ranking – have always come when he performs at his limits, if not beyond them (see Indian Wells in 2008).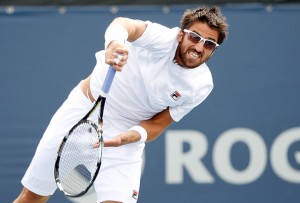 This week, aided by a miraculously cleared draw, he has managed to progress to a fourth Masters final without impressing anyone, even if today he was clearly a class above Janko Tipsarevic.
His manifest superiority over the Serbian No.3 justifies a moment's diversion. Montreal has been arguably the highwater mark of Tipsarevic's career, if we set aside last year's Davis Cup final, in which he personally contributed little more than stomach ulcers for the home crowd. He will enter the top twenty tomorrow, for the first time in his career. He hasn't won a tournament yet, but I've no doubt he is good enough to, and seeing a No.20 next to his name doesn't seem unreasonable. But he was no match for Fish, who smartly opted out of trading groundstrokes with his opponent, and surged netward almost constantly. Fish looked like a top ten player. Not a top ten player playing out of his mind, naturally, but nonetheless like a top ten player. Whether he wins the final or not, he will rise to No.7 when the rankings are released on Monday.
Coming into the US summer, the looming question was always whether Fish could defend his points from last year's Cincinnati final. It is to his credit that the question has become less important than it might have been. His portfolio of strong results has grown sufficiently diverse that he is protected from the odd poor week. Indeed, he could pull out of Cincinnati next week and he would probably fall no lower than No.9. It's a comforting thought, something to hang onto while Djokovic tears him to pieces tomorrow.