Cincinnati Masters, First and Second Rounds
The centrepiece of the week so far has been Andy Roddick's lamentable capitulation to Philipp Kohlschreiber – belatedly lamented – a mental collapse that was almost out of character, punctuated by an utterly characteristic set-to with the umpire. Denied ready access to the flak-happy Fergus Murphy, Roddick instead channelled his ire at Carlos Bernardes, whose crime had been to punish Roddick with a point-penalty on a break point.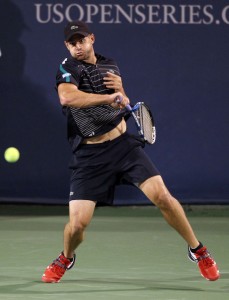 The raging impotence of the subsequent outburst revealed a man still very much in the initial, essentially-Learesque phase of his decline, although its insipid pettiness and lowgrade thugishness has proved to be an enduring leitmotif for Roddick's entire career.
The upset of the week saw Jo-Wilfried Tsonga collapse to Alex Bogomolov Jr., in its way a bigger shock than Andy Murray's loss to the same man back in March, which at the time I likened to electrodes to the genitals. Murray had been in a slump, and Tsonga has played beautifully since Queens. Not today. Andy Murray, incidentally, is in another slump, but was fortunate to encounter in David Nalbandian a man who has forgotten more about playing disappointing tennis than even Murray may ever learn. It was billed as the day's marquee matchup, and so the disappointment was compounded.
Yesterday's marquee matchup saw Federer avenge some losses dating back to last decade to a frankly underdone Juan Martin del Potro. Federer hardly looked like losing, although for a while, as he tossed away break points like confetti, he didn't look much like winning either. The second set thus developed into something of an impasse. At 5/5 in the second, the man they call Juan Martin del Potro resolved the stand-off by breaking himself. Federer then served it out to love, apart from two forehands he hit out for no reason. Until then, he'd served beautifully.
Michael Llodra's attacking game  has never enjoyed success on the fast North American hardcourts, and there's really no good reason why. He saw off Mikhail Youzhny in a ripping first rounder, suggesting that his time had come. Then he lost to Verdasco, somehow and easily, proving that for a Frenchman on a roll 'no good reason' remains reason enough. Verdasco next faces Nadal, in the most concentrated part of the Spanish half of the draw. Nearer the top, David Ferrer returned to tour duties, and saw off Grigor Dimitrov deep in the third, yet another of those matches that Dimitrov could have won to announce his arrival, the types of wins that his near-contemporaries have used to leapfrog him in the 'next-big-thing' stakes. Less a Baby Federer than a Baby Haas, then.
The other big story of the week is that Andrei Golubev has put together his longest winning streak since early March: one. In between he lost a truly heroic 18 matches. In the opening match of the year at the Hopman Cup, I watched Golubev blast the anointed Novak Djokovic off the court for a set and a bit. Now he sits at 4-22 for the year, and only narrowly failed to capture the record for worst losing streak in ATP history (21 matches and still held by Vince Spadea, who from his Twitter posts I gather is both illiterate and insane). Anyway, Golubev's treasured win was over Stan Wawrinka, who had seemed to be rounding into some form, and his inevitable loss the following round was to Radek Stepanek.